Geography and Map Skills
Get flash to fully experience Pearltrees
The History Engine is an educational project from the University of Richmond that is creating a collection of historical articles about life in the United States throughout its history. The History Engine includes a Google Maps based time-line that allows users to explore the project's history articles by date and by location. If you select a decade from the time-line states that have essays available from that decade are highlighted on the map. If you select a highlighted state the available essays can be accessed by clicking on the map markers that appear on the map. Via: @geoparadigm
Castel del Monte Rupestrian Churches of Puglia and the City of Matera The Trulli of Alberobello Historic Villages of Shirakawa-go and Gokayama Hiroshima Peace Memorial Itsukushima Shinto Shrine Ancient Kyoto: Daigo-ji Temple Ancient Kyoto: Enryaku-ji Temple Ancient Kyoto: Kamigamo Shrine Ancient Kyoto: Kiyomizu-dera Temple Machiya Townhouses Ancient Kyoto: Nijō Castle Ancient Kyoto: Nishi Hongan-ji Temple Ancient Kyoto: Ryōan-ji Temple Ancient Kyoto: Shimogamo Shrine Ancient Kyoto: Tenryū-ji Temple Ancient Kyoto: Ujigami Shrine Ancient Nara: Gangō-ji Temple Ancient Nara: Kasuga-Taisha Temple Ancient Nara: Kinpusen-ji Temple Ancient Nara: Toshodai-ji Temple Ancient Nara: Yakushi-ji Temple St.
Click Below to Select a Map The Arizona Geographic Alliance and ASU's School of Geographical Sciences have collaborated to produce the outline maps and thematic maps available here. They are a product of communication between teachers and ASU student cartographers, guided by Alliance coordinators Gale Ekiss and Ron Dorn and cartographers Barbara Trapido-Lurie and Becky Eden. The National Geographic Society, Arizona Department of Education and National Council for Geographic Education have provided invaluable support.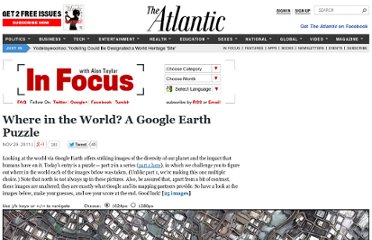 Looking at the world via Google Earth offers striking images of the diversity of our planet and the impact that humans have on it. Today's entry is a puzzle -- part 2 in a series ( part 1 here ), in which we challenge you to figure out where in the world each of the images below was taken. (Unlike part 1, we're making this one multiple choice.) Note that north is not always up in these pictures. Also, be assured that, apart from a bit of contrast, these images are unaltered; they are exactly what Google and its mapping partners provide.