Street & Urban Art
Productora Mutante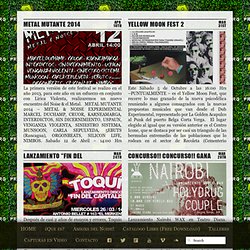 Este Sábado 5 de Octubre a las 16:00 Hrs –PUNTUALMENTE – es el Yellow Moon Fest, que recorre lo mas granado de la nueva psicodélica reuniendo a algunos consagrados con la nuevas propuestas musicales que van desde el Dub Experimental, representado por La Golden Acapulco al Punk del puerto Belga Corta Verga. El lugar elegido al igual que su versión anterior es el Centro Icone, que se destaca por ser casi un triangulo de las bermudas entremedio de las poblaciones que lo rodean en el sector de Recoleta (Cementerio Israelita). A los ya mencionados se suman 6 bandas mas: Chicos de Nazca, False Sir Nicholson, L.E.M., Thanataloop, Trancemission y los brasileños Músicas Intermináveis para Viagem. Además, habrá feria de discos, la tarde será musicalizada por Tropicaza desde México y una exhibición fotográfica a cargo de Cynthia Rodríguez. La preventa a $2000 la pueden adquirir en Diamond Skate Shop (Portal Lyon, Providencia) y Disquería Needle (Drugstore, Providencia.
street art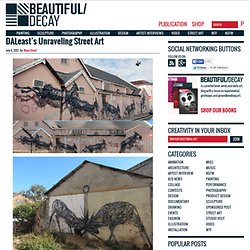 DALeast's Unraveling Street Art
Chinese street artist DALeast studied sculpture at the Institute of Fine Arts and began doing art on public space at 2004 under the alias DAL. He is inspired by the way the material world revolves, how the spiritual world unfolds, life's emotions and the infinite space around us. His massive murals resemble thousands of strands of yarn or thread that are continuously unraveling and coming together to create incredible sweeping imagery. (via)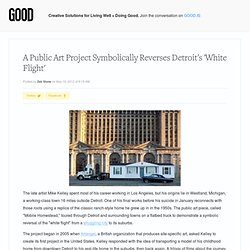 The late artist Mike Kelley spent most of his career working in Los Angeles, but his origins lie in Westland, Michigan, a working-class town 16 miles outside Detroit. One of his final works before his suicide in January reconnects with those roots using a replica of the classic ranch-style home he grew up in in the 1950s. The public art piece, called "Mobile Homestead," toured through Detroit and surrounding towns on a flatbed truck to demonstrate a symbolic reversal of the "white flight" from a struggling city to its suburbs. The project began in 2005 when Artangel, a British organization that produces site-specific art, asked Kelley to create its first project in the United States. Kelley responded with the idea of transporting a model of his childhood home from downtown Detroit to his real-life home in the suburbs, then back again.
A Public Art Project Symbolically Reverses Detroit's 'White Flight' - Culture
Es Baluard Museo de Arte Moderno y Contemporáneo de Palma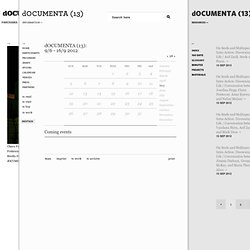 13) - dOCUMENTA (13)
Chiara Fumai, Shut Up. Actually, Talk (The world will not explode), 2012, Group performance on the roof of the Fridericianum featuring Zalumma Agra and the Stars of the East, words by Carla Lonzi ("Let's Spit on Hegel," 1970) and Rivolta Femminile ("I Say I," 1977), costumes by Antonio Piccirilli, 60 min., Courtesy Chiara Fumai, Commissioned by dOCUMENTA (13) and produced with the support of Fiorucci Art Trust, London. Photo: Henrik Stromberg
A R T E A N D O
Pablo Aravena, cineasta chileno, vive en Canadá desde los seis años, cuando su padre decidió emigrar para realizar sus estudios de postgrado. Volvió un par de veces a Chile, pero desde que tenía 12 años su familia se asentó en Montreal. Su trabajo audiovisual se centra en el graffiti y otras formas conexas de arte callejero.
CHILE ESTYLE. HISTORIA DEL STREET ART CHILENO | Artishock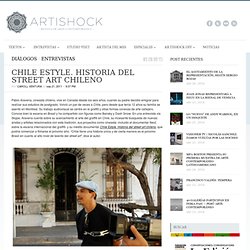 www.dardonews.com
Artweeters = Contemporary Art + Social Media
Lessons - A01: Illustrated Glossary of Drawing Words and Terms
Street art in Poland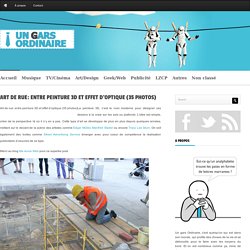 La peinture 3D, c'est le nom moderne pour désigner ces dessins à la craie sur les sols ou plafonds. L'idée est simple, créer de la perspective là où il n'y en a pas. Cette type d'art se développe de plus en plus depuis quelques années, mettant sur le devant de la scène des artistes comme Edgar Müller, Manfred Stader ou encore Tracy Lee Stum. On voit également des boites comme Street Advertising Service émerger avec pour coeur de compétence la réalisation publicitaire d'oeuvres de ce type.
Art de rue: entre peinture 3D et effet d'optique (35 photos) | Un gars Ordinaire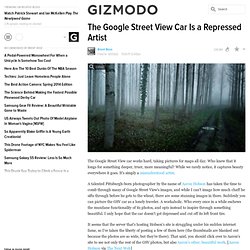 It begs the question if someone thing something like art can be defined by any form or thing. Just like people think there's such a question as "what is music" ANYTHING that is determined by individual taste can not be defined as ANYTHING could be considered such terms since humanities taste is so varied. Technically that isn't what it means to beg the question (a term from logic meaning to assume the truth of a proposition without evidence, literally to "beg" the listener to accept the proposition before the work is done to support it).
The Google Street View Car Is a Repressed Artist
Browser not supported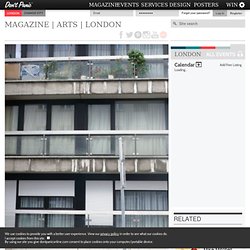 People of urban spaces, keep a lookout for mysterious figures in brightly coloured hoodies occupying corners you never knew your city had. We spoke to art director Willi Dorner who has been arranging faceless people in public places for seven years now. What is Bodies in Urban Spaces? BIUS started as a photo-project in July 2004.
Bodies in Urban Spaces | Don't Panic Magazine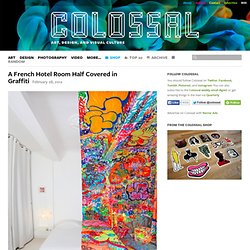 A French Hotel Room Half Covered in Graffiti
Internationally recognized graffiti artist Tilt has just completed this eye-popping interior design work for the Au Vieux Panier hotel in Marseille, France. The hotel has just five rooms that are annually reconceptualized by commissioned artists and designers, somewhat similar to NYC's Carlton Arms. For this space entitled Panic Room (which might aptly describe your mental state after a few nights in this Willy Wonkaesque environment) Tilt divided the room perfectly down the middle, one half covered entirely in his trademark vibrant and bubbly graffiti and the other half left stark white. See a sneak peek of all five concepts at Au Vieux Panier, including a room by Philippe Baudelocque who draws fantastic illustrations of animals using chalk. All in all, if I were checking in, Panic Room would be the clear choice. Photography above by the Big Addict.
Banksy
Global Street Art
We're super excited to show you this!!! Okay so, a few months back we were flicking through one of Richt's 'Nobody Likes Leonardo' zines and began discussing how sweet it would be if there was a toy based on this idea. We met up with Richt, drank copious amounts of beer and proceeded to contact the best boot-leggers in the business, Goodleg Toys. A few weeks later and look at what's been spawned!
STREETS OF BEIGE
Global Street Art • Posts Tagged 'skount'
Jonone.
Mist
Mode 2 TCA CTK 93MC/NTM - The Writers Bench
Publié par Mr Potatomer 14 avr. 10 - 22:34Writers Paris - Londre The Chrome Angels - Crime Time Kings - 93 Mafia Crew/Nique Ta Mère Commentaires Ajouter votre commentaire
sidewalk chalk guy
Banksy
El grafiti, esa "violencia urbana"#.T-FUNv12IiA.twitter#.T-FUNv12IiA.twitter#.T-FUNv12IiA.twitter
Negar que una pintada en una puerta sin permiso del vecino, o en un bloque de pisos recién rehabilitado, puede ser un acto incívico - y, por lo tanto, objeto de infracción - parece tan absurdo como asociar el grafiti, sin matices, con la "violencia". Por ello, las palabras del ministro del Interior de este lunes, en una conferencia en Tribuna Barcelona, han sorprendido a muchos. Jorge Fernández Díaz aseguró, literalmente, que la "violencia urbana adopta formas muy diversas. Un grafiti, por ejemplo, representa una forma elemental de violencia, ya que intenta imponer mensajes en el espacio público". No hace falta ser un experto en arte contemporáneo para comprender que el grafiti ha sido (y es) fundamental para el lenguaje visual de finales del siglo XX y principios del XXI.
STREETSY
The 50 Best Street Art Work Selected in 2011
Stencil Graffiti.com
mossgraffiti
The Urban Speaker: Call it Today - Culture
Best Street Art of 2011
Mark Jenkins // Street Installations
street art
Dessiner Paris, depuis le trottoir ou dans une rame de métro
Banksy -The man, the myth, the legend
Yarn Bombing / Guerrilla Crochet – A Collection | STREET ART UTOPIA
The death of Banksy
street art
LA community group calls for thieves to return work done by Banksy during Oscars
sidewalk chalk guy
Curbs and Stoops | Projects
Skate peinture |
Paris Street Art
Beautiful/Decay | Artist Book Series + Daily Art & Design Blog
Best Street Art of 2011
Just some awesome street art
20 awesome examples of street art
banksy versus bristol museum
10 Street Artists You Should Know
Wooster Collective
Street artists see the city as their canvas
Best Street Art of 2011 - StumbleUpon
Graffiti Is A FUN Crime
Street Art, Graffiti, Urbanism
Impressive Graffiti by Shok 1
leggi sui muri |
Buenos Aires Art & Graffiti Tours | Open your eyes to art in Buenos Aires