Recipes
Bacon Pancakes! — The Adventures of Accordion Guy in the 21st Century. Cake batter blondies. | girl meets life. - StumbleUpon. I don't say this very often.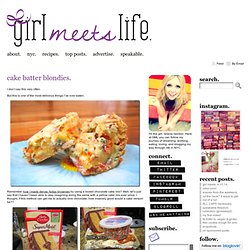 But this is one of the most delicious things I've ever eaten. Remember how I made dense, fudgy brownies by using a boxed chocolate cake mix? ProductName] Recipes. The Baker Chick: Cinnamon Roll Pancakes - StumbleUpon. There are certain recipes that when I see I absolutely have to make.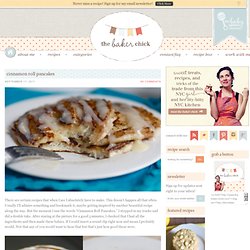 This doesn't happen all that often. Usually I'll admire something and bookmark it, maybe getting inspired by another beautiful recipe along the way. Made Just Right.
Cookie dough
Oreo and Peanut Butter Brownie Cakes | Picky Palate - StumbleUpon. Well these naughty little treats are well….naughty but oh so necessary.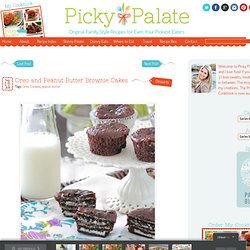 There are a bit like my Brownie Covered Oreo's from last Christmas but enhanced with layers of peanut butter and a double decker stack of Oreos in each little brownie cake. They are simply prepared in cupcake liners. Hope you enjoy this ultra sweet little cake Ok, I have to brag about this brownie mix from Trader Joes for a second. Martha Stewarts Cookies and Cream Cheesecakes Recipe | La Mia Vita Dolce - StumbleUpon. Posted by Grace Massa Langlois on Wednesday, 21st July 2010 I have yet to meet a person who doesn't like Oreo cookies or Cream Cheesecake Cupcakes.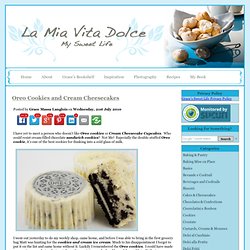 Who could resist cream-filled chocolate sandwich cookies? Not Me! Especially the double-stuffed Oreo cookie, it's one of the best cookies for dunking into a cold glass of milk. Oreo Stuffed Chocolate Chip Cookies — very culinary. My pants are tight.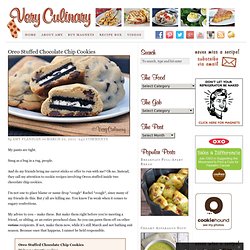 Snug as a bug in a rug, people. And do my friends bring me carrot sticks or offer to run with me? Oh no. Chocolate Chip Cookie Dough Cheesecake | A Nut in a Nutshell - StumbleUpon. Peanut butter pretzel bites & Two Tiny Kitchens - StumbleUpon. Salty and sweet.
Crunchy and melt-in-your-mouth. Peanut butter and chocolate. A brownie by any other name… | King Arthur Flour – Baking Banter - StumbleUpon. Love brownies.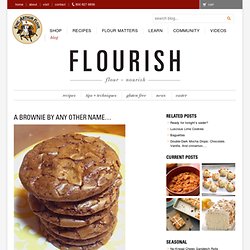 Love their shiny, flaky top that shatters into micro-thin shards that shower onto your fingers as you eat. Love their dark, gooey center. Their "chocolate nirvana" flavor. Sometimes can't deal with the bake, wait to cool, cutting into squares messiness and fuss of brownies. Want something I can enjoy within 5 minutes of its exit from the oven. Cinnamon Toast&Rolls - Circle B Kitchen - Circle B Kitchen - StumbleUpon. The USDA released its new food pyramid the other day (which is actually a plate now instead of a pyramid), and I am sorely disappointed to report that cinnamon rolls did not appear anywhere on that plate.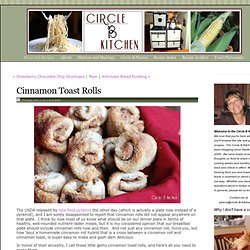 I think by now most of us know what should be on our dinner plate in terms of healthy, well-rounded nutrient-laden meals, but it is my considered opinion that our breakfast plate should include cinnamon rolls now and then. And not just any cinnamon roll, mind you, but how 'bout a homemade cinnamon roll hybrid that is a cross between a cinnamon roll and cinnamon toast, is super easy to make and gosh darn delicious. Death By Oreo Cupcakes - StumbleUpon. They are probably the best Oreo cakes I have ever tried.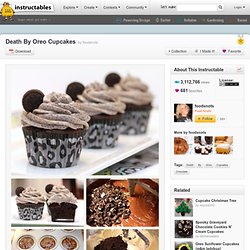 A lot of cake's that I have experimented with before are like a vanilla cake with bits of Oreo in them, which didn't really give them enough Oreo flavor. But these were a lot better. I used a dark chocolate fudge cake mix instead of just a regular chocolate cake mix, which went really well with the cookies and gave the cakes just a little more flavor. So, in this recipe there is Oreo's in the cake, in the frosting, and at the bottom is a Oreo surprise. Nutella Mug Cake | Family Kitchen - StumbleUpon. I have been experimenting with different mug cakes every since I heard about them about a year ago.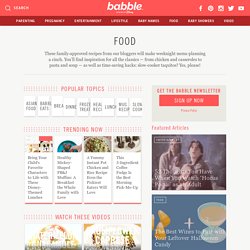 None of them have been winners. They were either too chewy, too dry, or not sweet enough. Well, I continued experimenting, and thought why not add some decadent Nutella into the mix. I modified the classic mug cake recipe, added Nutella, and a little more milk and oil than I had been using before. The results were beyond amazing. Smore Brownies Recipe. Chocolate Chip Cookie Dough Dip - What Megans Making - StumbleUpon. Chocolate Chip Cookie Dough Dip It's time for a little confession.
I realize this may get me shunned (especially in my hometown of Pittsburgh!) , but….I don't like football. I don't like to watch it, I never liked playing football with my friends, I don't even like playing catch with a football. If there was one thing Mike could change about me, I'm pretty sure this would be it.
Penniesonaplatter | foodgawker - StumbleUpon. GET OFF YOUR BUTT AND BAKE!: PRETZEL BITES - Parmesan or Cinnamon and Sugar with glaze. - StumbleUpon. Do you need a perfect snack for the big game? These Pretzel bites will hit the spot for sure. You can make a combination of Parmesan bites with a Cheese dip or Cinnamon and Sugar bites with a Vanilla glaze for dipping.
Easy Light Broccoli Cheese Stuffed Chicken Recipe - StumbleUpon. 50 Things to Make With Bacon : Recipes and Cooking : Food Network - StumbleUpon. 1. Bacon Guacamole Mash 2 avocados with 1/2 cup each chopped tomato and cilantro, 1/4 cup each chopped onion and crumbled cooked bacon, 1/2 minced jalapeno, some lime juice and salt. 2. Cinnamon Sugar Pull-Apart Bread — Joy the Baker - StumbleUpon. I'm sorry. I know it's Monday morning and you probably came here for some pretty pictures of food that you could glance at, and then move on with your day… and here I go thrusting warm, soft cinnamon sugar bread in your face. It's not fair. I know it's not fair. I know that now you're craving cinnamon rolls, and cream cheese frosting and chili fries and hot dogs. I am too… and I already ate half of this warm bread. Appetizer Recipe: Bacon-Wrapped Potato Bites with Spicy Sour Cream Dipping Sauce | Apartment Therapy The Kitchn.
Bake sale week: magic smores bars | sophistimom. Warm Toasted Marshmallow Smore Bars | Flickr - Photo Sharing! Cruft: Lasagna Cupcakes - StumbleUpon. - StumbleUpon. Braided Spaghetti Bread & The official blog of Americas favorite frozen dough. 100 Delicious, Dirt-Cheap Recipes for the Starving Student. Graham Cracker S'mores Cookies | Sweet Pea's Kitchen - StumbleUpon. The Brownie Project. - StumbleUpon.
---