Prepare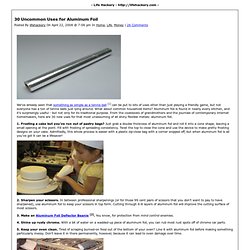 Life Hackery » 30 Uncommon Uses for Aluminum Foil » Print
Posted By lifehackery On April 22, 2008 @ 7:06 pm In Home, Life, Money | 26 Comments We've already seen that something as simple as a tennis ball [1] can be put to lots of uses other than just playing a friendly game, but not everyone has a ton of tennis balls just lying around. What about common household items? Aluminum foil is found in nearly every kitchen, and it's surprisingly useful - but not only for its traditional purpose. From the cookbooks of grandmothers and the journals of contemporary internet homemakers, here are 30 new uses for that most unassuming of all shiny flexible metals: aluminum foil. 1.
A while back, I wrote a piece extolling the virtues of vinegar. I want to focus some attention on another inexpensive multipurpose agent- sodium bicarbonate. Nearly everyone has a box or two of this humble stuff hanging around.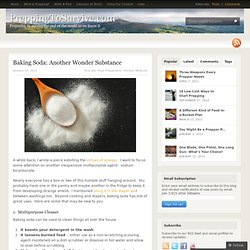 Baking Soda: Another Wonder Substance | PreppingToSurvive.com
The ULTIMATE checklist for emergency preparedness supplies.. | Learn How to be Prepared
www.power-huntstore.com
Solar Panels, PV Systems and Inverters Distributor
Welcome to Glenergy!
Cheap Solar Panel System
Technomadia
Apps we've written, inspired by our own nomadic lifestyle: Introducing our newest app: US Public Lands overlays BLM, Forest Service, NPS and other public land boundary maps. Helping you utilize US national resources! Coverage? directly overlays and compares cellular carrier data maps!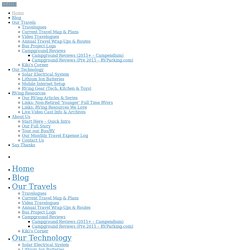 Number of valid questions, current exams Tech = 394 General = 456 Extra = 700 Select the exam you would like to take below by selecting the button next to the license class. Then click on the 'Take Exam' button. You will be given a mock exam. Select your answer to each question and then submit them to the eHam.net examiner robot.
Ham Radio Practice Exams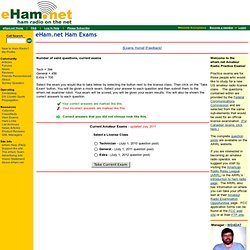 Mobile
Practice Amateur Radio Exams
Please Login The QRZ Practice Tests for amateur radio exams are free and open to the public. No previous or existing amateur license is required to participate.
Welcome to MyAmateurRadio.com
Podcast: Play in new window | Download Podcast Number 67 – Podcast ver. 67.7 - March 30, 2014 (35.0 MB, runtime 30:35) Transcript PARP 67 – In this episode of PARP, I discuss D-STAR, DVAP, DHAP and serve up a slice of Pi (Raspberry Pi) and discuss how I've combined all the above into a portable and mobile solution.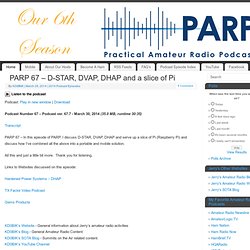 Secure private chat with browser RSA encryption - PrivyTalks.com
First Aid
First Aid Advice
CPR illustrated in three simple steps
First Aid Advice
Active in Australia for over 130 years, St John Ambulance Australia is a self-funding, charitable organisation active in all States and Territories, dedicated to helping people in sickness, distress, suffering or danger. Providing services to a broad scope of the community, St John Ambulance Australia is the country's leading supplier of first aid products, services and training. Each year we deliver 1.2 million hours of voluntary community service, train 500,000 people and treat 100,000 people in Australia at public events annually. Our vision for the future, whether acting alone or in partnership with others, is the provision of charitable and humanitarian services to individuals, groups and organisations. About St John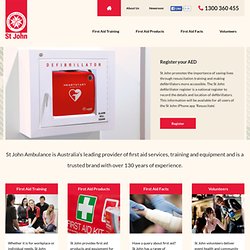 Welcome to St John Ambulance Australia
ModernSurvivalOnline Recommended Products - Books
LEARN CPR - CPR information and training resources.
Water Filtration Bottle Kit - LDS Online Store
The LifeStraw personal water filter, a "Best Invention of the Year" (Time magazine) winner, enables users to drink water safely from contaminated water sources. LifeStraw is ideal for homeowners during emergencies such as local flooding which can contaminate drinking water supplies. LifeStraw is also ideal for campers and hikers who may be drinking from rivers or lakes and are unsure of the water safety.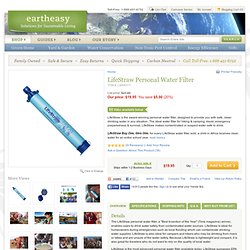 LifeStraw Personal Water Filter
Public Alerts
Emergency and Disaster Information Service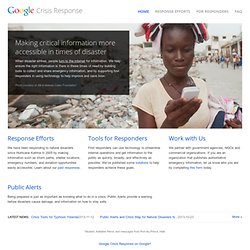 Response Efforts We have been responding to natural disasters since Hurricane Katrina in 2005 by making information such as storm paths, shelter locations, emergency numbers, and donation opportunities easily accessible. Learn about our past responses. Tools for Responders
Crisis Response
Wind Map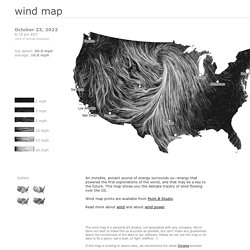 An invisible, ancient source of energy surrounds us—energy that powered the first explorations of the world, and that may be a key to the future. This map shows you the delicate tracery of wind flowing over the US. The wind map is a personal art project, not associated with any company.
Below is a clean copy of a document comparing the data retention policies of the top five cell phone providers in the U.S. The document, entitled, "Retention Periods of Major Cellular Providers," was produced in 2010 by the Department of Justice to advise law enforcement agents seeking to obtain cell phone records and was uncovered by the ACLU's coordinated records request on cell phone location tracking by police. The original was received by the ACLU of North Carolina. In August 2011, 35 ACLU affiliates filed 381 requests in 32 states with local law enforcement agencies seeking to uncover when, why and how they are using cell phone location data to track Americans.
Cell Phone Location Tracking Request Response – Cell Phone Company Data Retention Chart
Contact Loved Ones - Find Locate Family Friends Children Persons Missing During and After a Disaster
ReallyReady.org: A Project of the Federation of American Scientists
3 Days 3 Ways | Disasters Happen, Are You Ready?
Catastrophes can happen at any time. Preparing for three days will help you make it through many of the disasters you'll face in the Puget Sound region—including major storms and even small earthquakes. However, to make it through a major catastrophe—like Hurricane Katrina or the earthquake and tsunami in Japan—you'll need to be prepared for longer—at least 7 to 10 days.
By Dave Hitt on Mar 31, 2010 in Featured, Police State What's the best response when a cop asks you something? Silence, or a short, polite non-answer. Shut up. Just.
Never Talk to the Police | Quick Hitts
Pole Shift Survival Information
100 Items to Disappear First
Last Alive - Emergency Preparedness Downloads
PDF Emergency Preparedness Pamphlets & Books Most of the following files require Adobe Acrobat Reader. You can download Adobe Acrobat Reader for free by clicking here. Click on the links to open the file in a new browser window, or right click the link and "save as" to download to your computer (windows). Emergency Agencies Fema
Start Here | Guide 2 Survival
Full Listing of United States Army Field Manuals
America: Exploring the 2010 census
NukesNearMe.com – Find Your Nearest Nuclear Power Plants
Operating Nuclear Power Reactors (by Location or Name)
Best Places to Live | Compare cost of living, crime, cities, schools and more. Sperling's BestPlaces
National Traffic and Road Closure Information | Federal Highway Administration
spotcrime
Community Policing & Neighborhood Crime Statistics | CrimeReports.com
Free Camping | RV Camping, Car Camping, Tent Camping | Campsites, Campgrounds
Safety Maps: A Do Project
Animated Knots by Grog | How to Tie Knots | Fishing, Boating, Climbing, Scouting, Search and Rescue, Household, Decorative, Rope Care,
10 Skills Every Survivalist Should Learn
Hand Signals
Disaster Preparedness
Welcome to Survivor Jane
Quieten That Generator
e+LITE®
Survival Gear Review
Tool Logic | Home page | Built for Life
How to Put Together the Ultimate Survival Kit | Tactical Intelligence
GEAR CHECKLIST
My Survival and Outdoor iPhone Apps
Pack a Backpack for Camping
How to Make a Bug Out Bag
EDC
Food Storage and Survival
The Perennial Plate | Adventurous and Sustainable Eating
After 4 Years, Checking Up on The Svalbard Global Seed Vault - Ross Andersen - Technology
Food Storage and Emergency Preparedness
Long-Term Food Storage
MREs - APack Ready Meals - Self-Heating Emergency Meals Ready to Eat
Wise Bread | Personal Finance and Frugal Living Forums
TheSurvivalMom
Millennium Ark: Long-Term Food Storage Menu