Photography
Benoit COURTI. All sizes | Ministers Treehouse, Crossville, TN | Flickr - Photo Sharing! - StumbleUpon. - StumbleUpon. - StumbleUpon. Amazingly Creative Drawing Vs Photography | Weird Pictures, Wonderful Things - StumbleUpon. - StumbleUpon. In pursuit of perfection: The mountaineer who climbs the worlds highest peaks in search of the ultimate photo | Mail Online - StumbleUpon.
By Daily Mail Reporter Updated: 17:24 GMT, 6 May 2011 For most of us, hauling yourself up some of the Earth's highest peaks would be enough to keep us occupied.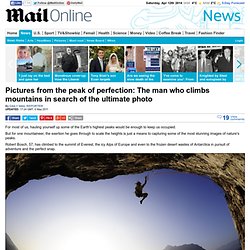 But for one mountaineer, the exertion he goes through to scale the heights is just a means to capturing some of the most stunning images of nature's peaks. Robert Bosch, 57, has climbed to the summit of Everest, the icy Alps of Europe and even to the frozen desert wastes of Antarctica in pursuit of adventure and the perfect snap. Clinging on: Climber Pesche Wuthrich swings for another handhold in the Alps on the border between Italy and Switzerland Perilous: This image shows Swiss mountaineer Ueli Steck ice-climbing near Pontresina, Switzerland.
- StumbleUpon. Garet Erwin photo - Richard Calmes photos at pbase.com - StumbleUpon. - StumbleUpon. - StumbleUpon. Ballet Photography by Vihao Pham | Cuded - StumbleUpon. Pictures From Wonderland - Cade Martin (14 pics) - My Modern Metropolis - StumbleUpon. "It appears cameras can capture the soul.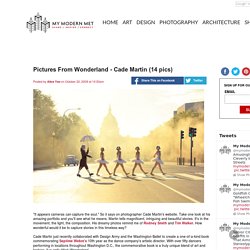 " So it says on photographer Cade Martin's website. Take one look at his amazing portfolio and you'll see what he means. - StumbleUpon. В ладонях гор - Раздел пейзаж - Фотография на фотосайте - StumbleUpon. Trick Photography and Special Effects E-Book. Believe it or not, you don't have to own super expensive equipment or be some kind of camera wiz to take high quality camera shots like these… … but all those hotdog pro photographers out there will NEVER reveal their secrets to you… … so I'm about to do it for you.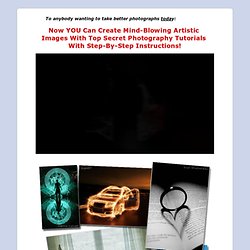 Atmospheric - StumbleUpon. Photo/most-powerful-images-of-2011/ - StumbleUpon. Dear Photograph - StumbleUpon. 180 Bar spin by ~Simplesoultion on deviantART - StumbleUpon. - StumbleUpon. - StumbleUpon. 32 Pictures You Need To See Before You Die: Pics, Videos, Links, News - StumbleUpon.
Albino Animals — Animal Talk - StumbleUpon. Birdwatchers are rushing to Avebury, near Marlborough, Wiltshire to hopefully catch a glimpse of a rare albino jackdaw.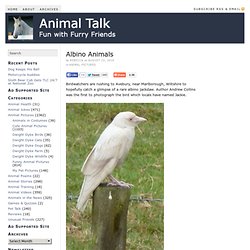 Author Andrew Collins was the first to photograph the bird which locals have named Jackie. Other fabulous albino animals include: Mila's Daydreams | Fubiz™ - StumbleUpon. - StumbleUpon. Ben Canales' Photostream. - StumbleUpon. Girl's Dreams Creatively Displayed in Bed - My Modern Metropolis - StumbleUpon. When photographer Jan von Holleben was approached by German newspaper ZEIT to create visual work for a feature on dreams and what they mean to us, he furiously sketched out concepts and stories.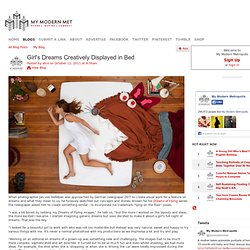 Known for his Dreams of Flying series, the newspaper asked him to create something similar - to incorporate his trademark "lying on the floor" poses. "I was a bit bored by redoing my Dreams of Flying images," he tells us, "but the more I worked on the layouts and ideas, the more excited I became. I started imagining generic dreams but soon decided to make it about a girl's full night of dreams. That was the key. The Other Me - My Modern Metropolis - StumbleUpon. In 2008, fresh out of high school, Karla Read picked up a hobby that would ultimately change the course of her life.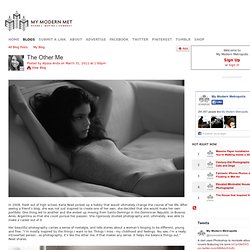 After seeing a friend's blog, she was not just inspired to create one of her own, she decided that she would make her own portfolio. One thing led to another and she ended up moving from Santo Domingo in the Dominican Republic to Buenos Aires, Argentina so that she could pursue her passion. She rigorously studied photography and, ultimately, was able to make a career out of it.
- StumbleUpon. BACK TO THE FUTURE 2 (2011) : Irina Werning - Photographer - StumbleUpon. Now its time for KOREA, TAIWAN AND TOKYO.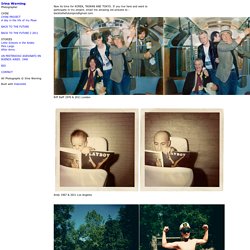 If you live here and want to participate in my project, email me amazing old pictures to : backtothefuturepics@gmail.com Riff Raff 1976 & 2011 London Andy 1967 & 2011 Los Angeles Johanes 1994 & 2011 Hamburg. The Beautiful Ballerina Project (35 photos) Photographer Dane Shitagi brings the beauty of ballet outdoors in the New York City Ballerina Project.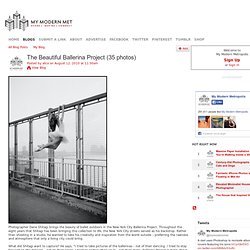 Throughout the eight years that Shitagi has been bringing this collection to life, the New York City streets served as his backdrop. Rather than shooting in a studio, he wanted to take his creativity and inspiration from the world outside – preferring the rawness and atmosphere that only a living city could bring. What did Shitagi want to capture? He says, "I tried to take pictures of the ballerinas – not of their dancing. I tried to stay focused on the dancers – not on their poses.
- StumbleUpon. - StumbleUpon. - StumbleUpon. ANYTHING BUT SQUARE on Photography Served. - StumbleUpon.
---