Best of
Early Years Apps for Learning. More antidotes of very young learners becoming engaged by and using apps continue to surface.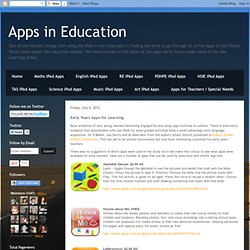 There is even early evidence that preschoolers who use iPads for some guided activities have a small advantage with language acquisition. Dr D Bebell, Sue Dorris and Dr Mike Muir from the Auburn School District presented to Auburn School District Committee. Another 10 Great Apps for Teachers. Any list of "Best Apps for Teachers" quickly gets superseded in the new releases of apps.
More and more apps each week are being released to assist teachers. Some of these are simple apps that perform single tasks exceptional well while others transform the way that we present in a classroom. Here are another 10 that might help to make the classroom a place of contemporary learning. The 10 Types of Educational Apps and When To Use Them. The 10 Types of Educational Apps and When To Use Them Many educators and parents are searching for apps that provide the best environment for learning to take place.
Generally, this means apps that deliver meaningful content with an in-depth experience incorporating discovery and challenge. These apps are often "free-play" or "choice-filled" games which encourage kids to engage in their own learning. They have activities designed to support the child as they progress and master tasks. However, a lot of apps don't fit this ideal. 50,000 (And Counting) Education Apps Worth Knowing About. You probably saw the title of this post and thought 'okay there's no friggin' way he's going to assemble a list of the best 50,000 education apps.
But thanks to a partnership between Edudemic and FindTheBest , we've done just that. We've been working hard behind the scenes to build a robust directory of, as of this writing, about 56,000 education apps. But it's not just a list… it's a finely tuned directory capable of sorting out all the apps in ways not even available in the iTunes or Mac App stores. For example, you can now find out the average price of all education apps to see where your app falls. One iPad in the Classroom? – Top 10 Apps. (www.langwitches.org) From a BYOD (Bring Your Own Device) programme to a 1:1 iPad initiative there are a number of options available to schools when embracing new technology in the classroom.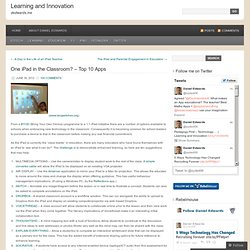 Consequently it is becoming common for school leaders to purchase a device to trial in the classroom before making any real financial commitment. As the iPad is currently the 'class leader' in education, there are many educators who have found themselves with an iPad to 'see what it can do?' Best iPad apps for toddlers. While the debate rages on about whether you should let your baby use your iPad (or give your baby her own iPad,) the fact is, if you have a young child and an iPad, there will likely come a time when the two will cross paths.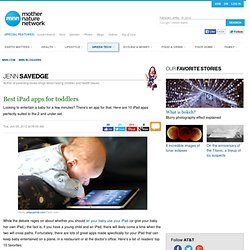 Fortunately, there are lots of great apps made specifically for your iPad that can keep baby entertained on a plane, in a restaurant or at the doctor's office. Here's a list of readers' top 10 favorites: 1. 5-in-1 Kids Pack HD. List of Free Education iPad Apps – Recommended by STaRT Education | SD34 Mobile Device User Group. APPitic - 1,800+ EDUapps. Top 20 Free Apps for Your New iPad. Note: each of the headings below is a link to the iTunes Store App Store, where you can download the free iPad apps in this list.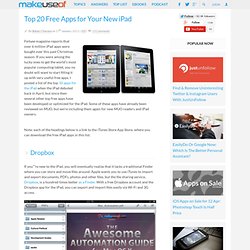 Dropbox If you"˜re new to the iPad, you will eventually realize that it lacks a traditional Finder where you can store and move files around. Apple wants you to use iTunes to import and export documents, PDFs, photos and other files, but the file sharing service, Dropbox, is a hundred times better as a Finder. 7 Apps That Will Help You Use Your iPad For Writing Projects. While each of us has our own particular needs, I'm sure one or more of these apps will serve your needs.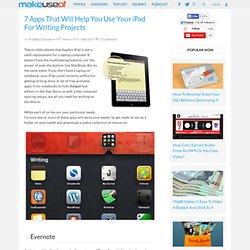 So get ready to set up a folder on your tablet and download a useful collection of resources. Evernote At the top of the list, the popular Evernote app (iTunes Store Link) and web syncing service is an essential tool for writing on the iPad. Best iPad Apps. 30 Examples of Stunning iPad App Interface Design. The iPhone ushered in an era of beautiful interface design unlike anything we'd ever seen on a mobile device.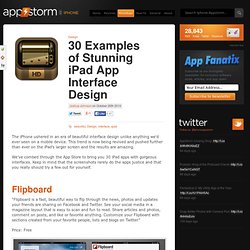 This trend is now being revived and pushed further than ever on the iPad's larger screen and the results are amazing. We've combed through the App Store to bring you 30 iPad apps with gorgeous interfaces. Keep in mind that the screenshots rarely do the apps justice and that you really should try a few out for yourself. Flipboard "Flipboard is a fast, beautiful way to flip through the news, photos and updates your friends are sharing on Facebook and Twitter.
250 best iPad apps: education. Top 200 best iPad apps 2011. If you've got yourself an iPad Air or new iPad mini, you'll want to start downloading the best iPad apps straight away.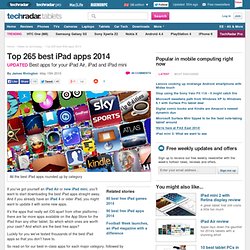 And if you already have an iPad 4 or older iPad, you might want to update it with some new apps. It's the apps that really set iOS apart from other platforms - there are far more apps available on the App Store for the iPad than any other tablet. 50 Fantastic Free iPad Apps. We all love getting something great for free! However, hunting down the good free iPad apps from the terrible ones in the jungle of the App Store can be a difficult job. Fortunately for you, I'm here to help. We'll try and keep a mix of old classics and new favourites, read on and stock up on fantastic free iPad apps! The 40 Best iPad Apps for Young Learners. Feb112012 Guest Post by Jasmine Hall The best way to get your parents to buy you expensive gadgets has always been to really sell the educational value. "But Mom, if you buy me a Nintendo, think about how much my spelling will improve playing Wheel of Fortune." Find My iPhone | 50 Best iPhone Apps 2012.
Of all the apps in the App Store, this is one that every iPhone owner should download. If you misplace your phone, Apple's Find My iPhone app will pinpoint its location on a map. What's more, if your phone is buried in the couch cushions, the app will instruct your handset to blast a sound for two minutes at full volume — even if it's set on silent mode. 50 really useful iPad 2 tips and tricks. An absolute gem of an article by John Brandon and Graham Barlow from MacLife on 30th March over at TechRadar. This is going to become my iPad manual from here on in. Customised iPads for all iPad 2 tips and original iPad tips - get 'em here! With great new features like two video cameras, a faster processor and a thinner design, the iPad 2 is the world's best tablet device. iPad 2 review.
70 Interesting Ways to use an iPad in the Classroom. 40+ Super Secret iPad Features and Shortcuts. We all want to get the very best out of our devices! Who doesn't love finding out a new trick or shortcut? This roundup aims to enlighten those new to the iPad, and guide old hands to a few new tricks – the heading might be laced with hyperbole, but you're going to have a look anyway… For those of you who are super-confident about your iPad knowledge, I'd like to propose a challenge.
Go through and see how many features and shortcuts you didn't know about, leave a comment with the number at the bottom of the post – and be honest! Primer: A Crash Course In Cool Camera Apps. 20 Great Classroom iPad Apps to add to your Collection (1-5) 50 Must-Have Educational Apps. Top 20 Must-Have Educational iPhone & iPad Apps Used By Real Teachers in the Classroom - iPhone app article - Shara Karasic.
39 Sites For Using iPads in the Classroom. 20 Amazing iPad Apps for Educators. 39 Sites For Using iPads in the Classroom. 50 resources for iPad use in the classroom. 40 Wonderfully Creative iPad Apps. 107 Favorite iPad Apps for K-8. The Best iPad Note Apps [Best Of. QCSD Resources - iPad Resources.
---