Music/Sounds
Chell in the Rain - The National - Exile Vilify - HTML5 Lyrical Edition. Free sheet music for piano. Free sheet music | Sheet music | Free piano sheet music. SHEET MUSIC. Internetz! Iron. I'm Yours / Somewhere Over The Rainbow - Audio Detail - SNCMusic.com. Dancing Typography / Never Gonna Give You Up. Music to use » Search. Unhear it - get that damn song out of your head! 'One Man Disney Movie' -- A 'Brady Bunch'-Style Medley.
Ever make fan videos of yourself lip-synching some popular tunes?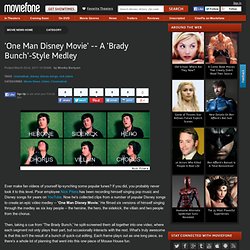 If you did, you probably never took it to this level. Pixar employee Nick Pitera has been recording himself singing pop music and Disney songs for years on YouTube. Ams - Malibu | Rihanna - Man Down. INCREDIBOX [ Official website ] I write for myself and I'll say anything I damn well please. Transcripts follow.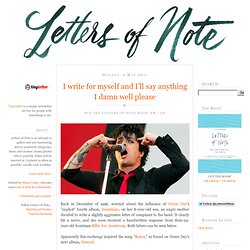 (Source: Dexter; Image above, via NME.) Transcript December 2, 1996 Green Day P.O. Box 710 Berkeley, Ca 94701-0710Re: InsomniacTo whom it may concern:I am a parent, and I am very disturbed by the cassette tape my 8 year old son was listening to. His 60 year old grandmother bought it for him as a birthday present and was totally unaware of its explicit content. Sǝuoſ ǝuıɥsunS » Teenage sex, satan, and the subversive nature of popular music in our halcyonic days of hay. Led Zeppelin Stairway to heaven Play Forward Forward Lyrics: If there's a bustle in your hedgrow, don't be alarmed now, it's just a spring clean for the may queen.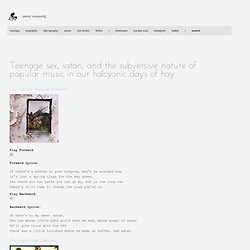 Yes there are two paths you can go by, but in the long run there's still time to change the road you're on. Play Backward: Musicovery. 7 Alternatives to Pandora and Last.FM | Mystery Tricycle. Whether you are annoyed by the ads on Pandora, the limited number of skips, or the abyss of cruel 30-second song teasers from Last.FM, many online listeners are growing weary of mainstream methods of hearing new music.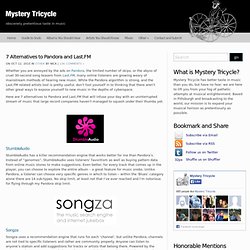 While the Pandora algorithm is strong, and the Last.FM related artists tool is pretty useful, don't fool yourself in to thinking that there aren't other great ways to expose yourself to new music in the depths of cyberspace. Here are 7 alternatives to Pandora and Last.FM that will infuse your day with an uninterrupted stream of music that large record companies haven't managed to squash under their thumbs yet. StumbleAudio. Fuck Music | We love music, we love to fuck. Otomata. New!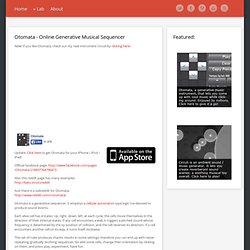 If you like Otomata, check out my new instrument Circuli by clicking here! Update: Click here to get Otomata for your iPhone / iPod / iPad! Official facebook page: Top 10 Free Ways To Discover New Music Online. Some of these websites have a community built around them, which gives fans the opportunity to interact directly with these new talents.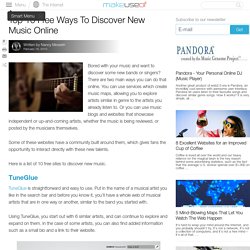 Here is a list of 10 free sites to discover new music. TuneGlue TuneGlue is straightforward and easy to use. Put in the name of a musical artist you like in the search bar and before you know it, you'll have a whole web of musical artists that are in one way or another, similar to the band you started with. Using TuneGlue, you start out with 6 similar artists, and can continue to explore and expand on them.
--[ HogafflaHage ]-- Om cookies på våra tjänster Vi använder cookies för att ge dig en bättre upplevelse av SVT:s webb.
Om cookies på barnkanalen.se Karaktärskarusell. Y100 Top 300 Songs of the 90's (Sep. 2000) Qwerty Beats | Online Drum Machine | Keyboard Drum Loops | Remix | Samples | uπit. Inudge.net - Nudge. The Labyrinth of Genre. Otomata. New!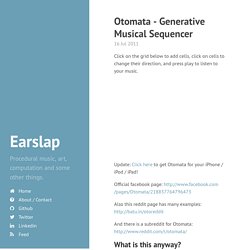 If you like Otomata, check out my new instrument Circuli by clicking here! Update: Click here to get Otomata for your iPhone / iPod / iPad! Official facebook page: November November | sisforstephie | 8tracks. Jurassic Park Theme (1000% Slower) by birdfeeder. :: musikame dj player 1.0 beta :: the easiest way to dj your soundcloud tracks :: Drum Kit. Mixes and Mashups #1's favorites. Don't Worry, I'm Yours [Remastered] (Jason Mraz vs. Bobby McFerrin vs. Israel Kamakawiwo'ole) by DJ Dain. The Music Maze. 5 Seconds of Every #1 Billboard Hot 100 Hit From 1993-2011 by AnthonyDC.
---