Food II
The new vegetarian | Life and style
The Post Punk Kitchen: Vegetarian cooking & vegan baking with no attitude
Campfire Cuisine
My idea of heaven is all the fresh air I can take in and all the good food I can cook. So I can't think of a better vacation than a camping trip. Over the years my friends and I have polished ours into spa-style holidays, with meals that go way beyond trail mix. We bring along olive oil, Parmesan cheese, lemons, onions--the stuff we consider staples--but we also make room for a few luxuries, like Champagne and good butter.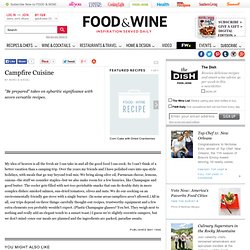 Campfire Potatoes and more delicious recipes, smart cooking tips, and video demonstrations on marthastewart.com
About 13 years ago, I was growing tomatoes and Mexican herbs for my little stand at the Yountville and Calistoga farmers markets. I thought I'd try beans because my tomatoes were taking to long to ripen and then it seems as if I blinked and now Rancho Gordo has a store in the San Francisco Ferry Building! I'd been approached before, first to open a small kiosk and later, for a full store. I wanted to do the kiosk but the beans are so heavy and I just couldn't imagine how to backstock all the product. If I was going for it, I wanted to go all the way.
Rancho Gordo: Experiments from my mostly New World kitchen and gardens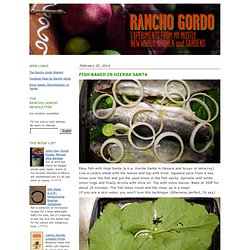 News For Curious Cooks
I write about the science of food and cooking: where our foods come from, what they are and what they're made of, and how cooking transforms them. On this site you can also find out about me, my books and my column in the New York Times , and the story of the Erice Workshops on Molecular and Physical Gastronomy. And there's a page devoted to my sister and first illustrator, Ann McGee Kurz .
Burma Superstar!
Raw Food Recipes | Raw Food Diet & Lifestyle - Rawmazing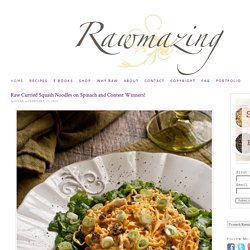 I am sitting in my kitchen, surrounded by furniture (that belongs in the family room) as carpet layers, window washers and air conditioning technicians swarm my house like it's a hive. The dogs have been sent to "Auntie Jan's" house for the day and the poor cats are locked in the courtyard so they will not escape out doors being left open for workers. It is happening again. Another move is underfoot. Two years ago this May, I moved from my beloved Minnesota to the San Francisco Bay Area, and I couldn't be happier.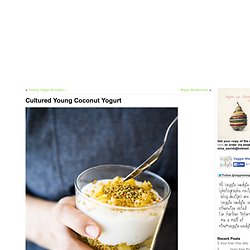 A few months ago I decided I wanted to make my own yogurt. Real, cultured yogurt. Of course making it traditionally with animal milk was out of the question, so into the world of milk alternatives I went.
Cultured Young Coconut Yogurt
Living and Raw Foods: The largest community on the internet for living and raw food information
First time visitor? Welcome! Click here to learn what this site is all about. Still Confused??? Please read the F.A.Q (Frequently Asked Questions) to learn more about the living and raw foods diet.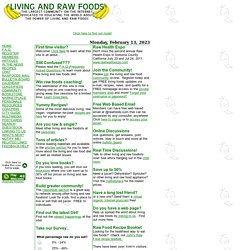 David Lebovitz
French cuisine is, once again, a popular topic of discussion these days. Actually, anything controversial about France seems to foster a lot of heated debates. On one side are the folks decrying French-bashing, complaining that the French are unfairly picked on. Then there are the others who eat up books about how superior the French are, because they are better at parenting, they miraculously stay thin, they don't have plastic surgery, everyone enjoys months of vacations, and Paris is a magical place where love, fashion, and fine food, flourish on the cobbled streets of the city. The truth, of course, lies somewhere in between and, like any where, there is the great, the ordinary, and a bit of the not-so-good.
foodgawker | feast your eyes
Make A Cookbook Easily - TasteBook, the #1 Recipe Book
smitten kitchen
Wednesday, April 16, 2014 baked eggs with spinach and mushrooms My brunch arsenal, the dishes I've made enough times that they no longer cause any furrowed brows — a core entertaining principle here at House Smitten Kitchen (sigil: cast-iron skillet) — is as follows: bacon (always roasted in the oven, I mean, unless you were hoping to mist yourself with eau de pork belly*); some sort of fruit salad (either mixed berries and vanilla bean-scented yogurt or mixed citrus segments, sometimes with mint and feta); buttermilk biscuits; a pitcher of Bloody Marys, a bottle of champagne and a couple carafes of freshly-squeezed grapefruit or orange juice, blood orange whenever available; something sweet (our current favorite) and eggs. As I dictated years ago, everything that can be made in advance should be, thus pancakes, individually fried slices of French toast, omelets and even eggs baked in ramekins, adorable as they may be, are verboten.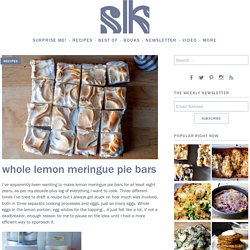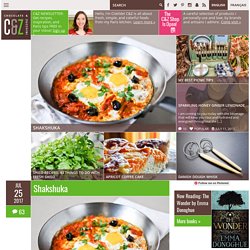 If you keep an eye on my Favorites of the Month posts, which naturally I recommend you do, you may remember me featuring some organic and gluten-free cookies made in Belgium by a small company named Generous: a friend had kindly refered them to me, and they had offered to send samples my way. I was impressed by the delicate, sandy texture they managed to create for their sablés — not so easy with gluten-free baked goods — and I love that they chose to use buckwheat flour, and embrace its bold flavor. The simpler-shaped cookies had just as much snap and flavor as their more ornate counterparts. The buckwheat notes work especially well in their speculoos, an emblematic spice cookie that is typically baked in the north of France, Belgium, the Netherlands, and parts of Germany.
Chocolate & Zucchini
This is a very special recipe for two important reasons: One, it's delicious, hearty, and comforting. Noodles. Meatballs.
The Pioneer Woman Cooks - Ree Drummond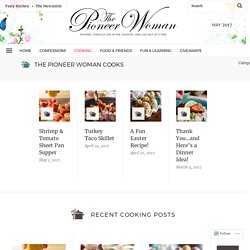 FatFree Vegan Kitchen | Sinlessly Delicious Recipes
Thank you all for your thoughts and prayers. My surgery went very well, and I'm up and about and feeling more normal every day. Your emails and messages of support have meant so much to me and are surely speeding up my recovery. Resting and recuperating gave me an unexpected opportunity to sample other people's cooking.
Serious Eats: A Food Blog and Community
How to Set Up Recipe Print Pages with Google Sites - Food Blog Alliance
One of the most useful blogging tricks I've learned is how to make separate printable pages for my recipes that can be linked to my posts. Sometimes, my posts can be quite lengthy with several large pictures. Who wants to print all that out? I wanted to find a way for my readers to enjoy reading my blog, yet be able to easily print out only what they need – the recipes.
Mind Tools - Management Training, Leadership Training and Career Training - Right Here, Right Now.
The Fresh Network
Coconut Water ZICO, Cocowell, Vita Coco coconut water, juice
Vegan London :: Raw Food
French Laundry at Home
Picture it: Mount Wolf, PA. December 25, 2000. It's Christmas morning, and I'm sitting in front of the Christmas tree in my parents' living room. My parents, my brother, his wife, and I each have a stack of gifts to open, but there's one present that is serving as quite the distraction (to me anyway).
Real Food Daily
We have come a long way since George Baldwin first opened his doors on 77 Walworth Road, South East London in 1844. In the last 160+ years, Baldwins has passed from the loving care of George Baldwin whose family helped to establish 12 shops (before downsizing) to the Dagnell family, who have enabled Baldwins to grow into the thriving and vibrant store you see today: London's oldest and much loved Herbalist. Now located on 173 Walworth Road, our store still captures the nostalgic atmosphere of the original apothecary – wooden floors, high old fashioned counters and shelves stacked with herbs, oils and ointments.
Essential Oils, Aromatherapy Products, Herbal Remedies, Natural Medicine, Homeopathic Remedies - Baldwins
Raw Food - Purely Raw, Welcome - www.purelyraw.com
Everyone's now talking about the benefits of eating more fresh fruit & veg and the toxic truth about processed food. Eating Purely Raw food has been a superhealth secret for much too long. Congratulations! You've found something that many wish for daily. You are no longer limited by what doctors, friends and family have told you was inevitable.
Raw Food Life - the Science of Raw Food!
Raw Food Scotland
Raw Food | Total Raw Food | Raw & Vegan Food, Recipes & Shop | UK
Organic and Fairtrade: Tea, Coffee, Pasta, Rice, Dried Fruit... food full of goodness direct to your door!
101 Cookbooks
Apartment Therapy The Kitchn
Mozilla Firefox
We Like It Raw - Raw Food Goodness
Married …with dinner
TasteSpotting | a community driven visual potluck
Lunch in a Box: Building a Better Bento
Shazzie's Visionary In Paradise books, blogs, inspirations and products
Slashfood - Food News, Food Culture, Food Conversations
At Home With Patricia Wells
EUSTAS
The Yeast-Free Kitchen: Recipes to ...
We Like It Raw - Raw Food Goodness
Michael Ruhlman - Translating the chef's craft for every kitchen
Peter Reinhart's Weblog
BitterSweet
Soft-Serve Frozen Yogurt
Farmgirl Fare
Walnut cream cake with blackberry jam recipe at Gone Raw
BIO Restaurant - Comida Orgánica
Gluten-Free Girl and the Chef