Food II
The new vegetarian. The Post Punk Kitchen: Vegetarian cooking & vegan baking with no attitude. Campfire Cuisine. My idea of heaven is all the fresh air I can take in and all the good food I can cook.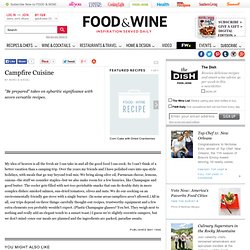 So I can't think of a better vacation than a camping trip. Over the years my friends and I have polished ours into spa-style holidays, with meals that go way beyond trail mix. We bring along olive oil, Parmesan cheese, lemons, onions--the stuff we consider staples--but we also make room for a few luxuries, like Champagne and good butter. Campfire Potatoes and more delicious recipes, smart cooking tips, and video demonstrations on marthastewart.com. Rancho Gordo: Experiments from my mostly New World kitchen and gardens. News For Curious Cooks. Burma Superstar! Raw Food Recipes | Raw Food Diet & Lifestyle - Rawmazing. Cultured Young Coconut Yogurt. A few months ago I decided I wanted to make my own yogurt.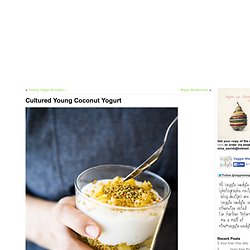 Real, cultured yogurt. Of course making it traditionally with animal milk was out of the question, so into the world of milk alternatives I went. Living and Raw Foods: The largest community on the internet for living and raw food information. David Lebovitz. Foodgawker | feast your eyes. Make A Cookbook Easily - TasteBook, the #1 Recipe Book.
Smitten kitchen. Chocolate & Zucchini. The Pioneer Woman Cooks - Ree Drummond. This is a very special recipe for two important reasons: One, it's delicious, hearty, and comforting.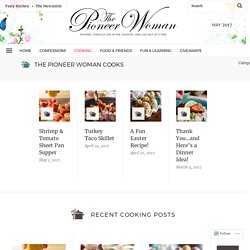 Noodles. Meatballs. FatFree Vegan Kitchen | Sinlessly Delicious Recipes. Serious Eats: A Food Blog and Community. How to Set Up Recipe Print Pages with Google Sites - Food Blog Alliance. One of the most useful blogging tricks I've learned is how to make separate printable pages for my recipes that can be linked to my posts.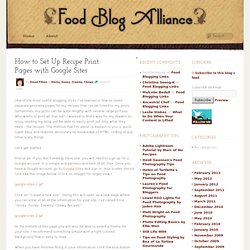 Sometimes, my posts can be quite lengthy with several large pictures. Who wants to print all that out? I wanted to find a way for my readers to enjoy reading my blog, yet be able to easily print out only what they need – the recipes. Mind Tools - Management Training, Leadership Training and Career Training - Right Here, Right Now. The Fresh Network. Coconut Water ZICO, Cocowell, Vita Coco coconut water, juice. Vegan London :: Raw Food. French Laundry at Home. Real Food Daily. Essential Oils, Aromatherapy Products, Herbal Remedies, Natural Medicine, Homeopathic Remedies - Baldwins. Raw Food - Purely Raw, Welcome - www.purelyraw.com. Raw Food Life - the Science of Raw Food! Would you like to live in a world without war or poverty ... where everyone respects the lives, liberty and property of everyone else?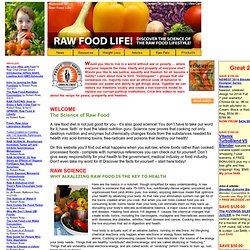 Would you like to see justice, equality and freedom for all become a reality? Learn about how to form "Octologues" -- groups that use consensus (vs. majority rule) and an ethical code of behavior to increase our power and ability to get things done. Together we can restore our freedoms locally and create a non-coercive model to replace our corrupt political institutions. Click this button to learn about the recipe for peace, prosperity and freedom. WELCOME The Science of Raw Food.
Raw Food Scotland. Raw Food | Total Raw Food | Raw & Vegan Food, Recipes & Shop | UK. Organic and Fairtrade: Tea, Coffee, Pasta, Rice, Dried Fruit... food full of goodness direct to your door! 101 Cookbooks. Apartment Therapy The Kitchn. Mozilla Firefox. We Like It Raw - Raw Food Goodness. Married …with dinner. TasteSpotting | a community driven visual potluck. Lunch in a Box: Building a Better Bento. Shazzie's Visionary In Paradise books, blogs, inspirations and products. Slashfood - Food News, Food Culture, Food Conversations.
At Home With Patricia Wells. EUSTAS. The Yeast-Free Kitchen: Recipes to ... We Like It Raw - Raw Food Goodness. I've just gotten back to Utah from Eugene, Oregon and WOW what a trip it was!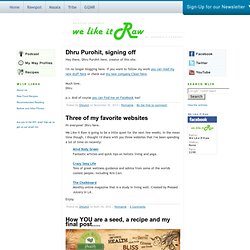 I was so blessed to be able to spend some quality time with my son Erik who is a vegan chef in Eugene hiking and site seeing. Eugene is literally a MECA of vegan cafes! They are everywhere! He told me it's harder to find meat in Eugene than it is vegan food. Michael Ruhlman - Translating the chef's craft for every kitchen. Peter Reinhart's Weblog.
BitterSweet. Soft-Serve Frozen Yogurt. You guys must think that all I eat these days is ice cream.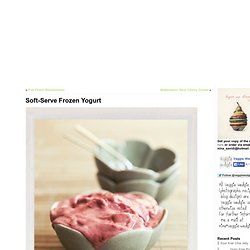 Well, that's not true, I still eat my green salad everyday and a few other things, but for some reason every recipe I create for the blog turns into an ice-cream. I hope you are enjoying the ice cream spiral I'm on. Today's ice cream is soft-serve frozen yogurt, destined to cool you off. Farmgirl Fare. Walnut cream cake with blackberry jam recipe at Gone Raw. A delicious ice cream cake that tastes like cookies and cream and cheesecake all at the same time.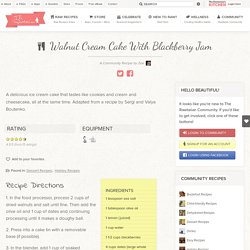 Adapted from a recipe by Sergi and Valya Boutenko. Ingredients: 1 teaspoon sea salt 1 tablespoon olive oil. BIO Restaurant - Comida Orgánica. Gluten-Free Girl and the Chef.
---