Food II
The new vegetarian | Life and style
The Post Punk Kitchen: Vegetarian cooking & vegan baking with no attitude
Campfire Cuisine
My idea of heaven is all the fresh air I can take in and all the good food I can cook. So I can't think of a better vacation than a camping trip. Over the years my friends and I have polished ours into spa-style holidays, with meals that go way beyond trail mix. We bring along olive oil, Parmesan cheese, lemons, onions--the stuff we consider staples--but we also make room for a few luxuries, like Champagne and good butter.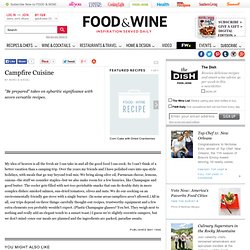 Campfire Potatoes and more delicious recipes, smart cooking tips, and video demonstrations on marthastewart.com
I'll be participating in this course on the food business. I wish this was around when I got started. I've made a lot of mistakes and you can learn from them. I do hear a lot of people say they want to do something like this but I've discovered over the years it's one thing to complain about your job or to be full of good ideas and it's another thing to be a real entrpreneur and make it on your own. It's scary and it's intimidating.
Rancho Gordo: Experiments from my mostly New World kitchen and gardens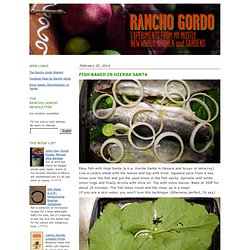 News For Curious Cooks
I write about the science of food and cooking: where our foods come from, what they are and what they're made of, and how cooking transforms them. On this site you can also find out about me, my books and my column in the New York Times , and the story of the Erice Workshops on Molecular and Physical Gastronomy. And there's a page devoted to my sister and first illustrator, Ann McGee Kurz .
Burma Superstar!
Raw Food Recipes | Raw Food Diet & Lifestyle - Rawmazing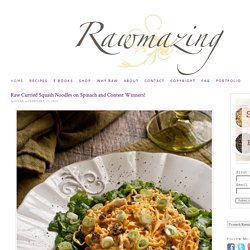 Last weekend, I had an incredible experience. Seriously incredible. I met a friend. Not so incredible? Well, wait until you hear the back story on this one.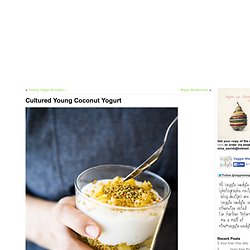 A few months ago I decided I wanted to make my own yogurt. Real, cultured yogurt. Of course making it traditionally with animal milk was out of the question, so into the world of milk alternatives I went.
Cultured Young Coconut Yogurt
Living and Raw Foods: The largest community on the internet for living and raw food information
First time visitor? Welcome! Click here to learn what this site is all about. Still Confused??? Please read the F.A.Q (Frequently Asked Questions) to learn more about the living and raw foods diet.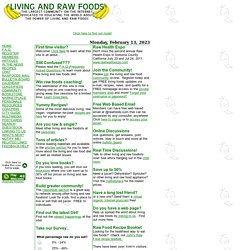 David Lebovitz
I'm not the only one who is sometimes confounded by the French language. We recently had lunch at Café des Musées and my (French) partner ordered the entrecôte. Which I was eyeing on the menu, as I always do. But since I just finished a holiday food binge of epic proportions (plus a recent trip to San Francisco, where I gorged on tortillas, chow fun, and burritos), I decided to be a little more prudent and order the daily chalkboard special, a game dish that came with a salade de saison. Americans have an interesting relationship with steaks and beef: Before ordering, most people want to know what cut they're going to get.
foodgawker | feast your eyes
Make A Cookbook Easily - TasteBook, the #1 Recipe Book
smitten kitchen
Thursday, January 16, 2014 pear and hazelnut muffins We all know that muffins teeter precariously on a razor-thin line that divides the food categories of "Acceptable for Breakfast" and "Nope, This Is Dessert" and one must maintain firm boundaries during the breakfast hours lest the day that follows devolve into a full-on bacchanal of Resolution decompensation that ends with one passed out amid scatters of Cheetos, ketchup packets and French fry grease with a side of cronut. Thus, when I come upon a new muffin recipe — or in this case, when my son is told to pick a recipe for us to make from a new book, and he predictably chooses the thing that most resembles cake — I immediately assess the list of ingredients and label them accordingly: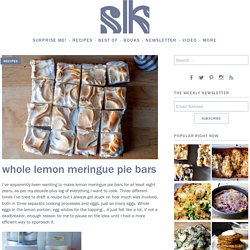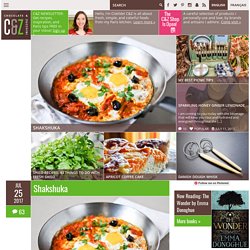 January 14, 2014 Where To Get Your Knives Sharpened in Paris A few months ago I read an interview with Yves Charles, owner of Perceval knives, whose handsome 9.47 I have often coveted while dining out at some of the nicer Parisian tables. In the interview he talked about knife sharpening, and how important it is to have a real pro do it, lest your blades be shot in the process.
Chocolate & Zucchini
This is a very special recipe for two important reasons: One, it's delicious, hearty, and comforting. Noodles. Meatballs.
The Pioneer Woman Cooks - Ree Drummond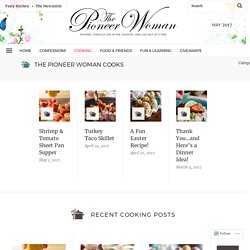 FatFree Vegan Kitchen | Sinlessly Delicious Recipes
For a long time I've been stuck on apples in my lunchtime salad, but yesterday my eyes fell on the bowl of clementines on the counter, and I just couldn't resist adding them to not only the salad but the dressing as well. I've been wanting to try one of Dr. Fuhrman's many orange and cashew dressings, but, honestly, they all contain too much fat for my tastes and needs. I'm one of those people who like a lot of dressing on salad, so I prefer to have something so low in calories and fat that I can just pour it on without worrying too much about how much I'm using.
Serious Eats: A Food Blog and Community
How to Set Up Recipe Print Pages with Google Sites - Food Blog Alliance
One of the most useful blogging tricks I've learned is how to make separate printable pages for my recipes that can be linked to my posts. Sometimes, my posts can be quite lengthy with several large pictures. Who wants to print all that out? I wanted to find a way for my readers to enjoy reading my blog, yet be able to easily print out only what they need – the recipes.
Mind Tools - Management Training, Leadership Training and Career Training - Right Here, Right Now.
The Fresh Network
Coconut Water ZICO, Cocowell, Vita Coco coconut water, juice
Vegan London :: Raw Food
French Laundry at Home
Picture it: Mount Wolf, PA. December 25, 2000. It's Christmas morning, and I'm sitting in front of the Christmas tree in my parents' living room. My parents, my brother, his wife, and I each have a stack of gifts to open, but there's one present that is serving as quite the distraction (to me anyway).
Real Food Daily
We have come a long way since George Baldwin first opened his doors on 77 Walworth Road, South East London in 1844. In the last 160+ years, Baldwins has passed from the loving care of George Baldwin whose family helped to establish 12 shops (before downsizing) to the Dagnell family, who have enabled Baldwins to grow into the thriving and vibrant store you see today: London's oldest and much loved Herbalist. Now located on 173 Walworth Road, our store still captures the nostalgic atmosphere of the original apothecary – wooden floors, high old fashioned counters and shelves stacked with herbs, oils and ointments.
Essential Oils, Aromatherapy Products, Herbal Remedies, Natural Medicine, Homeopathic Remedies - Baldwins
Raw Food - Purely Raw, Welcome - www.purelyraw.com
Raw Food Life - the Science of Raw Food!
Raw Food Scotland
Raw Food | Total Raw Food | Raw & Vegan Food, Recipes & Shop | UK
Organic and Fairtrade: Tea, Coffee, Pasta, Rice, Dried Fruit... food full of goodness direct to your door!
101 Cookbooks
Apartment Therapy The Kitchn
Mozilla Firefox
We Like It Raw - Raw Food Goodness
Married …with dinner
TasteSpotting | a community driven visual potluck
Lunch in a Box: Building a Better Bento
Shazzie's Visionary In Paradise books, blogs, inspirations and products
Slashfood - Food News, Food Culture, Food Conversations
At Home With Patricia Wells
EUSTAS
The Yeast-Free Kitchen: Recipes to ...
We Like It Raw - Raw Food Goodness
Michael Ruhlman - Translating the chef's craft for every kitchen
Peter Reinhart's Weblog
BitterSweet
Soft-Serve Frozen Yogurt
Farmgirl Fare
Walnut cream cake with blackberry jam recipe at Gone Raw
BIO Restaurant - Comida Orgánica
Gluten-Free Girl and the Chef