iPad
iPad for Teaching & Learning.
iPads in the Classroom. iPad Pilot Project. iPad for Primary Learning. iPads at AES - a snapshot of iPads in school. iPads in the Classroom. On Monday, January 9, LCS is having a professional development day under the motto "Teachers Teaching Teachers".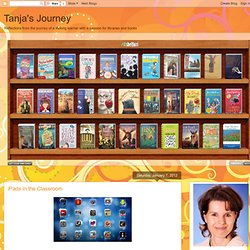 With my colleague Rhona, I will be hosting a one-hour session on iPads in the classroom. The main idea is to get teachers excited about exploring the use of our school iPads in their classroom, by giving a few examples of what you can do with an iPad. Collaborative Whiteboard Apps for the Classroom. Interactive and collaborative - Whiteboards are a great way for teachers to explain concepts to their students.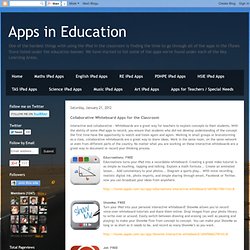 With the ability of some iPad apps to record, you ensure that students who did not develop understanding of the concept the first time have the opportunity to watch and listen again and again. Working in small groups or brainstorming as a class, collaborative whiteboards are a great way to share ideas. Work in the same room, on the same network or even from different parts of the country. No matter what you are working on these interactive whiteboards are a great way to document or record your thinking process.
Educreations: FREE Educreations turns your iPad into a recordable whiteboard. Keeping Students Engaged in a 1:1 Project-Based Classroom [guest post] Image approved for copy by Creative Commons.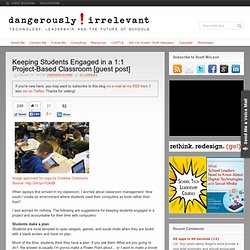 Source: When laptops first arrived in my classroom, I worried about classroom management. iPad for Primary Students - List. 7notes for iPad Lets You Take Notes On-Screen with Your Finger. Ah, what the hell...Let me fourth or fifth the nomination for Note Taker HD.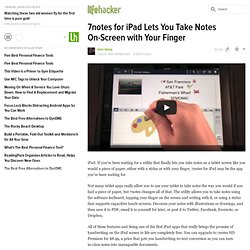 It is, by far, the most full-featured note taking app for the iPad, and it's been out for almost a year, now. It has a wrist-zone, letting you do what MOST iPad writing apps don't do: write like a PERSON. You can rest your wrist in this area without fear of marking up your notes. You can zoom in on your notes for precise writing, import PDFs, and e-mail completed notes (I believe they just integrated Evernote, if I read the update last week correctly). This is the App I point everyone to when they say they want to use their iPad as a full paper/pencil replacement. Home. iPads in the Classroom. IPAD Activities Examples. 65+ iPad Apps Perfect For Elementary School | Education Technology and Teacher Tools – Edudemic.
iPads and Tablets in Education. iPad for Teaching & Learning. 55 Beautiful Apple iPad Wallpapers - Noupe Design Blog. May 31 2010 This is the age of iPhones, iPods and iPads, people simply love to have these amazing inventions of information technology.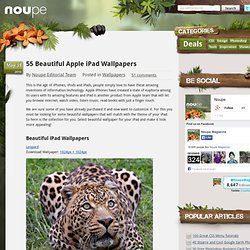 Apple iPhones have created a state of euphoria among its users with its amazing features and iPad is another product from Apple team that will let you browse internet, watch video, listen music, read books with just a finger touch. We are sure some of you have already purchased it and now want to customize it. For this you must be looking for some beautiful wallpapers that will match with the theme of your iPad. So here is the collection for you. iPad App. Educreations.
Teaching with Ipads. An iPad in Every Classroom: Teacher Tested, Student Approved! « Wired Educator. We've moved!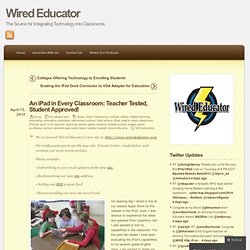 Wired Educator's new site is: really want you to see the new site. It looks better, reads better, and contains our most recent articles.Please consider:• Subscribing to our email updates at the new site.• Bookmarking our new site address.• Adding our RSS to your feed.• Recommending our new site to a friend. On opening day I stood in line at my nearest Apple Store for the release of the iPad.
Sure, I was anxious to experience the latest and greatest from Cupertino, but I also wanted to test its capabilities in the classroom. For the past two weeks I have been evaluating the iPad's capabilities in my seventh grade English class. Learning and Teaching with iPads. Top Charts - iPad - United States - Education.
Elementary Tech Teachers - A place for elementary tech teachers to share. Top ten tips for using technology in the classroom. Learn How To Integrate Technology into The Classroom on the Educational CyberPlayGround. AT&TSeeing the Digital Future (1961) 1966 prediction of the home computer for 1999 2013 Pew survey of 2,462 teachers says 73% of students use mobile devices to complete assignments, 45% use e-readers, and 43% use tablets.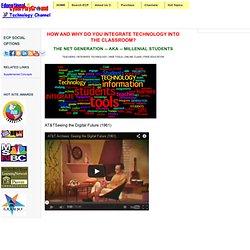 Some key points: Tablet sales (all models) are expected to top 191 million units this year. Smaller and cheaper prices are main reasons for increased sales. Using A Digital Camera in the Classroom. General Classroom Ideas: PowerPoint Presentations; HyperStudio Presentations; Parent Night (Open House) Displays; Web pages; Bulletin boards; Screensavers; Journal writing; School Newspapers; Document Classroom Projects; Snapshots to send to local media; Daily announcements; Art projects; Show and tell.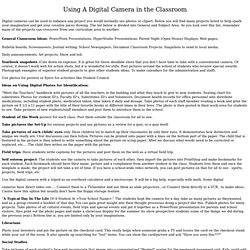 Yearbook snapshots (Cuts down on expense; It is great for those deadline shots that you don't have time to take with a conventional camera. Of course, it doesn't work well for action shots, but it is wonderful for stills. iPads in Education. Pros and Cons of the iPad in Education — Apple News, Tips and Reviews. 10 Excellent iPad Applications for Teachers. With the iPad2 on the launching pad, it's a great time to share this list of useful iPad apps for teachers from guest writer Paula Dierkens.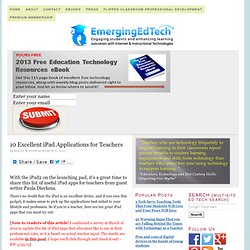 There's no doubt that the iPad is an excellent device, and if you own this gadget, it makes sense to pick up the applications best suited to your lifestyle and profession. So if you're a teacher, here are ten great iPad apps that you must try out: [Note to readers of this article! Measuring the iPad's Potential for Education. Analysis Measuring the iPad's Potential for Education Educators and analysts weigh in on how the iPad could infiltrate the hallways of K-12 schools nationwide By Bridget McCrea01/27/10.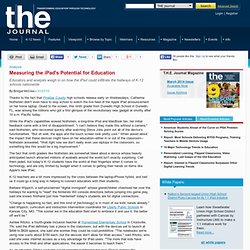 How will the iPad change education? « PBS TeacherLine Blog. GHB Ipads in EDUCATION. Education - iPad makes the perfect learning companion. Top 5 iPad apps for Educators. It would be remiss of me not to put together an obligatory iPad story that is loosely linked to education so here are some top iPad apps for educators who feel as though they need to do something work related on it after they have finished playing with all the fun stuff on it iWork Until Microsoft release office for the iPad iWork offers the MS Works equivalent of a productivity suite for the iPad.
Pages, Numbers and Keynote make for a fairly impressive productivity suite for $30, or $10 each. Apps For Teachers: iPad/iPhone Apps AppList. More App Info description & screenshots Free TeacherPal by ITWorx Since taking attendance and keeping a gradebook is a regular task for all teachers, having a great solution on your iPhone or iPad is a must.
This simple, effective, free, universal app belongs on every teacher's iDevice. Take attendance; track grades and behavior for your students. Set up a profile for each student that can even include information such as allergies. You can email parents and/or students directly from the app. Import .csv files. iPad in education. Video Tools - iPad Multimedia Tools. iPad Resources - MultiURL.
iPad Resources Open all links in new window More Sharing Services Top Apps Review Science Apps Review Top Science Apps Review iPad Apps for High Schools iPad Apps for High Schools - 2 Bloom'in iPad Apps Tony Vincent's iPad Resources App Safari Apple Apps Recommendations iPads in the Classroom Tips for iPad Essential Tips for iPad Complete list of tips, tricks and resources Podcasts Resources iPad apps for FCS An iPad in Every Classroom iPads in Education Apps for Special Needs (by Moms) Special Education Apps Appitic - An App for Everything Education Bridging Apps (Bridgingapps) Created with MultiURL.
APPitic - 1,300+ EDUapps. Critical evaluation of an ipad/ipod app. Critical evaluation of an ipad/ipod app. Ten Sites Supporting iPads In Education… A Post Of Resources. It's time to bring you more information on some fantastic iPad resource sites for education. As more schools discover the power of the iPad, there seem to be more educators excited about discovering apps that engage students while making classroom learning come alive!
Before presenting these ten sites please take a moment to sign up by either RSS or email to this post. Upcoming articles include: * Are There Really Whales In Lake Michigan… A Seven Step Approach To Web site Evaluation (A-G) – In this seven part series I will deliver what I believe to be a powerful and meaningful way to teach web site evaluation. It will include downloadable powerpoints, activity sheets, information sheets, posters, and PDF booklets. Apps. Blog | my-pad.ch. iPads for Learning - Getting Started. iPads for Education | Victoria, Australia.
Anykey IT WebOffice | anykey IT AG.
---