Uniqu samples
How Parallel Universes Actually Work, Scientifically. Aubrey de Grey: A roadmap to end aging. Meet the 14th Century African king who was richest man in the world of all time (adjusted for inflation!) By Olivia Fleming Published: 19:21 GMT, 15 October 2012 | Updated: 09:59 GMT, 16 October 2012 An obscure king who ruled West Africa in the 14th century has been named the richest person in history in a new inflation-adjusted list of the world's 25 wealthiest people of all time.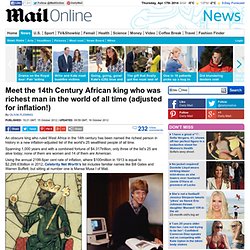 JAM with Chrome. המהפכה התעשייתית הבאה תהיה תוצרת בית - מגזין TheMarker. במבנה טרומי נמוך קומה, בפאתי אזור התעשייה המנומנם של העיירה אנפילד שבקונטיקט, יושב פיטר האסיק על דרגש נמוך ולוגם תה רותח.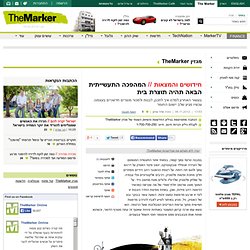 על רצפת ההאנגר רחב הידיים מפוזרים חלקי מתכת ופיסות פלסטיק, רכיבים אלקטרוניים וכלי עבודה. על שולחן פלסטיק שלרגליו גלגלים מונח מחשב נייד. Future Society & Enviroment. Web Lab. France 5 Rebrand | Idents. Sir Ken Robinson: Do schools kill creativity? Five Key TED Talks. In 1833, Ralph Waldo Emerson, a New England pastor who'd recently given up the ministry, delivered his first public lecture in America.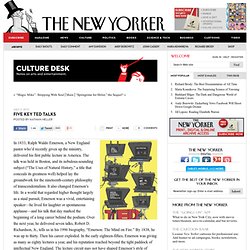 The talk was held in Boston, and its nebulous-sounding subject ("The Uses of Natural History," a title that conceals its greatness well) helped lay the groundwork for the nineteenth-century philosophy of transcendentalism. It also changed Emerson's life. In a world that regarded higher thought largely as a staid pursuit, Emerson was a vivid, entertaining speaker—he lived for laughter or spontaneous applause—and his talk that day marked the beginning of a long career behind the podium. Over the next year, he delivered seven talks, Robert D. Where the Hell is Matt? 2012. How tech has helped me be a better dad. It's Father's Day weekend, and many fellow dads out there may be looking for a good excuse to go out and buy some new gadgets.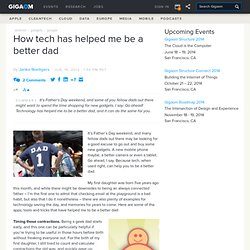 A new mobile phone maybe, a better camera or even a tablet. Go ahead, I say. Home - Mars One. Adam Westbrook: Want to be a Digital Storyteller? Just do it. Do you want to tell digital stories that touch people?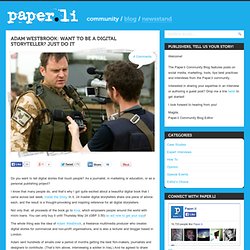 As a journalist, in marketing or education, or as a personal publishing project? I know that many people do, and that's why I got quite excited about a beautiful digital book that I came across last week, Inside the Story. Google Art Project. Interactive - Bear 71. 9/11 Memorial Timeline. The Painting Fool. Google Begins Testing Its Augmented-Reality Glasses.
Proust.com - Share your story. Preserve family history. Get to know the ones you love. - Proust.com. The Best Tools for Visualization. Visualization is a technique to graphically represent sets of data.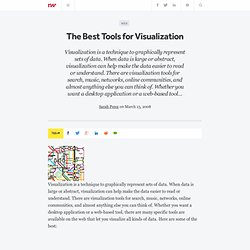 When data is large or abstract, visualization can help make the data easier to read or understand. There are visualization tools for search, music, networks, online communities, and almost anything else you can think of. Whether you want a desktop application or a web-based tool, there are many specific tools are available on the web that let you visualize all kinds of data. Here are some of the best: Visualize Social Networks. In Pictures: Top 15 augmented reality apps for iPhone and iPad - Slideshow. איך החיידקים שולטים בנו. ברוס גרמן, פרופסור לכימיה מאוניברסיטת קליפורניה דיוויס, חוקר זה יותר מעשור את אחת החידות הגדולות ביותר הקשורות בחלב האם: ההרכב המשונה שלו. 21% מהסוכר בחלב אם עשוי מחומר שאף תינוק אנושי אינו מסוגל לעכל.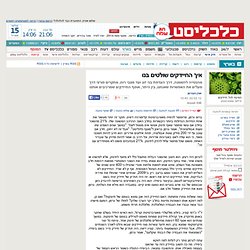 "במשך שנים האמינו שזו טעות אבולוציונית", אומר גרמן בראיון ל"מוסף כלכליסט". "אבל זה לא ייתכן. חלב אם עוצב על ידי 200 מיליון שנות אבולוציה, תחת אילוצים אדירים. הוא חייב להיות חסכוני מאוד, כי הוא עולה לאם באנרגיות אדירות, וכל רכיב בו אמור להיות מדויק על שבריר האחוז, משום שכל מחסור עלול להזיק לתינוק. 21% מבוזבזים פשוט לא מסתדרים עם זה". Adobe Museum of Digital Media. Catharsis. CNN ECOSPHERE.
---