Random Stuff
Make Your Own Glowing Bounce Balls. ThisIsWhyImBroke :: The Internet's Mall. Famous Television Show Home Floor Plans. After years of watching shows like Dexter and Two and a Half Men, you can't help but become so attached to the television show that you start wondering what their household really looks like.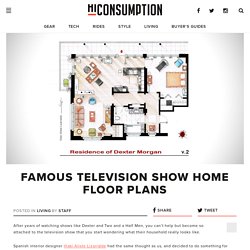 Spanish based interior designer Iñaki Aliste Lizarralde had the same thought as us, and decided to do something for himself creating this incredible series of highly detailed floor plans from some of our favorite television shows. The collection includes the likes of The Simpson, Dexter, Friends, Seinfeld, Two and a Half Men, The Big Bang Theory, How I Met Your Mother, and a handful others. Each of the floor plans is highly detailed, and not only includes the architectural side of things, but also goes into immense furnishing details really bringing these television shows to life. As a huge fan of a lot of these shows, this was definitely a project we could appreciate the amount of time and effort that was put in. Amazing Trick. Artwork by lawrence yang. Prices for original work ranges from $200 to $1000.
Please email me for more details. Limited edition prints are also available here. "Encounter" - ink and watercolor on paper - 20" x 16" - SOLD "Hydra" - sharpie on bristol- 24" x 17" - not for sale "Aqua Teen Triptych" - ink, watercolor and pastel on paper - each panel is 3" x 12" - SOLD. 11.20.11: A Weekly Gallery of Images. Accidental Mysteries is an online curiosity shop of extraordinary things, mined from the depths of the online world and brought to you each week by John Foster, a writer, designer and longtime collector of self-taught art and vernacular photography.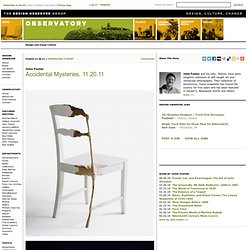 "I enjoy the search for incredible, obscure objects that challenge, delight and amuse my eye. More so, I enjoy sharing these discoveries with the diverse and informed readers of Design Observer." Editor's Note: All images are copyright of their original owners. How To Troll Someone's Computer. 52 Totally Feasible Ways To Organize Your Entire Home. Joe Harmon Design-Building The Splinter Wooden Supercar. World's Largest Gummi Bears! TM and Giant Gummy Bears - The Original Manufacturer. Do You Want To Dream Different? Posted by Radhika on September 11th, 2009 This mind teasing structure that you are viewing in pictures below was designed and developed by organic architect Javier Senosiain.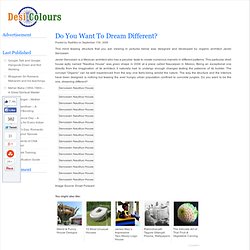 Javier Senosiain is a Mexican architect who has a peculiar taste to create numerous marvels in different patterns. This particular shell house aptly named "Nautilus House" was given shape in 2006 at a place called Naucalpan in Mexico. 15 Cool ways to Tie your Shoes. Tackle Any Issue With a List of 100. The List of 100 is a powerful technique you can use to generate ideas, clarify your thoughts, uncover hidden problems or get solutions to any specific questions you're interested in.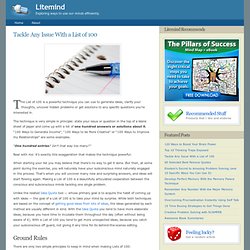 The technique is very simple in principle: state your issue or question in the top of a blank sheet of paper and come up with a list of one hundred answers or solutions about it. "100 Ways to Generate Income", "100 Ways to be More Creative" or "100 Ways to Improve my Relationships" are some examples. "One hundred entries? 50 Life Secrets and Tips. 35 Amazing Uses For Old Pallets. 50 Things You Didn't Know About 'The Simpsons' - NME Blogs. The Rock and Roll Hall of Fame is usually a bit of a snore.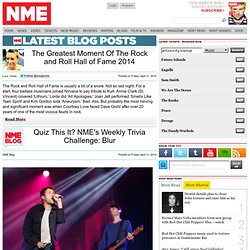 Not so last night. For a start, four badass musicians joined Nirvana to pay tribute to Kurt. Annie Clark (St. Most Popular Repurposing Tricks of 2011. The best trick of all is repairing broken stuff.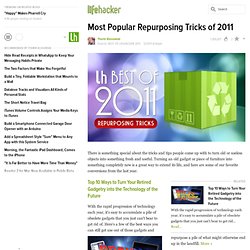 You would be amazed that in this throw away age so many things can be repaired easily. Invest your money in quality tools, and you will find the tool pays for itself in the first few repairs you make with it. There are wonderful adhesives and tapes that people aren't aware of that work wonders. Take an hour and go to a home hardware store and really browse around to discover some of these wonders of the modern world. You can also look online at some great catalogs that sell woodworking supplies, and find a great assortment of fine tools that you can use to repair almost anything.
Overhead-wall-bookshelves.jpg (468×600) Music Playlists | College Party Guru. Family tree of the Greek gods. 50 Things Everyone Should Know. By Mark and Angel Self-reliance is a vital key to living a healthy, productive life.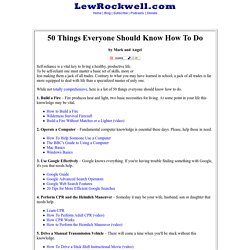 To be self-reliant one must master a basic set of skills, more or less making them a jack of all trades. Contrary to what you may have learned in school, a jack of all trades is far more equipped to deal with life than a specialized master of only one. Viewing Entry - 'SOCIETY' Sketchbook on the Behance Network. BIGADDICT. Telegrafix Takes Another Take on Popular Characters.
Quotes
Bic pen - reinventing the most popular ballpoint. © copyrights designboom, all rights reserved. all material published remains the exclusive copyright of designboom. no contents, including text, photographs, videos, etc. may be reproduced in whole or in part without the written consent of designboom. in addition, no material or contents may be reproduced on the world wide web by techniques of mirroring, framing, posting, etc. without the written consent of designboom.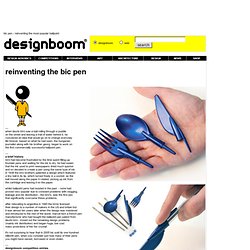 The best Bar Tricks and Magic Tricks website. 20 Awesome Products And Design Ideas.
SteamPunk
Gregs Gypsy Bowtop Caravans - Home. Bart Simpson's Chalkboard Quotes. We've all seen Bart's relief as the bell rings and he's released from detention, but how does he get in so much trouble?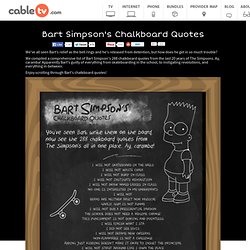 We compiled a comprehensive list of Bart Simpson's 288 chalkboard quotes from the last 20 years of The Simpsons. Ay, caramba! Apparently Bart's guilty of everything from skateboarding in the school, to instigating revolutions, and everything in-between. Enjoy scrolling through Bart's chalkboard quotes!
---