London Olympics '12
Get flash to fully experience Pearltrees
Sui Lu's inconsistencies kept her off the historic Chinese team that competed in Beijing, and she considered quitting the sport all together.
McKayla Maroney competes on the vault in the women's team final. The artistic gymnastics events at the 2012 Olympics are all complete, and this year's Games taught us a number of lessons. Here, now, a breakdown of what we learned about the state of the sport from the London Games.
Jordyn Wieber, right, and Alexandra Raisman at the AT&T American Cup in New York in March Photo by Timothy A. Clary/AFP/Getty Images.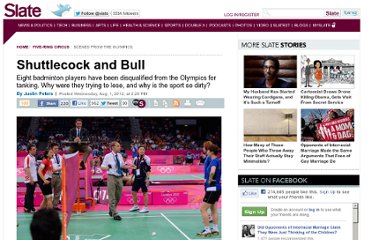 An official threatens Greysia Polii and Meiliana Jauhari of Indonesia and Jung Eun Ha and Min Jung Kim of South Korea with a "black card" disqualification in their women's doubles match.
Scales with a hard upper limit, like the old gymnastics scoring or the SAT, say that what's important is the pursuit of perfection.
Nanning Gymnasium in Nanning, China, is one of many ruthless training camps in China Here children, some as young as five, battle to complete the demanding routines on bars, rings, and mats By Matt Blake
LONDON (AP) — At UC Irvine, coach John Speraw had the "David Smith Rule" for his star middle blocker. "That means, 'When David wants it, David takes it,'" Speraw said.
Oscar Pistorius competes in the first round of the 400 meters at the 2012 Olympics.
China's star diver, 26-year-old Wu Minxia, has sacrificed school and a family life to bring home the gold.
Li Xiaoxia of China in action during day three of the ITTF Pro Tour Table Tennis Grand Finals.