Tech Helper
Legal Music For Videos. Many musicians choose to release their songs under Creative Commons licenses, which give you the legal right to do things like use their music in your videos.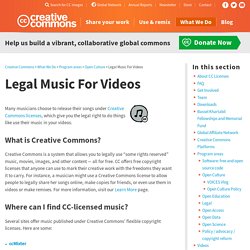 What is Creative Commons? Creative Commons is a new system, built upon current copyright law, that allows you to legally use "some rights reserved" music, movies, images, and other content — all for free. CC offers free copyright licenses that anyone can use (without a lawyer) to mark their creative work with the freedoms they want it to carry.
Web QR. Podcasting. Students and teachers from all over the world are learning from audio and video programs on desktop computers, laptops, tablets, netbooks, and other devices.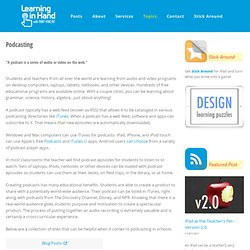 Hundreds of free educational programs are available online. With a couple clicks, you can be learning about grammar, science, history, algebra...just about anything! A podcast typically has a web feed (known as RSS) that allows it to be cataloged in various podcasting directories like iTunes. Text 2 Mind Map - Simple mind mapping online.
IT Coaching
Safe Share for YouTube videos. TubeChop - Chop YouTube Videos. Quietube: Video without the distractions. ViewPure - Videos without clutter. Lettering Delight. Transformational Gaming Project.
One Stop Resource for Google Docs. If you're a Google Docs user, curious about Google Docs, work with Google Docs with students, and especially if you're looking for help understanding all of the features of Google Docs, then you've got to bookmark MaryFran's Google Docs Tutorials.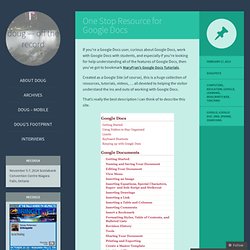 Created as a Google Site (of course), this is a huge collection of resources, tutorials, videos, … all devoted to helping the visitor understand the ins and outs of working with Google Docs. That's really the best description I can think of to describe this site. Navigation and use is as simple and powerful as Google Docs itself. Just select a topic of interest from the left side navigation menu and read on. Shorten multiple urls. Timeline Creation. Template Maker. TwitterIcon. QR voice. Visual QR Design. SideVibe. Public Domain Resources. Public domain does not fully describe the types of resources available on this page.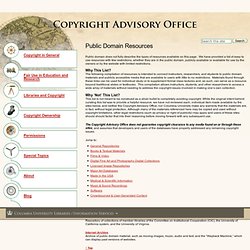 We have provided a list of easy to use resources with few restrictions, whether they are in the public domain, publicly available or available for use by the owners or by the website with limited restrictions. Why This List? The following compilation of resources is intended to connect instructors, researchers, and students to public domain materials and publicly accessible media that are available to users with little to no restrictions. Materials found through these links can be used for individual study or to supplement formal class lectures and, as such, can serve as a resource beyond traditional slides or textbooks. Commons. 5000 Free Stock Photos. Incredible Clip Art & Public Domain Images.
Stock.xchng. MorgueFile free photos. Fotopedia. Logo Design and Name Generator. 4 Free Photos. Free Photos for Bloggers. Royalty Free Music & Songs | Free Background Music Downloads. Free to use with credit.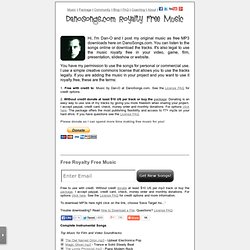 Without credit donate at least $10 US per mp3 track or buy the package. I accept paypal, credit card, check, money order and monthly donations. Soundation — Make Music Online. Vocaroo | Online voice recorder. Online Converter. Zamzar converter.
---