Crochet
Crocodile Stitch. Luma Plushie. Yay!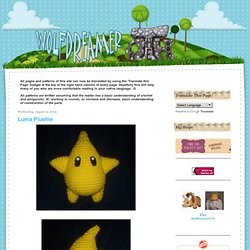 More mario plushies! LOL.. well I had to make Luma. I've had dozens of requests for it, and it's a fairly simple pattern to design, and I needed easy. Working on my current commission project is draining my last ounce of patience, so this was a welcome break :D Luma can be made in just about any color you want... so have a blast. lol. | Red Heart. Diana natters on... about machine knitting: New Video - Warm Child's Hat.
The Machine Knitter's Treasure Chest. Knitting-Looming-Machine Knitting, Crochet and other stuff. Patrón de gorro de crochet de Hello Kitty. Para este domingo les tengo un lindo patrón de gorro de crochet de Hello Kitty, para todas aquellas madres o abuelas que desean tejer algo bonito para las niñas.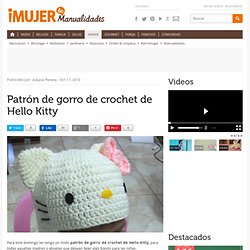 Esta no es una manualidad a crochet difícil de hacer, pero requiere algo de tiempo y paciencia. Podrán imprimir este patrón de crochet para trabajar comodamente. Materiales: Ordenador/Impresora Hilo de crochet Aguja de crochet Tijera Paso a paso: Spongebob purse *Update* now with tut and corrections written in red. Hi!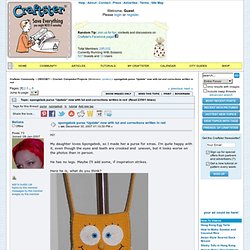 My daughter loves Spongebob, so I made her a purse for xmas. I'm quite happy with it, even though the eyes and teeth are crooked and uneven, but it looks worse on the photos than in person. Cactus con flor grande. Haciendo clic aquí pueden ver los tutoriales de la técnica básica del tejido amigurumi.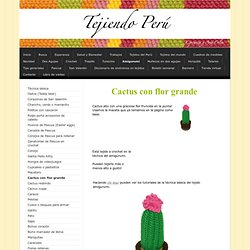 ¡Gracias por compartir este tutorial del cactus largo con flor fruncida! : Ver el video en el canal de Youtube de Tejiendo Perú: Crochet Panda Hat ∙ Creation by Jessica L. on Cut Out. Knitted Cat Hat ∙ How To by Raven on Cut Out. PSYDUCK with pattern. Well being on a bit of a Pokemon kick lately ...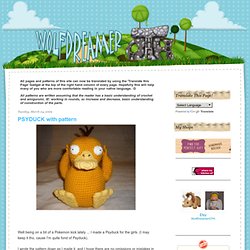 I made a Psyduck for the girls. (I may keep it tho, cause I'm quite fond of Psyduck). I wrote the pattern down as I made it, and I hope there are no omissions or mistakes in it. If anything is wrong, please let me know, I'll correct it as quickly as possible :) The picture doesn't really do it justice, I simply couldn't get the right light, but maybe I'll try again another time and get a better picture. Materials:WW yarn Gold and light yellow(I used RedHeart SS in Gold and Cornmeal)Small amounts of white and brown WW yarnF hookFiberfillYarn Needle.
Crochet star wars patterns. Crochet Patterns, Free Crochet Pattern. Crochet Ron Weasley Animal Crackers Hat « Hyperspace Portal. Okay, so I've been meaning to put this pattern up ever since I finished my own hat and was glad I wrote things down as I worked.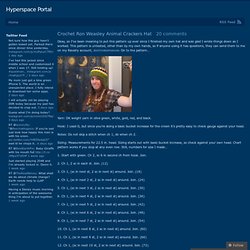 This pattern is untested, other than by my own hands, so if anyone using it has questions, they can send them to me on my Ravelry account, dontmakemeover. On to the pattern… Yarn: DK weight yarn in olive green, white, gold, red, and black. Laura Michels - Crazy Crochet Lady: Super Mario/Luigi Hat Pattern. Super Mario and Luigi Hat Pattern Size H hook Ch 2.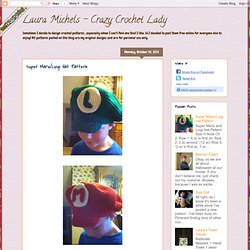 Row 1: 6 sc in first ch. Row 2: 2 sc around. (12 sc) A knit and crochet community. Untitled Document. Avatar Flying Bison Hat - $25.00 : CUTIEHATS, custom hats. Items are made from soft acrylic yarn.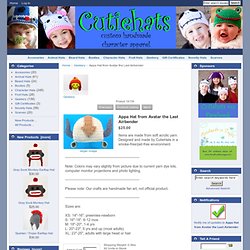 Designed and made by CutieHats in a smoke-free/pet-free environment. Note: Colors may vary slightly from picture due to current yarn dye lots, computer monitor projections and photo lighting. Please note: Our crafts are handmade fan art, not official product. Sizes are: Crochet Creative Creations- Free Patterns and Instructions: Crochet Snoopy Dog Child Hat. Crochet Snoopy Dog Child Hat Come check out my new Crochet Site with new patterns, Crochet Hat sizes with this Double crochet patternNewborn baby head circumference, 13" - 14", Hat height = 5.5 to 6"= D hook, Baby 3 to 6 months, Head Cir, 14" - 17 ", Hat height= 6.5 - 7"=E hook, baby 6-12 months, 16"-19" head cir., hat length=6.5-7"=F hook, toddler-preschooler (12 months-3 yrs), 18"-20" head cir., hat length=7" =G hook,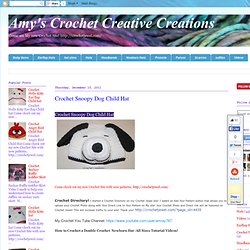 January 2012. Simply Crochet and Other Crafts: Angry Birds!! Once I found the awesomeness which is Pinterest, I found the wonderful idea for Angry Bird Hats!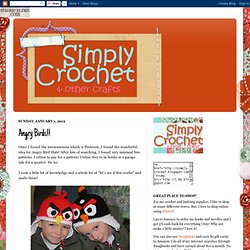 After lots of searching, I found very minimal free patterns. I refuse to pay for a pattern! GUANTES FLANDRIA S.A. | Fábrica de guantes, gorros, bufandas. Mar del Plata, Buenos Aires, Argentina. How to embroider a skull on an ipod sock... :: projects :: geek technique. First, I tried to count the amount of pixels an ipod sock has… In the end it became a 40 pixels wide, 50 pixels high grid . then of course, I had to draw the skull I wanted on my sock.
Luckily, the guys over at hackaday.com have a great skull-logo, so I used that as a basis :-) Then I needed to come up with a good way of actually embroider this onto the sock… I tried all sort of things, putting a deck of cards in the sock, roll it down a little… aaaargh! Objetos artesanales » Otras categorías. Manual Downloads. Toyota KS 858/777/895 Knitting Machine Manual. A Scrapbook of Me: Modern Knitting. While doing the Google search for ideas in organizing your knitting supplies, I came across some of the neatest ideas. When I learned to knit (junior high school) I only knew about knitted toboggans, knitted mittens, knitted plain scarves and sweaters. My Mom and Grandmother were the knitters in our family. The blue blog archives: blogging about reading about knitting. Reviews of some great, and sometimes not so great, knitting (and sewing) books april 2, 2010 sweater quest Recently I have been reading about some big names: the Yarn Harlot, Ann & Kay, Clara Parkes, Amy Singer, and even She Who Must Not Be Named (shhhh, come closer... it's...
Alice Starmore). Maker*land: How to knit a silly hat.... ...for a crazy kid. Lord knows what's going on inside that head. Although I tried, I couldn't convince Cameron that a conventional beanie with a single pompom on top was better than looking like Blinky Bill. Crochet sólo con paso a paso o video. Hola a todas . En el foro hay bastante cosas interesantes sobre cochet,pero se me ocurrió este post de los pasos a pasos. Inclusive los gráficos correspondientes y videos. Sacaremos los temas de la web y pasos a pasos nuestros. Yo así aprendí hace poco más de 1 año.Anteriormente no sabía nada de nada. Iremos gradualmente con un tema semanal para tener tiempo de practicar.Les parece?????
How To Crochet A Superstar Baby Afghan. Knitterbees: Red Bird and Green Pig plush toy. Geek Crafts | Archive | Computers. July 2007. Armored accessory or dice pouch by DoktorNix. Tales from Yarnvana: Brown Suede Dice Bag. Scalemail Dice Bag Dragonhide Knitted Armor by Crystalsidyll. Unicorn Dice Bag by EverWyldeCreations. Mohogany Die of Holding Leather D20 Dice by SmartPencilDesigns. Dungeons and Dragons Dice by ChibiTsubame. Icosahedron dice bag. d20 Handbag of Holding: How to build it. Craft blog : Tutorial: Seamless Single Crochet. Goomba Hat Pattern (Well, Sort Of) « FadeCrazy's Blog. Bobomb hat MADE TO ORDER by ShadowsInTheNyte. SkullChick Crochet Adventure: Mario Bros Mushroom.
Der Himmel ist Grau: Crochet. Der Himmel ist Grau: January 2012. Super Mario Bros. 3 Crochet Tanooki Suit | WiiNoob. Knitting: super mario 3 scarf. Fandom_knit: The Master List. Crochet Pattern Lael Viking Hat Sizes Newborn to by Mamachee. Super mario « AH! Creations. Gege Crochet: Mario Party! Part 2- My Quest. It's a Mario !!! | Cute Amigurumi! Goomba Inspired Super Mario Bros Shiitake Mushroom by littlepopos. Free Hats Crochet Pattern Link Directory. April Draven: Mario Mushroom Hat *Free Pattern* Robótkowe szaleństwa. Three Crochet Chicks.
---