Food
Cooking in one is great for portion control and excellent for freezing things like in like soups, smoothies, and large ice cubes. Consider purchasing a silicone muffin tin for freezing leftovers because they make it easier to remove the food once frozen. Here are some recipes to try. Okay, this is more like a sesame biscuit with a hidden meat surprise. The meat surprise does, however, include ketchup, mustard, and relish. Recipe here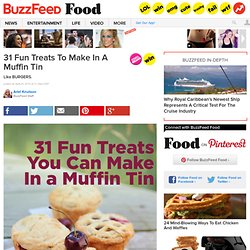 1. Nutella + Eggs = Flourless Nutella Cake The batter takes less than 10 minutes to make. The cake bakes for 25 minutes.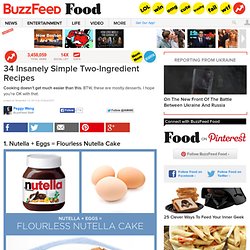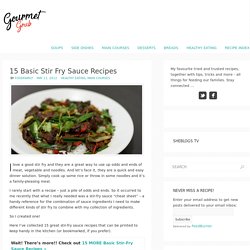 I love a good stir fry and they are a great way to use up odds and ends of meat, vegetable and noodles. And let's face it, they are a quick and easy dinner solution. Simply cook up some rice or throw in some noodles and it's a family-pleasing meal.
as many of jfood's favorite posters have recommended, roasted garlic is to die for. In the winter jfood is always throwing one into the oven when he roasts a chicken. In the fridge they last under a week with all the uses.
what to do with lots of garlic?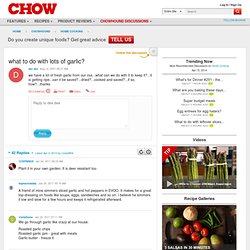 HomeEmail The information on this site is for educational purposes only. It is not intended to diagnose, treat or cure any diseases or illnesses. The statements on this website have not been evaluated by the Food and Drug Administration. If you have a medical condition, consult your naturopathic physician. Consult your naturopathic physician or other qualified health care professional before making changes in diet or lifestyle.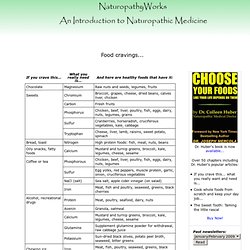 Recipe Key - Find Recipes Based on Ingredients in Your Pantry
Wednesday, April 16, 2014 baked eggs with spinach and mushrooms My brunch arsenal, the dishes I've made enough times that they no longer cause any furrowed brows — a core entertaining principle here at House Smitten Kitchen (sigil: cast-iron skillet) — is as follows: bacon (always roasted in the oven, I mean, unless you were hoping to mist yourself with eau de pork belly*); some sort of fruit salad (either mixed berries and vanilla bean-scented yogurt or mixed citrus segments, sometimes with mint and feta); buttermilk biscuits; a pitcher of Bloody Marys, a bottle of champagne and a couple carafes of freshly-squeezed grapefruit or orange juice, blood orange whenever available; something sweet (our current favorite) and eggs. As I dictated years ago, everything that can be made in advance should be, thus pancakes, individually fried slices of French toast, omelets and even eggs baked in ramekins, adorable as they may be, are verboten.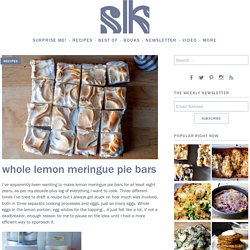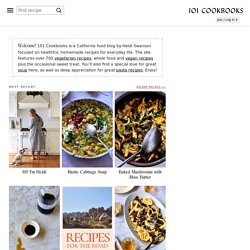 This past weekend I saw coastal wildflowers blooming purple and yellow, misty morning vistas, colorful buoys and wave-whipped fishing boats. I saw a friendly covey of quail, flashy red-winged blackbirds, sleek, needle-nosed blue herons, and a single jack rabbit with ears tall and straight. There was crystallized honey the color of creamy butterscotch, and seals bobbing amidst the rocks at the surf line. I was visiting friends in Bolinas - the perfect overnight. We had a tasty dinner of mostly leftovers, morning coffee by a fire. When it came time to fall asleep, it was so quiet compared to nights in San Francisco, all I could hear was my heart beating.
We Have Preparation and Cooking Times of 30 Minutes or Less The majority of recipes we offer can be both prepared and cooked in 30 minutes or less, from start to finish. A number of them can also be prepared ahead of time and enjoyed later. So you can prepare more than what is needed for a single meal. Then you can use the additional amount the next day or when time is short, with little or no additional preparation time required. Our Recipes Allow Flexibility and Adjustments