Gift Ideas
7 Original Gift Wrapping Ideas. One of the most exciting things about receiving a gift is the suspense of what might be hidden inside – and then the pleasure of unwrapping it.
Rather than just using standard wrapping paper, personalising your gifts by wrapping and decorating them in innovative ways makes them extra special. With the gift giving season now well and truly upon us, here are some original gift wrapping ideas for you to try. Kit Kat CHUNKY. Wrapping ideas. I think my favorite part of gift-giving is wrapping the goods.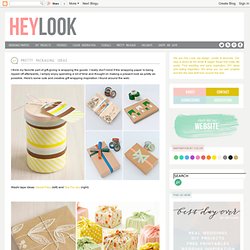 I really don't mind if the wrapping paper is being ripped off afterwards, I simply enjoy spending a lot of time and thought on making a present look as pretty as possible. Here's some cute and creative gift wrapping inspiration I found around the web: Washi tape ideas: Sweet Paul (left) and Tea For Joy (right) Lace gift wrapping: Sweet Paul, Colorful fabric packaging: Handmade Weddings (via Haystack Needle) Simple glitter ribbon on craft paper (Besotted Brand) & Colorful woven paper (Craftzine)
Fourtune cookies. I needed a favor for my friend Emily's baby shower recently, and decided to make some personalized fortune cookies.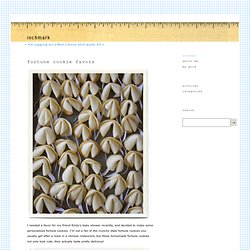 I'm not a fan of the crunchy stale fortune cookies you usually get after a meal in a chinese restaurant, but these homemade fortune cookies not only look cute, they actually taste pretty delicious! I came up with as many fortunes as I could for this new baby girl, things like "Baby Wight will never cry" or "Baby Wight will grow up to be a famous trapeze artist" or my favorite, "Baby Wight will be a boy! Soap. Words on objects. Sentimental gifts are always the best, right?!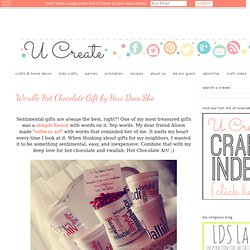 One of my most treasured gifts was a simple board with words on it. Yep words. My dear friend Alison made 'subway art' with words that reminded her of me. It melts my heart every time I look at it. Paperclip earrings. So today I thought it would be a fun challenge to work with paperclips.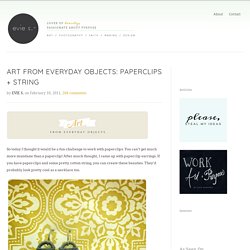 You can't get much more mundane than a paperclip! After much thought, I came up with paperclip earrings. If you have paperclips and some pretty cotton string, you can create these beauties. They'd probably look pretty cool as a necklace too. Friendship braclets. Cushions. Glow jars. Posted on October 19, 2011 by Christina Aren't these glow jars sublime?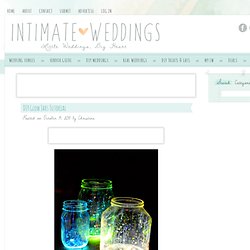 They take about two minutes to make and cost only 20 cents a piece. How's that for an enticing DIY wedding project? Notes in a egg. Over in Beyond Beyond towers we have one weakness, of the Achilles Heal variety and it is eggs.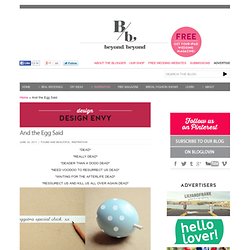 Scrambled, poached, sunny side up, boiled – whatever way you can imagine them we have had them in all the many fangled ways that you can imagine! What we have never had is an invitation in an egg and this exploded our minds not even blew them. So, if you want to fry people's minds like eggs then you can learn how to make these eggtastic wonders here on Poppytalk.
Droolsome, and after you make your message in an egg we like paprika and parma ham in our scrambled eggs.
---