SQL Server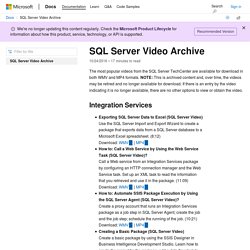 The Microsoft Certified Masters Program for Microsoft SQL Server provides the most experienced and talented IT Professionals with worldwide validation and recognition of their deep technical expertise in SQL Server. The SQL Server 2008 Microsoft Certified Master program has been re-launched in a more scalable format because of the increased interest and global demand for the program. For more information, see the Microsoft Learning SQL Server 2008 Microsoft Certified Master program site.
SQL Server 2008 MCM Readiness Videos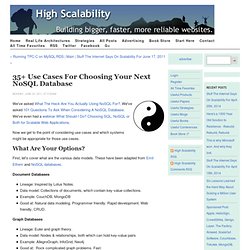 We've asked What The Heck Are You Actually Using NoSQL For? . We've asked 101 Questions To Ask When Considering A NoSQL Database . We've even had a webinar What Should I Do? Choosing SQL, NoSQL or Both for Scalable Web Applications .
Over the last couple years, we see an emerging data storage mechanism for storing large scale of data. These storage solution differs quite significantly with the RDBMS model and is also known as the NOSQL. Some of the key players include ... GoogleBigTable, HBase, Hypertable AmazonDynamo , Voldemort, Cassendra, Riak Redis CouchDB , MongoDB These solutions has a number of characteristics in common Key value store Run on large number of commodity machines Data are partitioned and replicated among these machines Relax the data consistency requirement.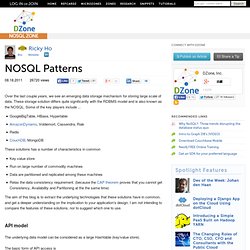 NOSQL Patterns
When SSDs Make Sense in Server Applications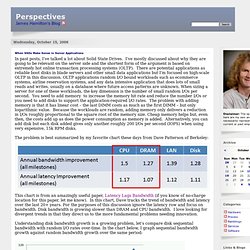 In past posts, I've talked a lot about Solid State Drives. I've mostly discussed about why they are going to be relevant on the server side and the shortest form of the argument is based on extremely hot online transaction processing systems (OLTP). There are potential applications as reliable boot disks in blade servers and other small data applications but I'm focused on high-scale OLTP in this discussion. OLTP applications random I/O bound workloads such as ecommerce systems, airline reservation systems, and any data intensive application that does lots of small reads and writes, usually on a database where future access patterns are unknown. When sizing a server for one of these workloads, the key dimension is the number of small random I/Os per second.
WP_Quest_AutomatingDBAProcessesSQLServer_FixLink_V1_.pdf (application/pdf Object)
TPC - Homepage
SQL Server 2005 and 2008 - Backup, Integrity Check and Index Optimization
The SQL Server Conference - SQLBits - Query across the Mersey - 29 Sep 2011 - 1 Oct 2011 - Liverpool
Global Overview