Amyvoigtkirby
Amy Voigt Kirby
I have been married to my wonderful husband for 16 years and I have 3 kitties.
Jason's Everlasting Recipes: Cheesecake Stuffed Strawberries. Ingredients:-1 lb large strawberries-8 oz. cream cheese, softened (can use 1/3 less fat)-3-4 tbsp powdered sugar (4 tbsp for a sweeter filling)-1 tsp vanilla extract-graham cracker crumbs Directions:1.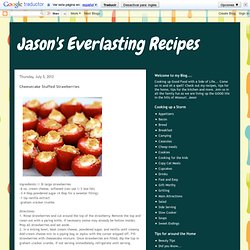 Rinse strawberries and cut around the top of the strawberry. Remove the top and clean out with a paring knife, if necessary (some may already be hollow inside). Prep all strawberries and set aside.2. Nerdy Day Trips. To-Go Food Containers, Travel Mugs, Fun Flasks. Login 0 items 888.365.0056 . live chat wish list & registry. check order status Find the best gift ideas for men, women and kids at UncommonGoods.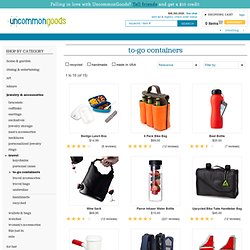 Top 10 Lists. Top 10 Foods Only America Could Have Invented Top 10 Drinks Only America Could Have Invented Top 10 Foods Only Australia Could Have Invented.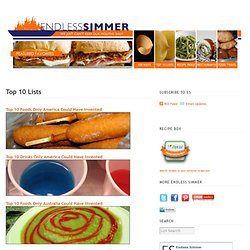 Honey Vanilla and Caramel Coffee Creamer Recipe. You asked, and I'm here to deliver.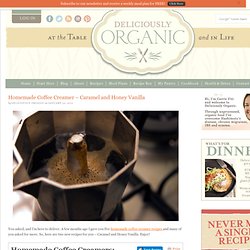 A few months ago I gave you five homemade coffee creamer recipes and many of you asked for more. So, here are two new recipes for you – Caramel and Honey Vanilla. Enjoy! Homemade Coffee Creamers: Caramel Coffee Creamer The caramel recipe makes twice what you need for the coffee creamer recipe. In pictures: romantic travel destinations.
Food Nutrition Facts - Healthy Living Tips at WomansDay. Every child has heard the healthy-eating mantra "You are what you eat.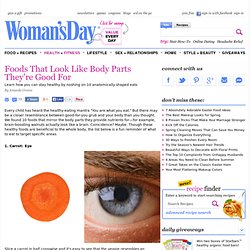 " But there may be a closer resemblance between good-for-you grub and your body than you thought. We found 10 foods that mirror the body parts they provide nutrients for—for example, brain-boosting walnuts actually look like a brain. Coincidence? Maybe. Though these healthy foods are beneficial to the whole body, the list below is a fun reminder of what to eat to target specific areas. The 10 Best Foods for Your Looks - Lifestyle. You can slather yourself from your forehead to your pinkie toe in organic lotions, but if you think that alone will make you glow, we have some bad news.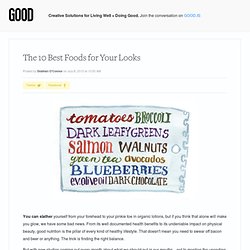 From its well documented health benefits to its undeniable impact on physical beauty, good nutrition is the pillar of every kind of healthy lifestyle. That doesn't mean you need to swear off bacon and beer or anything. The trick is finding the right balance. But with new studies coming out every month about what we should put in our mouths—not to mention the unending discovery of mysterious superfruits from deep in the forests of wherever—it can be hard to keep track of what, exactly, we should be eating. 11 Prescription Foods To Cure Your Illnesses | American Anti Aging Mag.
Why take pills if you can eat these 11 everyday foods that can help cure most common illnesses?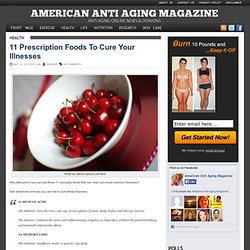 Homemade Snickers Bars. Insanity.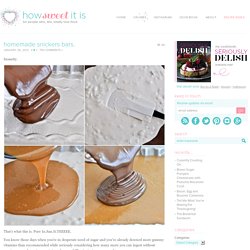 That's what this is. Pure In.San.It.TEEEEE. You know those days when you're in desperate need of sugar and you've already downed more gummy vitamins than recommended while seriously considering how many more you can ingest without causing severe harm to your internal organs? They're just so gooooood. Well… in that case you should make some homemade snickers bars. 20 brilliant things to make in a jar. Via: mycakies.blogspot.com Start saving your old jam jars!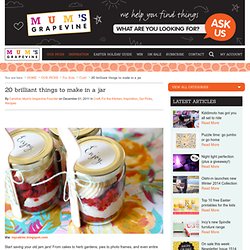 From cakes to herb gardens, pies to photo frames, and even entire meals … here are 20 fantastic things you never knew you could make with a jar. (Above: red velvet cupcakes in a jar. Get the recipe here). Via: fatgirltrappedinaskinnybody.blogspot.com. Organized Christmas: Simplify Your Holidays and Celebrate The Season. Cleaning File. Tongue Twisters - 105.3 WDAS-FM Philly's Best R&B and Classic Soul! Posted Tuesday, June 12th 2012 @ 10am 1.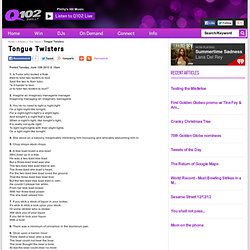 A Tudor who tooted a flute tried to tutor two tooters to toot. Said the two to their tutor, "Is it harder to toot or to tutor two tooters to toot?" 2. Imagine an imaginary menagerie manager imagining managing an imaginary menagerie. Death By Oreo Cupcakes. They are probably the best Oreo cakes I have ever tried. A lot of cake's that I have experimented with before are like a vanilla cake with bits of Oreo in them, which didn't really give them enough Oreo flavor. But these were a lot better. Landscape Design, Pictures, Remodel, Decor and Ideas - page 2. Strawberry Lemonade | Novel Eats.
Most favorited all-time. TheDesignerPad - The Designer Pad. 8 smart organizing tips for the kitchen. Mingmakescupcakes.yolasite.
Free Jigsaw Puzzles - Jigsaw Puzzle Games at TheJigsawPuzzles.com - Play Free Online Jigsaw Puzzles.
Getting started
Recipes. Homeschool. Fun pages. Homemade things. Pearltrees videos. For the home.
---