No SQL ?
NoSQL Style (Gangnam Style Parody for Geeks)
UC Berkeley Course Lectures: Analyzing Big Data With Twitter | Analyzing Big Data with Twitter
Thank you all for a wonderful semester. Here is a summary, in chronological order, of our recorded lectures. You can also view the entire playlist on youtube. Course Introduction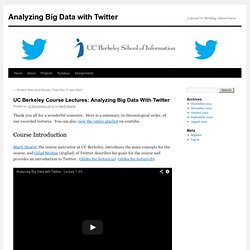 This is a guest post by Siddharth Anand, a senior member of LinkedIn's Distributed Data Systems team.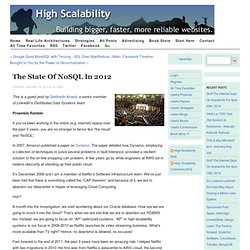 The State of NoSQL in 2012
I looked at neo4j briefly the other day, and quite predictably thought 'wow, this looks like a serious tinkertoy: it's basically a bunch of nodes where you just blob your attributes.' Worse than that, to wrap objects around it, you have to have them explicitly incorporate their node class, which is ugly, smelly, violates every law of separation of concerns and logical vs. physical models. On the plus side, as I started to look at it more, I realized that it was the perfect way to implement a backend for a bayesian inference engine (more on that later). Why?
The Coming SQL Collapse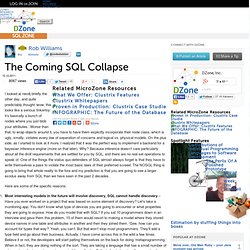 Choosing a non-relational database; why we migrated from MySQL to MongoDB « Boxed Ice Blog
July 1, 2011 For most Riak users, Bitcask is the obvious right storage engine to use. It provides low latency, solid predictability, is robust in the face of crashes, and is friendly from a filesystem backup point of view. However, it has one notable limitation: total RAM use depends linearly (though via a small constant) on the total number of objects stored.
Leveling the Field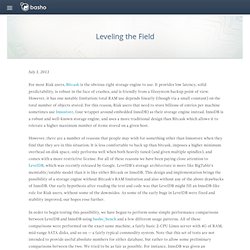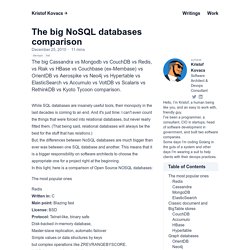 (Yes it's a long title, since people kept asking me to write about this and that too :) I do when it has a point.)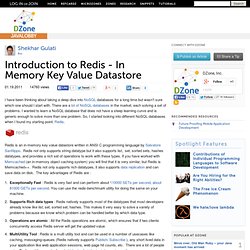 We Recommend These Resources
Introduction to Redis - In Memory Key Value Datastore
s tech blog » Why startups should not choose NoSQL
December 27, 2010 The NoSQL hype is omnipresent.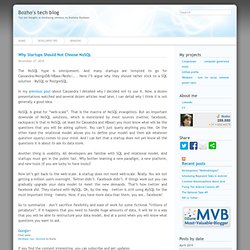 BabuDB is an embedded non-relational database system. Its lean and simple design allows it to persistently store large amounts of key-value pairs without the overhead and complexity of similar approaches such as BerkeleyDB.
babudb - Project Hosting on Google Code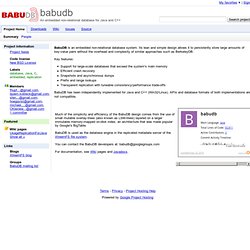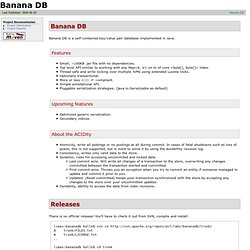 Banana DB - self-contained key/value pair database for java
Banana DB Banana DB is a self-contained key/value pair database implemented in Java.
non-RDBM distributed databases, map/reduce, key/value and cloud computing
Written on 19 January 2009 Please Note: this was written January 2009 - see the comments for updates and additional information. A lot has changed since I wrote this.
Richard Jones | Anti-RDBMS: A list of distributed key-value stores | Richard Jones, Esq.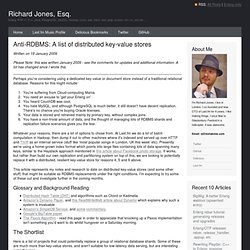 Troubles with Sharding - What can we learn from the Foursquare Incident?
For everything given something seems to be taken. Caching is a great scalability solution, but caching also comes with problems.
A Relational Database Management System
NoSQL/Home Page
Fabien DUMINY%u2019s blog
A Lightweight SQL Database for Cloud and Web in Launchpad
Log in / Register A Lightweight SQL Database for Cloud Infrastructure and Web Applications Registered 2008-05-12 by Drizzle Developers
Eric Lai published a provoking article on Computerworld magazine titled "No to SQL?
No to SQL? Anti-database movement gains stea
Most Trendy Graph Databases
The last two years of my working life I been at the UPC , specifically with the DAMA-UPC research group: the data management experts of this university.
NoSQL Graph Database Comparison