Agm
Journaux et blogs
MOOC. Vivre Sans Thyroïde / Partie 1 de la conférence du Docteur Pascal Bardet sur la vitamine D. Livre blanc de l'intelligence collective (1er cru 2013) | Le blog IFIC coaching entreprise. Lego calendar uses bricks to organize your office, makes productivity adorable. Vitamins Design wanted an organizational calendar that was "big and visible," so it did what any company would do: it turned to Lego.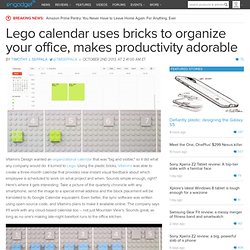 Using the plastic bricks, Vitamins was able to create a three-month calendar that provides near-instant visual feedback about which employee is scheduled to work on what project and when. Sounds simple enough, right? Here's where it gets interesting: Take a picture of the quarterly chronicle with any smartphone, send the image to a special email address and the block placement will be translated to its Google Calendar equivalent. Even better, the sync software was written using open-source code, and Vitamins plans to make it available online. The company says it'll work with any cloud-based calendar too -- not just Mountain View's.
FORUM CTP37 Compétences à temps partagé.
Zone de travail. Tutoriels. Télécoms. Cuisine. Utilitaires. Séries TV. Stefon Harris: There are no mistakes on the bandstand. Musique. Psycho-Philo. Réseaux sociaux. Management. Technique web. Help.
A ranger 4. A Recent. Thunderbird. Scoop it. Wordpress. My SQL.
---