Homesteading & Survivalism
The Urban Survivalist. TheSurvivalMom. The Apartment Prepper's Blog | Family Preparedness in an Apartment Setting by Bernie Carr. SurvivalBlog.com. Survival Cache — The Gear Site for Survival. The Top 50 Survival Blogs! The Survivalist Blog | Take the Guesswork out of Prepping.
Emergency Preparedness & Food Storage | Practical Preps | Salt N' Prepper. Survival Blog With A Family Focus. ModernSurvivalOnline.com | Thoughts on Survival and the World Today. EDC. BladeReviews.com – Knife Reviews | Advanced Survival Guide.com.
TEOTWAWKI Blog: DIY Survival Candles. Candles are an easy-to-use source of emergency lighting and a little bit of heat.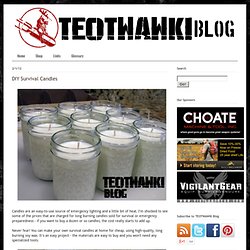 I'm shocked to see some of the prices that are charged for long burning candles sold for survival or emergency preparedness - if you want to buy a dozen or so candles, the cost really starts to add up. Never fear! You can make your own survival candles at home for cheap, using high-quality, long burning soy wax. It's an easy project - the materials are easy to buy and you won't need any specialized tools.
The materials you will need are:Soy wax flakes. DIY Dry Shampoo « Vegan Beauty Review. This DIY dry shampoo recipe will sop up any excess scalp oil, and help keep you lookin' fab and fresh on those days you need a quick hair pick-me-up and don't have the time (or energy) for a full-on wash!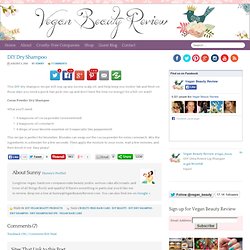 Cocoa Powder Dry Shampoo What you'll need: 5 teaspoons of cocoa powder (unsweetened)2 teaspoons of cornstarch5 drops of your favorite essential oil (I especially like peppermint) This recipe is perfect for brunettes. Homesteading and Survivalism Store.
---