Cover Letters
The Basics of Cover Letter Writing - Advice. By Richard M.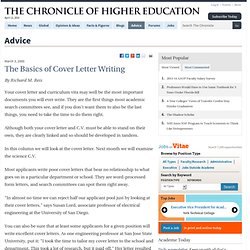 Reis Your cover letter and curriculum vita may well be the most important documents you will ever write. They are the first things most academic search committees see, and if you don't want them to also be the last things, you need to take the time to do them right. Although both your cover letter and C.V. must be able to stand on their own, they are clearly linked and so should be developed in tandem. CVCoverLetters.pdf (application/pdf Object) Writing Academic Cover Letters. Special thanks to Professor Janet Farrell Brodie, CGU History, for the following information.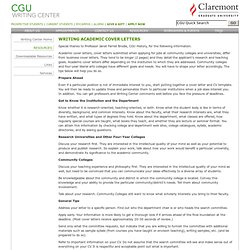 Academic cover letters, cover letters submitted when applying for jobs at community colleges and universities, differ from business cover letters. They tend to be longer (2 pages) and they detail the applicant's research and teaching goals. Academic Cover Letters. When you're applying for a faculty position with a college or university, the cover letter is your first chance to make a strong impression as a promising researcher and teacher.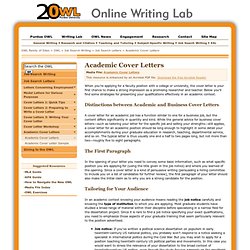 Below you'll find some strategies for presenting your qualifications effectively in an academic context. Distinctions between Academic and Business Cover Letters A cover letter for an academic job has a function similar to one for a business job, but the content differs significantly in quantity and kind. While the general advice for business cover letters—such as tailoring your letter for the specific job and selling your strengths—still applies, a cover letter for an academic position should be long enough to highlight in some detail your accomplishments during your graduate education in research, teaching, departmental service, and so on.
AcCoverLetters.pdf (application/pdf Object) PhDs - Cover Letter. Overview The reception your cover letter will receive is more varied and unpredictable than the other elements of your application packet.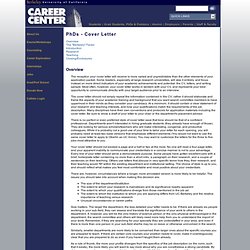 Some readers, especially at large research universities, will skip it entirely, and focus instead on more direct indicators of your academic achievements and potential: the CV, letters, and writing sample. Most often, however, your cover letter works in tandem with your CV, and represents your best opportunity to communicate directly with your target audience prior to an interview.
---