Vegan & vegetarian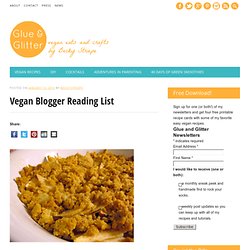 Yesterday evening when I posted the Cupcake Punk – Jes posts amazing recipes alongside lovely stories. Lots of her recipes are gluten free.Cute and Delicious – the name says it all!Healthy, Happy Life – Looking for heathy eats and some vegan food porn? Kathy has you covered.Invisible Voices – This one's heavy on the animal rights and cute animal photos.Manifest Vegan – More food porn!
Vegan Blogger Reading List – Glue and Glitter
Eating Appalachia
Korean Inspired Chickpea Noodle Soup A post! A post, you guys! I think I may have forgotten how to actually write one of these, been so long. Turns out that moving and starting a new job and all that fun stuff + a mega snow storm and all the shenanigans that happened as a result have left me a little […] Becoming a Poet
I finally watched the documentary Forks Over Knives and was very impressed. Often times documentaries can let their emotions get in the way of the information conveyed. This is definitely the best veggie documentary I've ever seen. It's based on countless long-term research studies and, really, the evidence is indisputable. It's true that I've incorporated dairy back into my diet the last few months, but this documentary has inspired me to go back to being mostly vegan.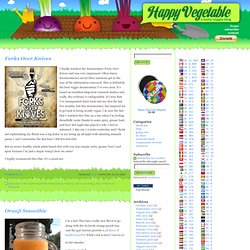 Happy Vegetable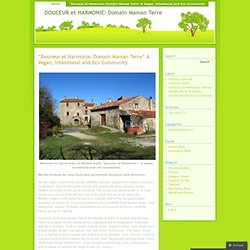 Welcome to the domain of Mother Earth "Douceur et Harmonie": a vegan, intentional and eco community. We are looking for long-term and permanent residents and investors. We are vegan community (Vivien, Bluette, Sylvain, guests and visitors) living on 21 hectares of protected green forest and organic gardens.
DOUCEUR et HARMONIE: Domain Maman Terre
Good morning! It's definitely feeling like autumn and I'm having some mixed feelings about it. Most of this year so far has felt like a blur maybe that's why I'm just not ready. Change is good I tell myself. It's interesting though, the different feel and smell in the air when the weather starts to change. I think of being bundled up, the rain, old movies and the smell of spices.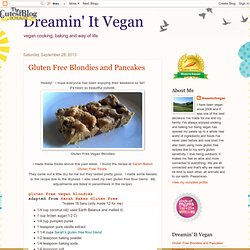 Dreamin' It Vegan
Cupcake Punk
Cake Maker to the Stars - - Vegan and Gluten-Free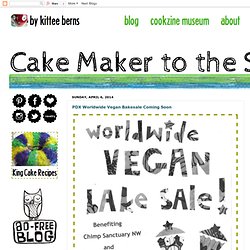 I don't really think I need to post this for accountability's sake, but it won't hurt, so here goes: over the last year, I've made a notable effort to reduce our household consumption of palm oil. I just listened to The Vegan Option podcast from September 2013 about Palm Oil and it made me more committed than ever to stop consuming it. I'm not sure how long Earth Balance has been around, but I'm guessing I was vegan for at least 12 years before it ever surfaced, and I did just fine without it. Not only that, but nowadays there's coconut oil and excellent palm-free homemade butter recipes (see Miyoko's here and Bryanna's here). The podcast I linked to is really informative and does address green certified palm, but since I don't need palm, I'm not gonna eat it, and I'll sleep better at night, too.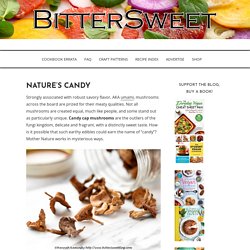 BitterSweet
Old Man Winter sure doesn't fight fair, unafraid to hit below the belt and then kick you when you're down. Dirty tricks are just half of the relentless assault, adding in mind games that could soften anyone's resolve to the consistency of over-boiled ramen noodles. Surely, one would think that by the last day of March, spring would have been able to fend off this attack, but the snow currently accumulating on top of the delicate, freshly sprouted crocuses would say otherwise. The month is going out like a lion, indeed.
Andrea's easy vegan cooking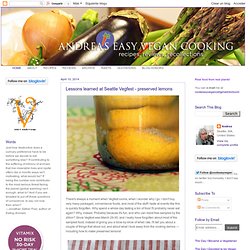 There's always a moment when Vegfest looms, when I wonder why I go. I don't buy very many packaged, convenience foods, and most of the stuff I taste at events like this is quickly forgotten. Why spend a whole day tasting a ton of food I'll probably never eat again? Why, indeed. Probably because it's fun, and who can resist free samples by the zillion?
hungry desi
hiya, howdy and hello! it's been a loooong time and so much has happened since october. while we're still busy bees (and i promise update you all next post - which i promise won't be months down the road!), i wanted to take a bit to post about something that i'm really superexcitedfaced about. my good friend allyson kramer, of Manifest Vegan has published her first cookbook!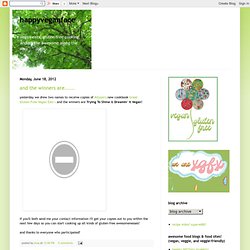 happyveganface
Manifest Vegan: Vegan and Gluten Free Recipes
VeganMoFo 2013 has come to an end! I didn't reach my goal of posting every weekday, but I did make 19 posts which is great considering how sporadic my blogging has been the past two years. Dave and I are kind of nerds when it comes to how much we like watching movies. We've been talking for a while about holding a Harry Potter marathon, where we watch all the movies in one day back to back. This would take about twenty hours and we'd like to wait until the weather is cooler, so as a test run we decided to have a Lord of the Rings marathon with a few friends.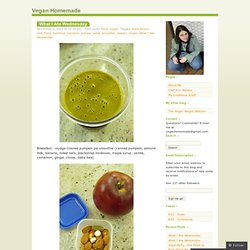 Vegan Homemade
vegan deliciousness
One cool thing about living in Ottawa for the next couple of months is the multitude of veg restaurants to check out…compared to Saskatchewan this place is vegan heaven! My first night in the city I decided to head over to The Green Door Restaurant. The Green Door is a pay-by-weight buffet. I always find pay-by-weights to be kind of a rip-off, as I like to sample a bit of everything and that can get expensive. The Green Door is all vegetarian with vegan options clearly marked. I was a bit disappointed that most of the hot dishes were NOT vegan-friendly…not sure if this is usually the case or if this was just the case on the day I visited.
The Modern VEGETARIAN - Recipes
Embrace simplicity ... enjoy here and now in order to discover the beauty of the present moment and simple thing. A simple bowl of Curry Mock Abalone with Rice Vermicelli yet it can be quickly and easily transform to be served as a presentable party food. By adding some garnish or simple special ingredient like mock floss or crispy cereal with curry leaves or what you can think of, it will be a unique dish. P.S: Fresh veggies have vibrational frequencies which are not found in processed or canned food or meat that is beneficial to our body. Preparation: 5 mins, Cooking time: 5 mins
Show Me Vegan
A couple of topics before we get to the recipe! If you live in Missouri, have you had the opportunity to sign the petition to get the Puppy Mill Cruelty Prevention Act on the ballot? Unfortunately, Missouri is known for puppy mills and meth labs, and the Missouri House just endorsed a bill to allow horse slaughter for human consumption. Let's hope the Senate has more sense. But back to the puppy mill issue. If you have not signed the petition to get the Puppy Mill Cruelty Prevention Act on the ballot, please look here for an event where you can sign.
— Irreverent Vegan
StrataMex, or Mexican Lasagna A short while back, Amy had a hankering for lasagna, but alas and alack, we didn't have any gluten-free lasagna noodles on hand. I don't think they're that hard to come by, but for some reason, even after half a year of cooking gluten-free, we've never picked any up. This got me to thinking about ways to substitute for the noodles. It's really the layers we often want, right? Well…half right maybe.
Veggie Wedgie
This was a very quick recipe that I made up with some overripe kiwis I had in the fridge for a while. It turned out great so I had to share it. You can enjoy it as a sweet&sour dipping sauce, or as a condiment on soy yogurt, or mixed in a fruit salad. Get creative with it! Ingredients -7 kiwis -1 tbsp chia seeds -1 lemon Blend kiwis with lemon juice, transfer in a jar and stir in chia seeds.
Experiments at Carnegie Mellon University
Chocolate Peanut Butter Truffle Cookies
Vegan Lunch Box
VEGAN TICKLES
Vegan Appetite: Iron Chef Challenge for Vegan MoFo: Apple Peanut Butter Fritters
Your Vegan Mom
Smart Composting Tips for Urban Gardeners & Apartment Dwellers : WebEcoist
Create Profile on HOMEGROWN.ORG - HOMEGROWN.ORG
Vegan.com — Recipes, Resources, & Information
Messy Vegetarian Cook for iPhone, iPod touch and iPad on the iTunes App Store
Socially Conscious, Totally Fabulous
Welcome to Vegan Street
veggie.num.num — delicious vegetarian cooking
Vegan Junk Food
Vegan MoFo Headquarters International
Seitan Beats Your Meat
The Vegan Mouse
Oh She Glows — Page 2
Cosmo's Vegan Shoppe: 100% Vegan and Cruelty-Free Specialty Store
This Dish Is Veg
Beach Cookies: Ooey Gooey Layers of Decadence - Chef Chloe - Vegan Cooking and Recipes
Volentia.com - Celebrating The Veg*n Journey
Naturally Ella
eat me, delicious
vegan food in los angeles
Low-Fat! No Fat! Recipes from Happy Herbivore
Healthy. Happy. Life. | Vegan Blog | Vegan Recipes
ChooseVeg.com: A Guide to Vegetarian and Vegan Living
VeganYumYum
Vegan Substitutes
Vegetarian Frugal Housewife
Vegan
Vegan Appetite
VeganMania! Yummy Vegan Treats for You To Eat!
Hasta La Vegan
WhyVeg.com | Why Vegetarian? For the animals. For your health. For the planet.
VegWeb.com - Vegan Recipes and Cooking Tips