Vegan & vegetarian
Vegan Blogger Reading List – Glue and Glitter
The Project « Eating Appalachia
Eating Appalachia
Happy Vegetable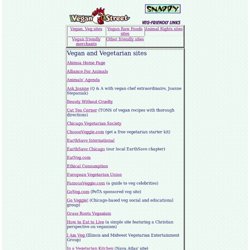 Vegan Links
Vegan and Vegetarian sites Ahimsa Home Page Alliance For Animals Animals' Agenda
DOUCEUR et HARMONIE: Domain Maman Terre
Dreamin' It Vegan
Cupcake Punk
Cake Maker to the Stars - - Vegan and Gluten-Free
BitterSweet
Andrea's easy vegan cooking
hungry desi
happyveganface
The Fairest Feed
Vegan Homemade
vegan deliciousness
The Modern VEGETARIAN - Recipes
Show Me Vegan
— Irreverent Vegan
Experiments at Carnegie Mellon University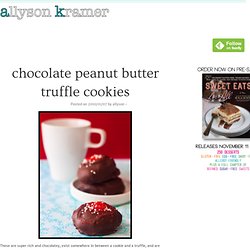 Chocolate Peanut Butter Truffle Cookies
These are super rich and chocolatey, exist somewhere in between a cookie and a truffle, and are loaded with peanut butter. Yes, they taste as awesome as they sound. If you are feeling a little lazy (or are just out of chocolate chips) the cookies are fantastic if you skip the dipping step. Chocolate Peanut Butter Truffle Cookies Ingredients:
VEGAN TICKLES
You can probably guess the special ingredients: apples and peanut butter. Everyone knows that dipping an apple in a peanut butter is a quick and easy snack, but for this challenge I drew on one of my childhood favorites, apple fritters. These are super easy and can be adjusted for however many you want to make.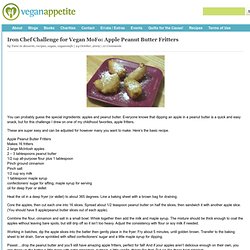 Vegan Appetite: Iron Chef Challenge for Vegan MoFo: Apple Peanut Butter Fritters
Your Vegan Mom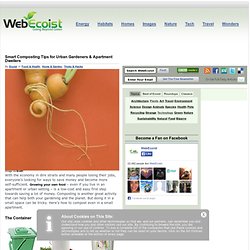 (Image via Brettf )
Smart Composting Tips for Urban Gardeners & Apartment Dwellers : WebEcoist
Create Profile on HOMEGROWN.ORG - HOMEGROWN.ORG
Vegan.com — Recipes, Resources, & Information
Messy Vegetarian Cook for iPhone, iPod touch and iPad on the iTunes App Store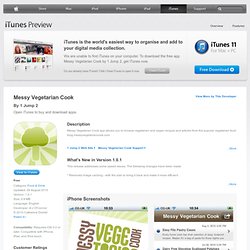 Description Messy Vegetarian Cook app allows you to browse vegetarian and vegan recipes and articles from the popular vegetarian food blog messyvegetariancook.com.
Socially Conscious, Totally Fabulous
Welcome to Vegan Street
Vegan Junk Food
Vegan MoFo Headquarters International
Seitan Beats Your Meat
The Vegan Mouse
Cosmo's Vegan Shoppe: 100% Vegan and Cruelty-Free Specialty Store
This Dish Is Veg
Beach Cookies: Ooey Gooey Layers of Decadence - Chef Chloe - Vegan Cooking and Recipes
Volentia.com - Celebrating The Veg*n Journey
eat me, delicious
vegan food in los angeles
Low-Fat! No Fat! Recipes from Happy Herbivore
Tofu Sour Cream Vegan Vittles by Joanne Stepaniak 1 10.5 oz. box firm silken tofu 1 Tbsp. oil 2 tsp. lemon juice 2 tsp. apple cider vinegar 1 tsp. sweetener 1/2 tsp. salt Crumble tofu and all other ingredients into a food processor and process for several minutes, until smooth. Stored in an air-tight container, it will keep up to 5 days in the fridge. Note: This may separate upon refrigeration and may need to be remixed.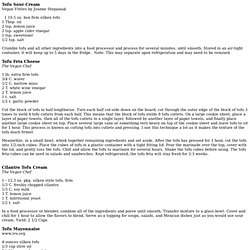 Vegan Substitutes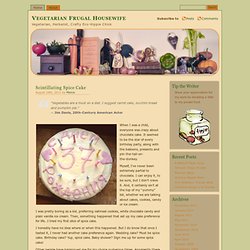 Vegetarian Frugal Housewife
"If thou tastest a crust of bread, thou tastest all the stars and all the heavens." ~ Robert Browning, English Poet and Playwright LOL. I wanted to name these biscuits something cute and that is what I came up with. Don't know why the taste of them reminded me of seafood. Probably because people alway seem to put onions or garlic, salt and butter together with seafood, so these biscuits taste to me the way that seafood smells. Weird, since they are vegetarian.
Vegan
Vegan Appetite
VeganMania! Yummy Vegan Treats for You To Eat!
Hasta La Vegan
WhyVeg.com | Why Vegetarian? For the animals. For your health. For the planet.