CG
Making of 3D render 'House to Catch a Forest' by Celestino Geronimo – 3D Architectural Visualization Rendering Blog - Ronen Bekerman
Tweet in Share Share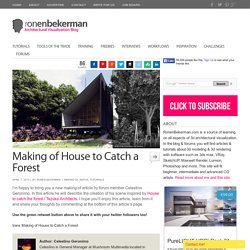 Well, first of all to thank CGArena for giving me the opportunity to explain the making of this project, This image was created for the contest " Lightrender on Tour " and won the second prize. I used 3ds max with Vray rendering engine. This project is based on the work of Spanish architect D. Joaquín Torres A Study of Architecture A-zero.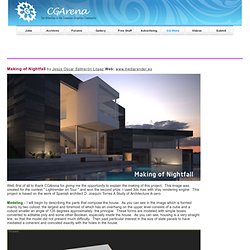 Making of Nightfall
VRayLightMtl + VRayDirt for Quick AO Render Checkup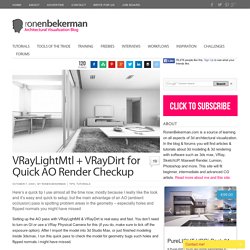 in Share Share in Share 0 Here's a quick tip I use almost all the time now, mostly because I really like the look and it's easy and quick to setup, but the main advantage of an AO (ambient occlusion) pass is spotting problem areas in the geometry – especially holes and flipped normals you might have missed Setting up the AO pass with VRayLightMtl & VRayDirt is real easy and fast.
The Third & The Seventh by Alex Roman
in Share Share in Share 0 No words can describe the amount of talent, work and dedication that went into the creation of this piece of art by Alex Roman – A truly remarkable 3d architectural visualization / film. This is an inspiration to us all i believe… enjoy watching it.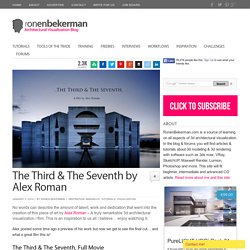 Tweet in Share Following Bertrand's great 3d recreation of the Bauhaus School at Dessau , I got that many request to post more detail about the snowy image he made in that set. Bertrand kindly agreed to write about the process of making his snowy scene, and I'm happy to publish his 5 tips for handling snow in an architectural visualization 3d scene.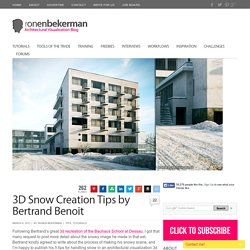 3D Snow Creation Tips by Bertrand Benoit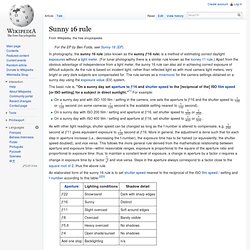 The basic rule is, "On a sunny day set aperture to f/16 and shutter speed to the [reciprocal of the] ISO film speed [or ISO setting] for a subject in direct sunlight."[1] For example: On a sunny day and with ISO 100 film / setting in the camera, one sets the aperture to f/16 and the shutter speed to 1/100 or 1/125 second (on some cameras 1/125 second is the available setting nearest to 1/100 second).On a sunny day with ISO 200 film / setting and aperture at f/16, set shutter speed to 1/200 or 1/250.On a sunny day with ISO 400 film / setting and aperture at f/16, set shutter speed to 1/400 or 1/500.
Sunny 16 rule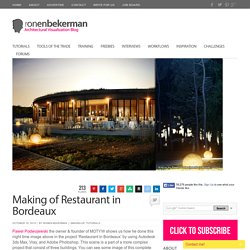 Tweet in Share Pawel Podwojewski the owner & founder of MOTYW shows us how he done this night time image above in the project 'Restaurant in Bordeaux' by using Autodesk 3ds Max, Vray, and Adobe Photoshop. This scene is a part of a more complex project that consist of three buildings. You can see some image of this complete project directly below before the article starts. I hope you'll enjoy this article, learn from it and share your thoughts by commenting at the bottom of this article's page.
3D Rendering Tutorial - Making of Restaurant in Bordeaux – 3D Architectural Visualization Rendering Blog - Ronen Bekerman
Making of HOVER '3D Grid' by Jamie Holmes
Tweet in Share The 4th runner-up winning entry of the HOVER architectural visualization challenge was not the typical thing one would see in such events. Jamie went all out with his concept and I'm very happy to publish the making of his "3D Grid Suburb" scene. In this tutorial, Jamie describes his workflow using 3D Studio Max and Mental Ray as his main tools.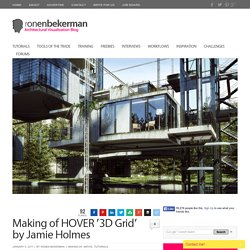 BBB3viz » Frank Gehry-style titanium scales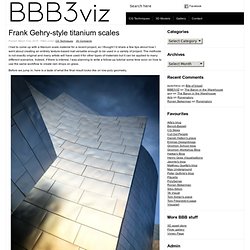 I had to come up with a titanium scale material for a recent project, so I thought I'd share a few tips about how I went about creating an entirely texture-based mat versatile enough to be used in a variety of project. The methode is not exactly original and many artists will have used it for other types of materials but it can be applied to many different scenarios. Indeed, if there is interest, I was planning to write a follow-up tutorial some time soon on how to use the same workflow to create rain drops on glass.
Tweet in Share Share Toni created the 'House K' images, that were posted on the forums not long ago, as part of his final project during his studies at FX ANIMATION school in Barcelona, Spain. Toni selected a great house design by 3LHD Architects , Architects that were previously visited by Javier Pintor in his Bathroom at House N tutorial .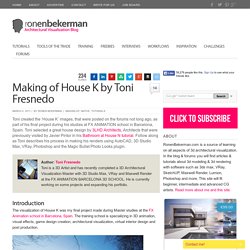 Making of House K by Toni Fresnedo
First of all have to create help lines in Adobe Photoshop (using line tool) to set the perspective of the image. These lines should meet in one point. Open 3d Studio Max Now open Views -> Background view (shortcut ALT+B), it will allow You to select Viewport Background.
Making Interior Scene
Making of article by Alex Vasiliuk Hi all, Alex here your VRayGuide, and today I'm going to share with you one of my latest projects: ROLF BENZ VERO. But before I start, let me just give a big hand to vray.info and all readers here for allowing me to have this honor and represent this "Making of ROLF BENZ VERO". The idea of making this scene cames to me one day while going through the ROLF BENZ magazine, I just love their minimalistic design and calm colors. Without thinking twice I've scanned the page and started researching for more materials and references in the internet. After a while I could have the complete vision of what I wanted to create, and it was something in between these 2 images.
Making of Rolf Benz Vero
Making of 3D render 'Chimneys House' by Diego M. F. – 3D Architectural Visualization Rendering Blog - Ronen Bekerman
in Share in Share 0 I'm happy to bring you a new making-of article by Diego Munhoz Ferreira from Neohaus.
572 Flares Facebook 72 Twitter 24 Pin It Share 19 19 Google+ 21 LinkedIn 9 inShare9 StumbleUpon 427 572 Flares × Many have asked pixela to share more information about her Curtain Material used in the "Rosso" scene. She was very kind to share this with you all here. I hope you'll find this helpful in your next project! Hello, Many people were asking me to prepare a tutorial about how to create a curtain shader and here is the mini-tutorial I promised for Ronen Bekerman Forum which has been one of the leading and creative arch-vis sites that I feel happy to take part. First step we need to make is to define the characteristic features of our material.
Material / Curtain / V-Ray
Making of Esherick House, Part 2 - 3D Recreation with 3dsmax & Mental Ray
205 Flares Facebook 127 Twitter 14 Pin It Share 7 7 Google+ 55 LinkedIn 2 inShare2 StumbleUpon 0 205 Flares × Picking up where he left off in Part 1, Ludvík dives into materials setup in great detail in Part 2 of the Esherick House Making Of series. You'll also find a nice little scene with some materials to play with inside.
Making of Esherick House, Part 3 - 3D Recreation with 3dsmax & Mental Ray
Making of Esherick House, Part 4 - 3D Recreation with 3dsmax & Mental Ray
Making of 3D render of GH House by Anton Cherenko – 3D Architectural Visualization Rendering Blog - Ronen Bekerman
Linear Workflow made Simple by Matt Gorner
The Secret to Creating Realistic Grass
Making of 3D render of GH House by Ivo Sucur Part 1 – 3D Architectural Visualization Rendering Blog - Ronen Bekerman
Making of House on the Coast
Making of Saint Benedict Chapel
Hair & Fur in 3D Studio Max
Making of HOVER 'Before the Storm' by Julio Cayetano
An Archiviz Workflow Overview in 3ds Max, Sketchup, and Digital Fusion