CG ART
image_t6.jpg (JPEG Image, 631 × 880 pixels) - Scaled (73%)
m5mmuxSiWv1rve07qo1_r1_500.jpg (JPEG Image, 500×627 pixels)
m2vv0dlGv11qdxglyo1_500.jpg (JPEG Image, 500×604 pixels)
angel__light__by_jameswolf-d4ymkdx.jpg (JPEG Image, 900×563 pixels)
bruce-fantasy01.jpg (JPEG Image, 1024×768 pixels)
Medusa by *JAY-WALLACE
The Specialists by *elpinoy on deviantART
Brian M. Viveros | The artwork of Brian M. Viveros
Psycho Girlfriend
CG Girls | CG Art World - The best hand-picked CG art collection
.butterfly. by noah-kh
Three Kingdoms-Zhang Chun Hua by `Artgerm on deviantART
Hanagumori by `Dianae on deviantART
TeaPartyGirl's deviantART Gallery
Joshua Middleton Online: Gallery
34402_1312296843_large.jpg (JPEG Image, 1500×857 pixels) - Scaled (95
A Separate Reality
James Ryman (England)
All designers know the power of photoshop and the fantastic stuff they can create using it. There is always more to learn in photoshop, if you want your sketches to get painted photoshop is best tool. Digital painting is a beautiful art that requires too much experience and talent.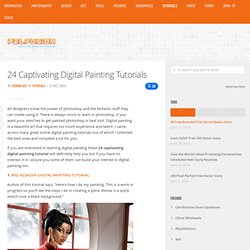 24 Captivating Digital Painting Tutorials
The Fantastic Work of OmeN2501 | Abduzeedo | Graphic Design Inspiration and...
The River Current - Outstanding Work of Lois van Baarle
Wednesday, July 01, 2009 David Bray
David Bray | Cgunit - Online Gallery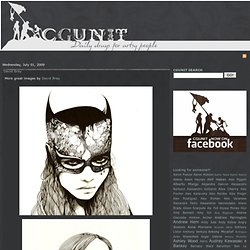 The Digital Art of MichaelO | Designerscouch #thecritiquenetwork
Serge Birault's illustrations are awesome and fun.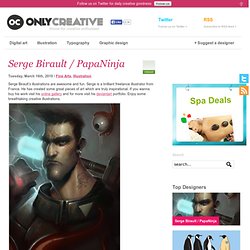 Serge Birault / PapaNinja | Only Creative
I usually get my ideas in a flash of inspiration. It comes when I least expect it and usually revolves around something I've seen or done recently. This piece came not long after I watched "Adaptation".
Imp Head Color 5
Beautiful/Decay Cult of the Creative Arts
Allusion Yellena James uses pen and ink to create truly exquisite forms. What starts out as a single shape or line blossoms into magnificent mushroom-jellyfish hybrids, feeding my affinity for all things under the sea! Her artwork has been so perfectly described as "colorful arrangements of organic shapes and tangled lines (which) are at once floral and alien, organic and sci-fi, crafty and fantastic." With each piece she tries to "create an intimate world that posesses its own ethos and its own emotional range." She's done illustration work for clients such as Anthropologie and Nike, and her work has appeared in numerous art and design resources and publications like Vogue Australia and Giant Robot.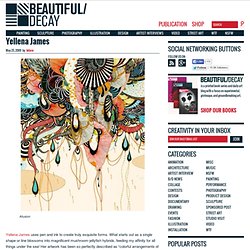 SANTIAGO CARUSOS WORK | Sprayblog
...
The Art of Billy Norrby
Stunning Art Of Digital Artist Kerem Beyit | Inspiration | PelFusion Design...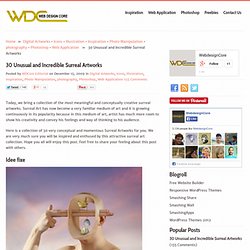 Today, we bring a collection of the most meaningful and conceptually creative surreal artworks.
30 Unusual and Incredible Surreal Artworks | Web Design Core - StumbleUpon
Coloring Work 2 on the Behance Network
CoolVibe - Digital Art, Wallpapers, Inspiration
J e f f S i m p s o n A r t
J e f f S i m p s o n A r t
Animation, Concept Art, CG, Computer Graphics, Video Games, VFX, Visual...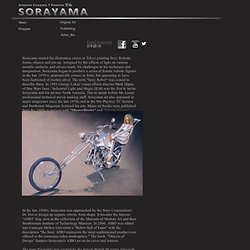 In the late 1990's, Sorayama was approached by the Sony Corporation to design an organic robotic form. It became the famous "AIBO" dog, now in the collection of the Museum of Modern Art and then Smithsonian Institute of Technology. Intrigued by the effects of light on various metallic surfaces, and always ready for challenges to his technique and imagination, he began to produce a series of female robotic figures in the late 1970¹s; anatomically correct in form, but appearing to have been fashioned of molten silver. The term "sexy robot" was coined to describe them. The term "Gynoids" was created by the female British SF writer, Gwyneth Jones, and developed by another British writer, Richard Calder.
Hajime Sorayama Official | Robots + Gynoids
Digital Art Painting by Marek Okon | Best Bookmarks
Wishmistresss deviantART Gallery
The Art of Sung Jin Kim - mashKULTURE