Manualitats i coses de casa
Moms, Food, Health, Beauty, Home, Living, Entertainment | Momtastic. Decorating, DIY, Room Design Ideas - Shelterness. Our Best Bites | Tips, Tricks, and Tastes from Two Real-Life Kitchens. Homey inspiration and advice for offbeat occupants. Tickled Red — Eat~Laugh~Surf. iVillage.com: Health, Beauty, Pregnancy, Entertainment, Women's Community and More. Not martha. Dollar Store Mom Frugal Fun – Crafts for Kids | Be the Best Mom Ever – On a Budget! Autumn leaf bouquet. I don't know what it's like in your neighborhood, but when I step outside here in Oakland, I sense it right away: Fall is in the air!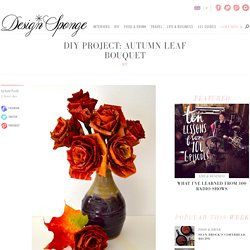 I'm lucky enough to have a few turning trees on my street, so I don't miss out entirely on the brilliant autumn colors I remember from growing up in NH. Speaking of brilliant autumn colors, I'm thrilled to share this stunning maple leaf rose bouquet DIY from a fellow Kate — clay, fiber and paper artist Kate Hust. Kate first learned how to make these a few years ago from a retired art teacher in her community, and now they've become an annual tradition when fall rolls around. Her instructor taught her to wrap the leaves really tight, so they looked like rose buds, but Kate has modified the technique a bit to suit her own tastes: She likes to find the really big leaves and make them with large open "petals." Craft Ideas, Kids Crafts, Recipes and More.
DIY Sharpie Tie Die. I love this Sharpie tie die DIY from The Art Girl Jackie blog!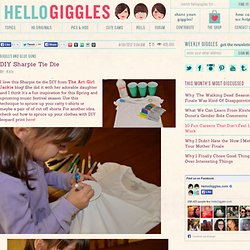 She did it with her adorable daughter and I think it's a fun inspiration for this Spring and upcoming music festival season. Use this technique to spruce up your ratty t-shirts or maybe a pair of of cut off shorts. For another idea, check out how to spruce up your clothes with DIY leopard print here! Clumsy Crafter — Full of Grace yet Graceless, wife, mom, and crafter. Domestically Speaking — making a happy hearth... Me Wanty! The page of Wants. Say Yes to Hoboken | Three Cheers for Stylish & Crafty Living.
Patterns. New craft ideas every Thursday Patterns Patterns, even the simple ones, can take a surprising amount of work to put together and pretty-up for other people's use.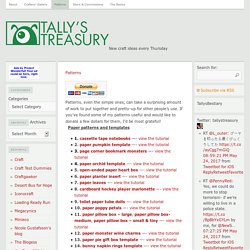 Page corner bookmarks. This project comes to you at the request of Twitterer @GCcapitalM.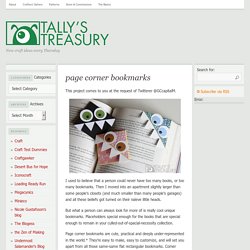 I used to believe that a person could never have too many books, or too many bookmarks. Then I moved into an apartment slightly larger than some people's closets (and much smaller than many people's garages) and all these beliefs got turned on their naïeve little heads. But what a person can always look for more of is really cool unique bookmarks. Placeholders special enough for the books that are special enough to remain in your culled-out-of-spacial-necessity collection. Makeanddogirl.com - My DIY diary of projects for my house, wardrobe and walls. The Cottage Home. Inspiration and original craft ideas for weddings, parties, children, such as home decoration, gifts, cards, personal accessories and templates. A little ART CAN'T HURT. Lately finding balance has been something of a struggle. for this girl who has always worked outside the home, not currently having employment has me in a twilight zone. home life now seems like it was easier when loads of laundry, kids homework and dirty dishes had to be squeezed into the wee hours of mornings and nights of full days where ongoing work projects and encroaching deadlines were priority. i used to inwardly roll my eyes when i would hear a stay-at-home mom friend mention how stressed she was and how there wasn't enough time in the day to get everything done.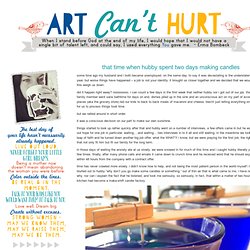 If she only knew….i would think to myself. i was that judgemental working mom. now the shoe's on the other foot and let me be the first to put my foot in my mouth. methaphorically, of course. so may i offer my apologies to all stay-at-home moms, for being judgemental. i am truly and sincerely sorry. Books/DVDs | Lunch It, Punch It. Generation T. Craftster.org - A Community for Crafts and DIY Projects with Free Craft Ideas, Inspiration, Advice and More. The World's #1 Scissors Brand™ Papernstitch handmade blog. 2011 » June. Jun30 Whiskey Stone Shot Glasses I love both the look and the principle behind this set of whiskey stone shot glasses.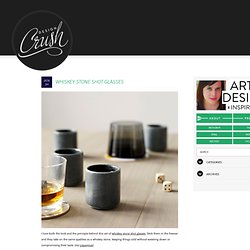 Sippy Cup Mom! - Indulgy - Everyone deserves a perfect world! CraftPOP.com Arts and Crafts Links Directory: Main. Mama B. Ahoy! | Portland Maine DIY Blog. The psychology of color. Paper Source Stationery Stores | Wedding Invitations, Envelopes. AlmostE - Funny Pictures, Funny Videos, Funny Collections! 35 Amazing Uses For Old Pallets.
DIY Party Animal Candles. Hi there, it's Jenny from Hank + Hunt with a fun and super easy diy today!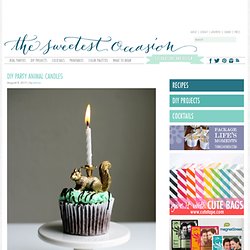 As soon as I thought of making these I got a huge kick out of naming them Party Animals. Hilarious, but if you hear groaning…it's coming from my house. Regardless of how cheesy the name is, these turn out awesome. Your kid's favorite animal holding that birthday candle minus those red eyes that are oh so typical for plastic creatures, awesome. 25 clever ideas to make life easier. Via: amy-newnostalgia.blogspot.com Why didn't I think of that?!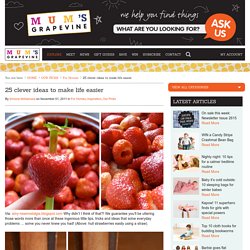 We guarantee you'll be uttering those words more than once at these ingenious little tips, tricks and ideas that solve everyday problems … some you never knew you had! (Above: hull strawberries easily using a straw). Gift Ideas for Poor Creative Souls (13) Posted by: Cathy on Jun 11, 2012 Tagged in: Untagged Painting stones has to be one of the cheapest forms of art and a wonderful way to give someone an inexpensive but thoughtful gift.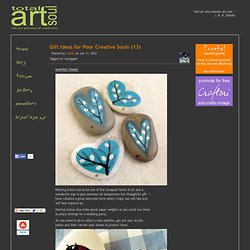 Lumi - Photography you can touch. One Crafty Collection. Honest To Nod: February 2012. I love Pinterest - like, LOVE LOVE.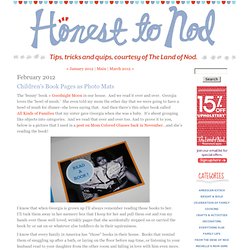 And when I found this amazing bread recipe, I knew I had to try it. Baking bread reminds me of childhood, when I stood at the table and watched my mom knead bread. Plus, it makes your house smell amazing and it's good to eat! Never one to do things the easy way, I decided to make heart-shaped loaves. Miracle of miracles, it worked on the first try! Photos. Flamingo Toes » Jewelry, Sewing, Crafts, Tutorials, and Fun! DiY crafts, free sewing patterns & sewing tutorials – WhatTheCraft.com. A Delightful Home | Creating Peace and Joy Where it Matters Most.
---