Writing
Storytelling. How To. STORYTIME & CREATIVE WRITING on Pinterest. The Writer in Me on Pinterest. The Life of a Writer on Pinterest. Writing & Character Inspiration on Pinterest. Writers Unite! on Pinterest. Writing Motivation on Pinterest. Writing, career, beautiful words, novels, poetry, stories, creative p… #8.4 Gli errori da evitare: la fretta. C'è un vecchio detto che fa più o meno così: la gatta frettolosa fece i gattini ciechi e sta a significare che, in linea di massima, le cose fatte di fretta riescono male.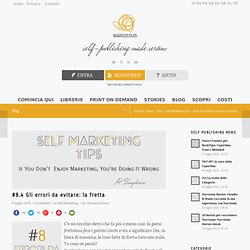 Tu cosa ne pensi? Continuiamo con i nostri appuntamenti dedicati agli errori frequenti nell'auto-promozione, anche se, più che di una tipologia di errori specifica, oggi parliamo di un approccio da evitare che, in effetti, non riguarda esclusivamente la promozione, ma un po' tutte le fasi dell'autopubblicazione, ossia la fretta. Il tuo libro è completo, hai scritto l'ultimo paragrafo e con esso posto la parola "fine" a mesi e mesi di lavoro di scrittura e revisioni; di conseguenza sei impaziente di dare la luce la tua creatura, di vederla pubblicata e posizionata sugli scaffali delle librerie, lì dove qualche lettore possa trovarla e decidere di acquistarla per leggerla. 12 Useful Websites to Improve Your Writing. By Johnny Webber 1.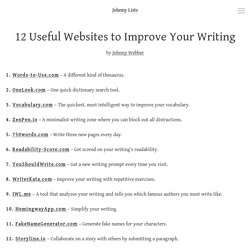 Words-to-Use.com — A different kind of thesaurus. 2. OneLook.com — One quick dictionary search tool. 3. Other. Writing Helps. Wordsmithing. Libérer sa créativité. Ressources pour ecrivains.
Jeux de lettres et de mots. Dizy - dizionario pratico con curiosità e informazioni utili. WRITING. Writing. The best 100 opening lines from books. Chosen by: Clare Balding "It was the best of times, it was the worst of times, it was the age of wisdom, it was the age of foolishness, it was the epoch of belief, it was the epoch of incredulity, it was the season of Light, it was the season of Darkness, it was the spring of hope, it was the winter of despair, we had everything before us, we had nothing before us, we were all going direct to Heaven, we were all going direct the other way."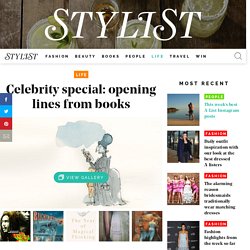 A Tale Of Two Cities, Charles Dickens. Literature. Writing resources. Writing Quality. Writing Examples. Best free software for writing: 10 programs to unleash your creativity. In theory, if you're hoping to write that novel you've been thinking about for years, then you could just launch your favourite word processor and start typing.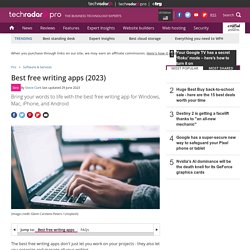 In practice, it's not that simple. You'll need to prepare first, take notes and organise your ideas. Write. Anti Page Blanche - Writing. Writing Tips. Writing Helps. Write. Writing. Being a Writer. WRITING. Conseil pour écrire. Jeux d'écriture. Writing. Raconter une histoire.
Writing. Writing. Writing Resources. Writing Exercises. Ecrire. Writing and Books. Collaboratif. Ecriture collaborative. Writing. Writing and reading. WRITING. IDEES CONTRAINTES EXERCICES.
Writing. KnowWords. Writing Resources. Numéro Cinq » A warm place on a cruel web. Copywriting. Science Fiction & Fantasy. Writing Tools. Writing with Ease. Writing With Ease #2. Writing With Ease #3. Writing with Ease 4...more gems.
Writing /communication. Publishing. Writing Tips. L'écriture créative. WRITING. All Indie Writers: Freelance Writing, Indie Publishing, Blogging. Writing.
Writing: Tips/Techniques/References. Screenwriting. Scriptwriting is just the beginning. Writersroom. Screenplay Research. Writing. Scott Berkun. Lyll-Écriture. Writing. Writing. An introduction to intertextuality. In traditional literary theory, it is assumed that when we read a work of literature we are trying to find a meaning which lies inside that work.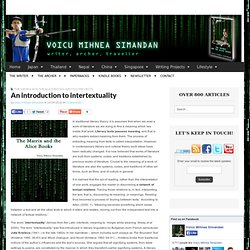 Literary texts possess meaning, and that is why readers extract meaning from them. The process of extracting meaning from texts is called interpretation. However, in contemporary literary and cultural theory such ideas have been radically changed. It is now believed that works of literature are built from systems, codes, and traditions established by previous works of literature. Writing. Writing. SocialMediaWriting. Writing. Article Écriture d'un Roman. Rare Words. The Dictionary of Obscure Sorrows. Writing. Digital Writing. Writing Resources.
Writing, Creativity, Quotes. Sounds-of-a-voice.
---