Writing
How to Write - Books, Literature, and Writing - HubPages.com
Ressources pour ecrivains
Jeux de lettres et de mots
Dizy - dizionario pratico con curiosità e informazioni utili
Anti Page Blanche - Writing
IDEES CONTRAINTES EXERCICES
Tutti parlano di come scrivere un buon libro, una buona trama, ottimi personaggi, ma c'è un particolare che rende la lettura davvero di spessore. Un particolare che nessuno svela. Non si sa perché. Sabato sera, a me e ad altri amici scrittori, sono stati consegnati alcuni premi per racconti e romanzi scritti nel corso del 2013.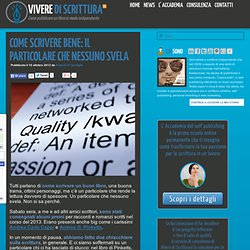 Come scrivere bene: il particolare che nessuno svela
Numéro Cinq » A warm place on a cruel web
Like most artists I know, Katie DeGroot has a quiet, obsessive side that drives her to long solitary hours in the studio relentlessly putting shapes and colours on paper or canvas. In this case, the shapes come notionally from nature, those rotted, knobby logs you see off the trail, festooned with things growing upon their morbidity. Strange symmetries. But she takes the logs out of nature and puts them up on a white ground, often in tandem (parallel constructions), with the images running off the page, and the moss, lichens and fungi elaborated in fantastic profusion.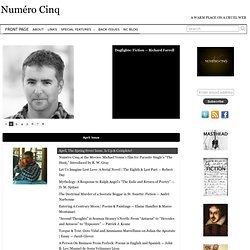 Science Fiction & Fantasy
Writing with Ease 4...more gems
All Indie Writers: Freelance Writing, Indie Publishing, Blogging
Writing: Tips/Techniques/References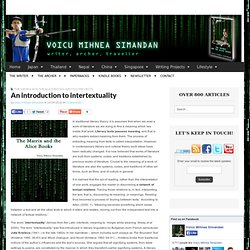 In traditional literary theory, it is assumed that when we read a work of literature we are trying to find a meaning which lies inside that work. Literary texts possess meaning, and that is why readers extract meaning from them. The process of extracting meaning from texts is called interpretation. However, in contemporary literary and cultural theory such ideas have been radically changed. It is now believed that works of literature are built from systems, codes, and traditions established by previous works of literature.
An introduction to intertextuality
``How To Speak and Write Postmodern''
Posted to alt.humor.best-of-usenet by Andrew C Bulhak on 20 June 1995, found in alt.postmodern. by Stephen Katz, Associate Professor, Sociology, Trent University, Peterborough, Ontario, Canada Postmodernism has been the buzzword in academia for the last decade.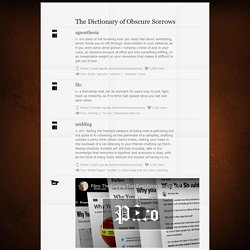 The Dictionary of Obscure Sorrows is a compendium of invented words written by John Koenig. Each original definition aims to fill a hole in the language—to give a name to emotions we all might experience but don't yet have a word for. The author's mission is to capture the aches, demons, vibes, joys and urges that roam the wilderness of the psychological interior. Each sorrow is bagged, tagged and tranquilized, then released gently back into the subconscious. ▸ visit the facebook page to hear the backstory behind each word
Article Écriture d'un Roman
Writing, Creativity, Quotes