E-books CONVERSION y ASPECTOS TECNICOS
Aplicaciones para leer ebooks en Android e iOS. Parecía algo imposible y realmente incómodo pero nuestro smartphone se está convirtiendo en algo vital y productivo para nuestro día a día.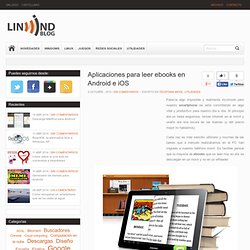 Al principio era un tarea engorrosa, tenías Internet en el móvil y usarlo era una locura de las buenas (y del precio mejor no hablamos). Cada vez es más sencillo utilizarlo y muchas de las tareas que a menudo realizábamos en el PC han migrado a nuestro teléfono móvil. Es factible pensar que la mayoría de ebooks que se leen hoy en día se descargan en un móvil y no en un eReader.
A pesar de tener una pantalla de menores dimensiones (en la mayoría de los casos) siempre va con nosotros y nuestros tiempos muertos se pueden aprovechar para avanzar en nuestras lecturas. Los fabricantes cada vez incluyen pantallas más grandes y de mejor calidad en sus teléfonos y es un buen momento para convertir tu Android o tu iPhone / iPad en un lector de ebooks. It's time for a unified ebook format and the end of DRM. This post originally appeared on Publishers Weekly.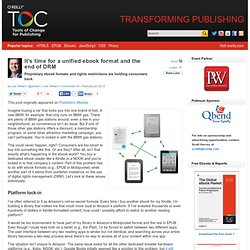 Imagine buying a car that locks you into one brand of fuel. A new BMW, for example, that only runs on BMW gas. There are plenty of BMW gas stations around, even a few in your neighborhood, so convenience isn't an issue. But if one of those other gas stations offers a discount, a membership program, or some other attractive marketing campaign, you can't participate. You're locked in with the BMW gas stations. Produire et diffuser des livres numériques. Après la musique, puis les films, voici le tour des livres.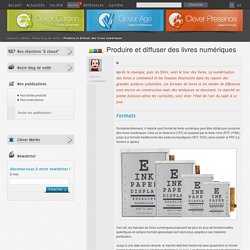 La numérisation des livres a commencé et les liseuses fleurissent dans les rayons des grandes surfaces culturelles. Les formats de livres et les modes de diffusions sont encore en construction mais des tendances se dessinent. Ce marché en pleine éclosion attise les curiosités, voici donc l'état de l'art du sujet à ce jour. Formats. International Digital Publishing Forum | Trade and Standards Organization for the Digital Publishing Industry. Online ebook creator. Conversión de PDF a Libro Virtual Flash. Estimados usuarios, Lamentamos anunciar que hemos decidido cerrar nuestro servicio de conversión de pdf a la page flip.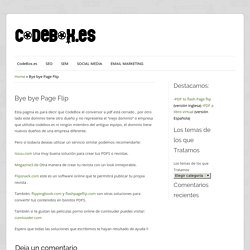 La razón principal por la que hemos tomado esta decisión es porque creemos en proveer un servicio de calidad con un buen soporte, y este no es el caso. Este proyecto comenzó como una pequeña herramienta de soporte para uno de nuestros clientes. Como nos pareció útil para otros usuarios, decidimos publicarlo como un servicio gratuito, con una interfaz de usuario sencilla.
Nunca esperamos 1 millón de visitas y alrededor de 300,000 conversiones en 4 años. E-book management. Create your own E-Book for your iPad. Gossamers. This article provides a brief guide to ebook conversion, covering what it involves and how to select a conversion service, with an emphasis on maintaining quality.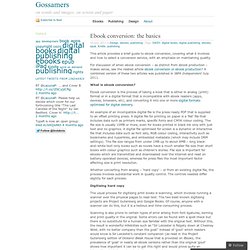 For discussion of when ebook conversion – as distinct from ebook production – makes sense, see the related article ebook conversion or ebook production? A combined version of these two articles was published in IBPA Independent July 2011.
---