U.S. History
Detroit Historical Society: Frontiers to Factories
A Sailor's Life for Me! An online game from the USS Constitution Museum
HSI: Historical Scene Investigation
US History Scene |
Last year marked the 150th anniversary of the start of the American Civil War, a milestone commemorated by The Atlantic in a special issue (now available online). Although photography was still in its infancy, war correspondents produced thousands of images, bringing the harsh realities of the frontlines to those on the home front in a new and visceral way. As brother fought brother and the nation's future grew uncertain, the public appetite for information was fed by these images from the trenches, rivers, farms, and cities that became fields of battle.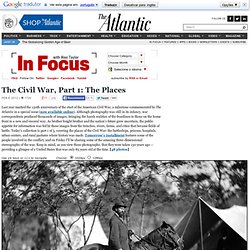 The National WWII Museum | New Orleans
U.S. History: Free streaming history videos & activities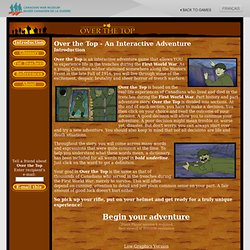 Introduction Over the Top is an interactive adventure game that allows YOU to experience life in the trenches during the First World War. As a young Canadian soldier stationed somewhere along the Western Front in the late Fall of 1916, you will live through some of the excitement, despair, brutality and sheer horror of trench warfare.
Over the Top - A First World War Free Online Adventure Game
Lesson Plans History American Government High School - USHistorySite.com
Meet Amazing Americans
Primary sources, multimedia, readings, and lesson plans to tell the many stories of North Carolina's past.
North Carolina History: A Digital Textbook - LEARN NC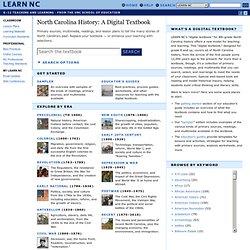 The Presidential Timeline of the Twentieth Century
Gettysburg By The Numbers - TeachersFirst