Desserts
Easy Raspberry Molten Cakes. Easy No Bake Peanut Butter Bars Recipe. I LOVE anything with Peanut Butter and Chocolate but sometimes I don't have all day to bake in the kitchen.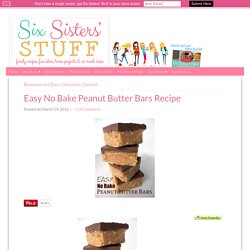 When I found these I knew I had to give them a try. It only took about 5 minutes to throw everything together then I let them sit in the refrigerator until after dinner. Fabulous You: Texas Sheet Cake Cupcakes. Peanut Butter Cup Pudding Cookies Recipe. You can't go wrong with the classic chocolate and peanut butter combo . . . and these cookies are incredibly moist and delicious!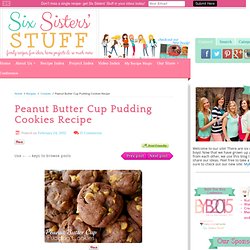 If you have never tried a pudding cookie recipe before, I highly recommend starting with these. They are divine! Ingredients: 2 sticks (1 cup) butter, room temperature 1/2 cup sugar 1/2 cup light brown sugar 2 eggs 1 T vanilla 2 1/4 cups flour 1 t baking soda 1/2 t salt 1 (4 oz) box instant chocolate pudding 1 (10 oz) bag peanut butter chips 1 cup miniature Reese's peanut butter cups (I have also used big Reese's chopped up into small pieces) Chocolate Chip Cookie Dough Brownies | RecipeGirl.com.
Chocolate Chip Cookie Dough Brownies *If you are visiting this post for the first time, you may wish to visit my "Chocolate Chip Cookie Dough Brownies Take Two" post- a more recent post where I share (what I think is) a better version of these brownies!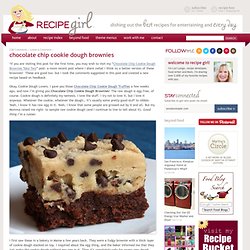 These are good too- but I took the comments suggested in this post and created a new recipe based on feedback. Okay, Cookie Dough Lovers. I gave you those Chocolate Chip Cookie Dough Truffles a few weeks ago, and now I'm giving you Chocolate Chip Cookie Dough Brownies! Cheesecake swirled brownies | The Red Spoon. In preparation for a break from all things deemed "unhealthy" — which I'm sure will change when I get a craving for loaded baked potatoes and the like such as — this week's grocery list consists entirely of anti-healthy items.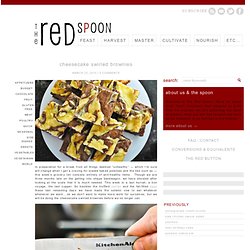 Though we are three months late on the getting into shape bandwagon, we have decided after looking at the scale that it is much needed. This week is a last hurrah, a bon voyage, the last supper. Chocolate Cake In A Mug Recipe. Reese's Peanut Butter Cheesecake Bars. You don't even need me to tell you these are good, do you?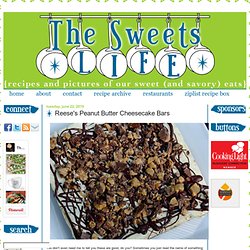 Sometimes you just read the name of something and you know it's going to be good. That's how I felt about these. Okin' up north: Cinnamon Roll Cake. I found this recipe at Life as a Lofthouse and couldn't wait to try it.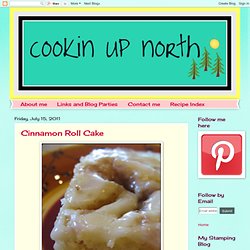 I finally got a chance to make it last week and it's all it's cracked up to be! I loved every bite...warm and delicious...just like a cinnamon roll! Cake: 3 c. flour 1/4 tsp.salt 1 c. sugar 4 tsp. baking powder 1 1/2 c. milk 2 eggs 2 tsp. vanilla 1/2 c. butter, melted Topping: 1 c. butter, softened 1 c. brown sugar 2 Tbsp. flour 1 Tbsp. cinnamon. The Brownie That Will Change Your Life - StumbleUpon. Let me start off by saying that viewer discretion is advised for today's post.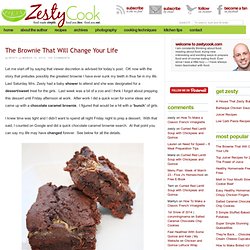 OK now with the story that preludes possibly the greatest brownie I have ever sunk my teeth in thus far in my life. Last Saturday Mrs. Zesty had a baby shower to attend and she was designated for a dessert/sweet treat for the girls. Last week was a bit of a zoo and I think I forgot about prepping this dessert until Friday afternoon at work. After work I did a quick scan for some ideas and came up with a chocolate caramel brownie. Blueberry Pie Ice Cream Recipe | She Wears Many Hats. Chocolate Chip Cookie Dough Cheesecake | A Nut in a Nutshell - StumbleUpon.
Ultimate Chocolate Chip Cookie n' Oreo Fudge Brownie Bar | Kevin & Amanda - StumbleUpon. On Wednesday, I wondered what would happen if you combined Oreo Stuffed Chocolate Chip Cookies with Oreo Stuffed Brownies.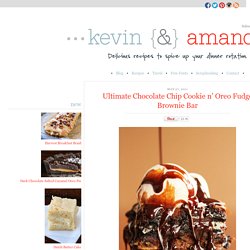 On Thursday I found out. And on Friday… Homemade pop tarts. I never had a Pop-Tart until college.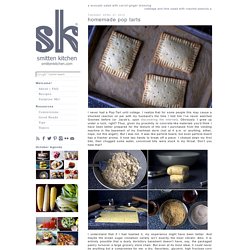 I realize that for some people this may cause a shocked reaction on par with my husband's the time I told him I've never watched Goonies before (or Jacob's, upon discovering the internet). Obviously I grew up under a rock, right? Thus, given my proximity to concrete-like materials you'd think I have been better prepared for the texture of the one I purchased from the vending machine in the basement of my freshman dorm (not at 4 a.m. or anything, either, nope, not this angel!). Root beer float cupcakes. It never takes long into the first hot week of the summer for me to get swept up in some sort of dorky nostalgia for a time or place I never knew, in this case, Main Street, U.S.A. with its drugstore soda counters counters, elaborate marble and stainless steel fountains manned by soda jerks serving five cent Cherry Cokes and root beers to bright-eyed youths that always said things like "Sir" and "Ma'am".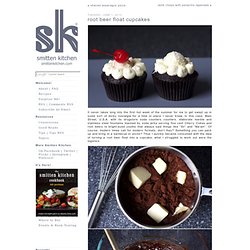 Of course, modern times call for modern formats, don't they? Something you can pack up and bring to a barbecue or picnic? Thus I quickly became consumed with the idea of turning a root beer float into a cupcake; what I struggled to work out were the logistics. I started with a root beer cupcake, which was actually a chocolate root beer cupcake, adapted from the Root Beer Bundt Cake in one my favorite cookbooks that I so, so eagerly anticipate the follow-up to this fall, Baked. Twix Caramel Brownies. Twix Caramel Brownies Last week we hosted a barbeque for our good family friends. I couldn't decide what dessert to make, so I made three:) I wanted to make sure there was something for everyone to enjoy, plus, you all know I love an excuse to bake:) I decided to make brownies, because brownies are always a hit at parties. I didn't want to make plain chocolate brownies so I jazzed them up with Twix candy bars and caramel.
I think that was the best decision I have made in a long time! Red Velvet Cheesecake Brownies | Sweet Pea's Kitchen - StumbleUpon. Red Velvet Cheesecake Brownies These Red Velvet Cheesecake Brownies are rich, decadent and so perfect for Valentine's Day! Brownie and cheesecake batter are swirled together to make a festive and impressive dessert. Indianapolis, along with many other states in the Midwest, is coping with a huge ice storm that is supposed to cover us in over an inch of ice. How to Make Caramel Apple Shots | Food Republic - StumbleUpon. Photo: Michelle Oddis Once in a while, a party trick comes along that grabs our attention. Food blogger Michelle Oddis of That's So Michelle loves making caramel apple shots we can't imagine anyone would turn down. Using, wait for it, real fruit and time-tested formulas for tasty, jiggly shots that stay put in their edible "shotglasses," Michelle's gotten Food Republic on the gimmicky Halloween bandwagon we've been resisting so fiercely.
SugarBlog - The Ultimate Ice Cream Cake Cookie&Pie - StumbleUpon. Chocolate Chip Cookie Dough Cheesecake - StumbleUpon. Smooth, creamy, decadent cheesecake studded with sweet morsels of cookie dough and bursts of mini chocolate chips?
All atop a chocolatey, buttery crust? Garnished with sweetened whipped cream and more chocolate chips?
---