Coding
Python Programming Language – Official Website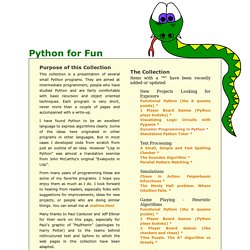 Python for Fun
This collection is a presentation of several small Python programs. They are aimed at intermediate programmers; people who have studied Python and are fairly comfortable with basic recursion and object oriented techniques. Each program is very short, never more than a couple of pages and accompanied with a write-up.
Learn Python The Hard Way, 2nd Edition — Learn Python The Hard Way, 2nd Edition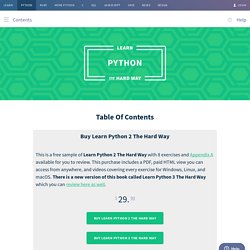 Learn Python The Hard Way, 3rd Edition Welcome to the 3rd Edition of Learn Python the Hard Way. You can visit the companion site to the book at http://learnpythonthehardway.org/ where you can purchase digital downloads and paper versions of the book.
Think Python
How to Think Like a Computer Scientist
Invent Your Own Computer Games with Python - Chapters
Chapters Download the complete book as a PDF. Chapter 1 - Installing Python [related content]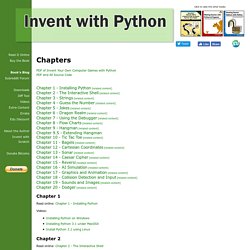 Dive Into Python
(or however many I'll find ;-) These are not necessarily warts or flaws; rather, they are (side effects of) language features that often trip up newbies, and sometimes experienced programmers.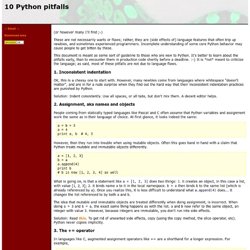 labs :: 10 Python pitfalls
Python Bibliotheca
Data Structures and Algorithms with Object-Oriented Design Patterns in Python
The Django Book
Ruby
Learn Ruby The Hard Way — Learn Ruby The Hard Way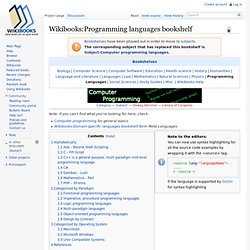 Note: If you can't find what you're looking for here, check:
Programming languages bookshelf
jEdit - Programmer's Text Editor - overview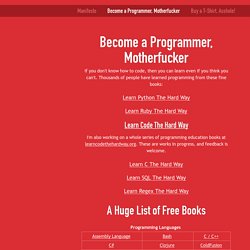 Become a Programmer, Motherfucker
If you don't know how to code, then you can learn even if you think you can't.
Chapters - Learn You a Haskell for Great Good!
Real World Haskell
This is the in-progress free version of Learn C the Hard Way. It was just converted to a new format so things might be missing or formatted wrong.
Learn C The Hard Way A Clear & Direct Introduction To Modern C Programming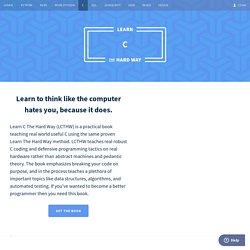 Think Java: How to Think Like a Computer Scientist
JavaScript Fundamentals
Think Complexity