Read Later
by Romain Guywww.curious-creature.org Falcon Pro I recently installed Falcon Pro, a new Twitter client, on my Nexus 4. I really enjoy using this application but I noticed a few hiccups here and there while using it and it seemed that scrolling the main timeline did not yield a perfectly stable framerate.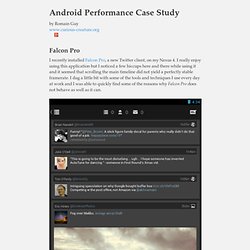 Android Performance Case Study, Falcon Pro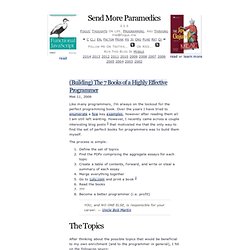 (Building) The 7 Books of a Highly Effective Programmer
(Building) The 7 Books of a Highly Effective Programmer Like many programmers, I'm always on the lookout for the perfect programming book. Over the years I have tried to enumerate a few key examples, however after reading them all I am still left wanting. However, I recently came across a couple interesting blog posts 1 that motivated me that the only way to find the set of perfect books for programmers was to build them myself.
xorsyst Do you ever feel like you are addicted to email or twitter or texting? Do you find it impossible to ignore your email if you see that there are messages in your inbox?
48 Psychological Facts You Should Know About Yourself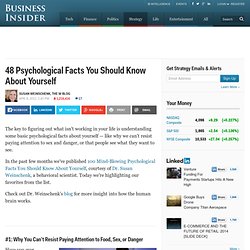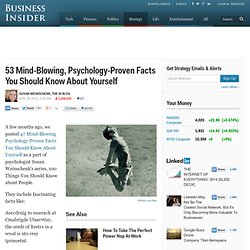 One day, many years ago, when I was early in my career, I found myself in front of a classroom full of people who did not want to be there. Their boss had told them they had to attend the class I was giving. I knew that many, even most, of them thought the class was a waste of their time, and knowing that was making me nervous. I decided to be brave and forge ahead.
Psychology: 53 Mind-Blowing Things You Should Know About Yourself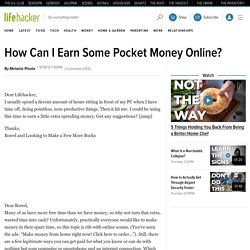 You say Craigslist and all that comes to mind is "Horrible Bosses" ... Wetwork Man: What are you talking about? Dale Arbus: Your...your ad said you do wet work. Wetwork Man: That's correct. I urinate on other men for money. Kurt Buckman: What was that?
Site Templates
Advice from startup executives on work-life balance
Emily Hickey, CMO of Hashable, mother Her career: Emily Hickey is chief marketing officer of Hashable. Before that the Stanford graduate was chief operating officer of PhotoShelter, cofounder of Yeah!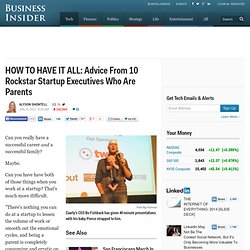 Mary Meeker's Latest Incredibly Insightful Presentation About The State Of The Web
by Tony Schwartz | 2:21 PM August 24, 2010 I've been playing tennis for nearly five decades. I love the game and I hit the ball well, but I'm far from the player I wish I were.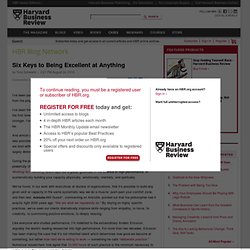 Lean startup metrics
Six failed businesses on, Dropmyemail's John Fearon says, "I'm amazing"
"I'm a good boss, I really am," John Fearon, founder and CEO of DropMySite, tells me, in full earshot of his employee at their office in Block 71, Ayer Rajar Crescent, considered the nexus of Singapore's technology startup scene. He was making a point about how he'd be a bad subordinate but a good leader who is comfortable with starting things. "I'm one of those that can go into the room and self-combust."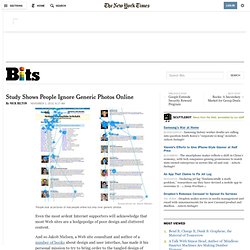 Screenshots via Jakob NielsenPeople look at pictures of real people online but skip over generic photos. Even the most ardent Internet supporters will acknowledge that most Web sites are a hodgepodge of poor design and cluttered content. And so Jakob Nielsen, a Web site consultant and author of a number of books about design and user interface, has made it his personal mission to try to bring order to the tangled design of most sites. Mr. Nielsen's weapons in the fight to clean up this mess include some eye-tracking software and research he chronicles on his blog.
People Ignore Generic Photos Online, Study Shows
Since China opened up to the world with its sweeping economic reforms in the late 1970s, and especially in the past decade as private-sector enterprises have mushroomed, the model of executive compensation in the country has increasingly mirrored ones in the U.S. and Europe. How is it, then, that Chinese executives are paid only a fraction of the compensation earned by their American counterparts in companies of equal size in the same industries? Or are they?
Does China Have an Executive-Compensation Problem?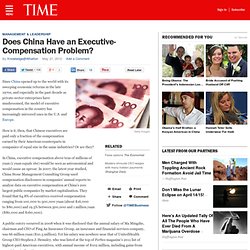 Learn more about the science of success with Heidi Grant Halvorson's HBR Single, based on this blog post. Why have you been so successful in reaching some of your goals, but not others? If you aren't sure, you are far from alone in your confusion. It turns out that even brilliant, highly accomplished people are pretty lousy when it comes to understanding why they succeed or fail. The intuitive answer — that you are born predisposed to certain talents and lacking in others — is really just one small piece of the puzzle. In fact, decades of research on achievement suggests that successful people reach their goals not simply because of who they are, but more often because of what they do.
by Tony Schwartz | 10:25 AM May 1, 2012 Tomorrow is my birthday — always an opportunity for reflection, but especially this time. For several weeks now, I've been thinking about what I've learned during the past six decades that really matters.
Turning 60: The Twelve Most Important Lessons I've Learned So Far - Tony Schwartz
Black-Scholes: The maths formula linked to the financial crash
27 April 2012Last updated at 19:06 ET By Tim Harford BBC Radio 4, More or Less It's not every day that someone writes down an equation that ends up changing the world. But it does happen sometimes, and the world doesn't always change for the better. It has been argued that one formula known as Black-Scholes, along with its descendants, helped to blow up the financial world.
Why We Need To Take 20-Somethings Seriously
Ever wonder how Google manages to search the entire web and return results in half a second? Well, RobertvH from Munich did, and Mountain View's head of web-spam, Matt Cutts, talks you through it in the above YouTube video. The short answer?
Google explains how it searches the internet in under half a second, if you can find the video
How to make money by traveling around the world
Why Every Monday Matters
What Zen Taught Silicon Valley (And Steve Jobs) About Innovation
Children Full of Life (2 of 5)
Melbourne brain study: Are musicians born or made?
'Kill the Indian First'
The Guardian on Facebook
Living Like a Billionaire, if Only for a Day
Five Worst Mistakes Entrepreneurs Make When Pitching Angel Investors
How to Be Creative: The Science of Genius
Choosing Between Making Money and Doing What You Love - Leonard A. Schlesinger, Charles F. Kiefer, and Paul B. Brown
10 tips on how to destroy employee morale
Star Ocean
Annals of development: Dangerous delusions
How to Fix Location-Based People Discovery
"Big Innovation Lives Right on the Edge of Ridiculous Ideas"
Why You Have Your Best Ideas When You're Least Productive
Crossing the Bridge
Which is less expensive: Amazon or self-hosted?