DIY Couture
Embroidered DIY Merit Badges. While my Girl Scout career was brief, I still carry a love for those iconic little badges I earned way back when.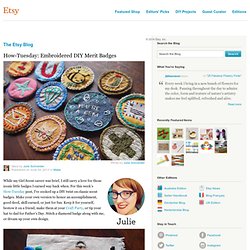 For this week's How-Tuesday post, I've cooked up a DIY twist on classic scout badges. Make your own version to honor an accomplishment, good deed, skill earned, or just for fun. Keep it for yourself, bestow it on a friend, make them at your Craft Party, or tip your hat to dad for Father's Day. DIY Peter Pan Collar. We almost lost our marbles when we first spotted these scalloped white Louis Vuitton collars on the runway.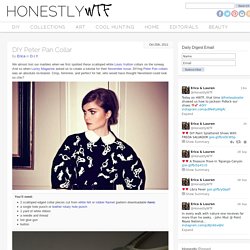 And so when Lucky Magazine asked us to create a tutorial for their November issue, DIYing Peter Pan collars was an absolute no-brainer. Crisp, feminine, and perfect for fall, who would have thought Neverland could look so chic? How To Make a Bow Tie. In our local shop we sell tons of vintage bow ties.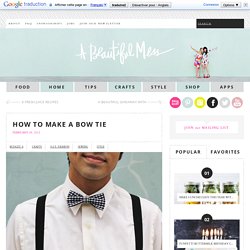 We could never keep them in stock, so we started making them! Clip on bow ties are easy to make. Do It Yourself Converse. Dans chaque « shoesing » trône au minimum une paire de Converse usée.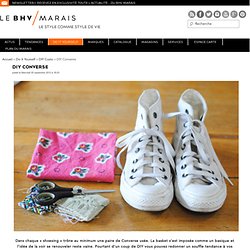 La basket s'est imposée comme un basique et l'idée de la voir se renouveler reste vaine. Pourtant d'un coup de DIY vous pouvez redonner un souffle tendance à vos tennis. Le matériel : 20 doll + toy patterns to sew. DIY : des sweats brodés. 9 janvier 2013 Un tuto simplissime (si vous n'avez jamais brodé, ne fuyez pas !)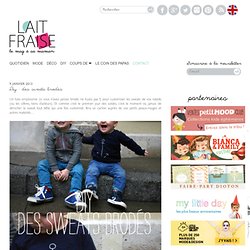 Pour customiser les sweats de vos nabots (ou les vôtres, tiens d'ailleurs). Et comme c'est le premier jour des soldes, c'est le moment où jamais de dénicher le sweat tout bête qui une fois customisé, fera un carton auprès de vos petits peaux-rouges et autres matelots… DIY Moccasins for Children. Finding cute shoes for babies and toddlers can be hard sometimes.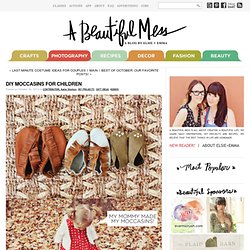 I'm always on the lookout for adorable footwear, but often I'm unwilling to pay the high price for something I know my kiddos will only wear for a season or two. I came across this tutorial last year for felt baby shoes, and realized I could slightly modify this pattern for kid's moccasins made from leather scraps! 1. DIY party dress for New Year's Eve ! | I warned you yesterday with my black and white inspiration board, this New Year is going to be classy !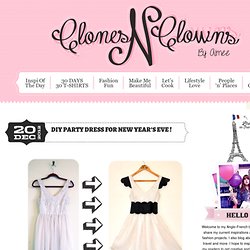 I have been working on my DIY party dress for New Year's Eve for a few days, thinking about what could be the perfect update for my old Forever 21 net dress… Well, this is it ! A two step project including a "how to add sleeves to a dress" tutorial as well as a "How to make a scalloped leather belt" tutorial ! Machine à coudre : Les premiers pas. Novice en couture, la manipulation de votre machine vous angoisse ?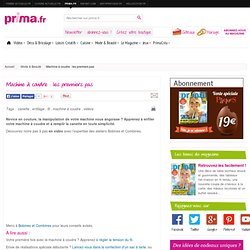 Apprenez à enfiler votre machine à coudre et à remplir la canette en toute simplicité. Découvrez notre pas à pas en vidéo avec l'expertise des ateliers Bobines et Combines. DIY « Louis Vuitton » + CONCOURS! C'est avec une émotion à peine contenue que je vous écris ce billet… 2057 likes ce matin sur facebook donc c'est décidé, tous les 1000 ( vous vous rendez compte!?)
Je vous ferai gagner un DIY… je me doute bien que ce rythme va se calmer mais profitons en! Et aujourd'hui en plus de vos faire gagner le sac « Louis Vuitton », vous allez aussi pouvoir gagner le cahier de vacances Etsy (trop bien!) Avec plein de DIY, des recettes de lemonade de la trop forte « j'veux être bonne » et pleins d'autres choses pour occuper vos petits doigts pendant les vacances ( même si vous ne gagnez pas: foncez sur le blog d'esty , il y a pleins d'autres surprises chaque jour…) Il vous que je vous raconte une anecdote concernant l'ampleur de la « chose », l'autre soir, après avoir cédé à l'appel du mexicain en bas de la rue… Nous étions posés en terrasse quand une très jolie femme, s'avance vers nous avec un air déterminé et morte de rire ( mon amoureux me dit: mais c'est qui? DIY COL CIRCUS. Le jeudi, c'est broderie!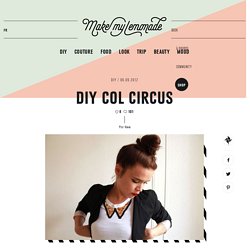 Un petit DIY de rentrée, histoire de reprendre doucement et puis de quoi vous faire dédramatiser la broderie… L'autre jour je me rendais je ne sais plus où, mais j'ai croisé une jeune femme qui portait un tee shirt blanc tout bête avec un col à pailettes dorées encadré par deux bandes noires… Etait- ce de la sérigraphie? De la broderie? Etait-ce H&M? Ou Zara? Le headband de Make my Lemonade. Lisa propose régulièrement des projets créatifs originaux et bien pensés sur son blog, Make My Lemonade (si vous ne connaissez pas encore, prévoyez de longues heures devant vous, pour découvrir toutes les idées qu'elle vous propose, vous n'allez plus savoir où donner de la tête).
Aujourd'hui, elle nous fait le plaisir de partager l'un d'entre eux sur Un Beau Jour. Cette couronne en pompons de tulle qui nous donne immédiatement des envie de mariage en hiver dans la neige et les belles lumières des mois de froid. C'est tout simple à faire et l'effet est tout simplement grandiose. Hop, à vos ciseaux! Field of Flowers Costume. Oct 1 Happy Monday! I'm trying out a new way to work on posts starting today that will be more collaborative and I'm really excited about it. Make Your Own Tassel Scarf. I love a pop of color in my outfits!
This tassel scarf is the perfect way to spice up a neutral outfit. I will wear this scarf with jeans, dresses and over light jackets. Here's how you can make your own: How To Make Tassels: 1. Strawberry Reusable Grocery Bag. The first time I saw this strawberry reusable grocery bag was when I visited Taiwan end of last year.
I did so much shopping that I didn't have enough grocery bag to use. Luckily my friend borrowed her strawberry grocery bag to me when I needed it the most. It is so cute and the folding to keep the grocery bag into a tiny cute little strawberry drawstring bag really amazed me. My daughter liked it so much…. cut the story short **fast forward**, the bag ended up come home with us. ★ Les lundis téléchargeables ! - Ernest est céleste. On est mercredi ?! Ah oui déjà ! Je rentre d'un long week-end à la campagne, là où même ma clé 3G ne pouvait rien pour moi ...
Canoe Ridge Creations: hexagon coaster tutorial. Zipper Pencil Case. Puff paint onesies. Hand Stamped D.I.Y. Pony Print Dress. And yet another clothes hanger tutorial... Creative with espadrilles :: a DIY. Flower petal shoes :: the kids version. Chaussons d'enfant en tissu, Patron couture gratuit. Cravate : son tutorial. Kelli Murray's Blog » Blog Archive » DIY JERSEY BABY HEADBAND.
DIY Denim + Lace Shirt. Crème de la Craft | DIY projects made from everyday objects. Wool Camera Wrap | Wood&Faulk. Have & Make: Graphic Triangle Pillow.
---