DIY Couture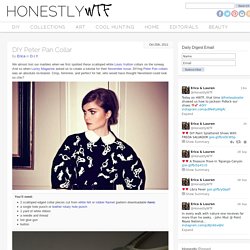 We almost lost our marbles when we first spotted these scalloped white Louis Vuitton collars on the runway. And so when Lucky Magazine asked us to create a tutorial for their November issue, DIYing Peter Pan collars was an absolute no-brainer. Crisp, feminine, and perfect for fall, who would have thought Neverland could look so chic?
How To Make a Bow Tie
In our local shop we sell tons of vintage bow ties. We could never keep them in stock, so we started making them! Clip on bow ties are easy to make.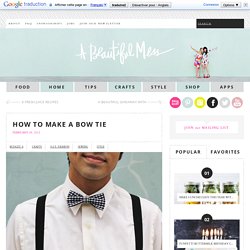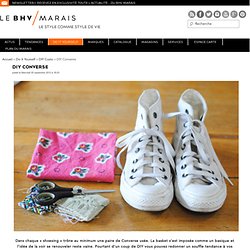 Do It Yourself Converse
Dans chaque « shoesing » trône au minimum une paire de Converse usée.
20 doll + toy patterns to sew
DIY : des sweats brodés
9 janvier 2013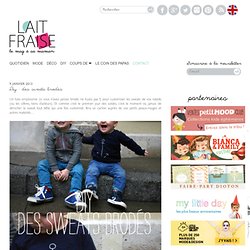 Finding cute shoes for babies and toddlers can be hard sometimes.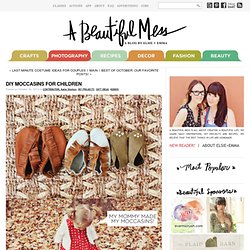 DIY Moccasins for Children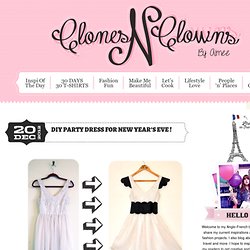 I warned you yesterday with my black and white inspiration board, this New Year is going to be classy ! I have been working on my DIY party dress for New Year's Eve for a few days, thinking about what could be the perfect update for my old Forever 21 net dress… Well, this is it ! A two step project including a "how to add sleeves to a dress" tutorial as well as a "How to make a scalloped leather belt" tutorial !
DIY party dress for New Year's Eve ! |
Novice en couture, la manipulation de votre machine vous angoisse ? Apprenez à enfiler votre machine à coudre et à remplir la canette en toute simplicité. Découvrez notre pas à pas en vidéo avec l'expertise des ateliers Bobines et Combines.
Machine à coudre : Les premiers pas | Prima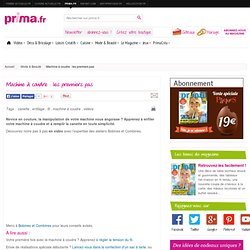 DIY « Louis Vuitton » + CONCOURS! | Make my lemonade
C'est avec une émotion à peine contenue que je vous écris ce billet… 2057 likes ce matin sur facebook donc c'est décidé, tous les 1000 ( vous vous rendez compte!?)
Le jeudi, c'est broderie!
DIY COL CIRCUS | Make my lemonade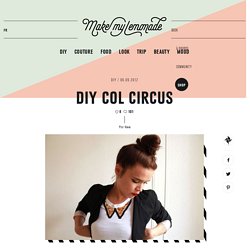 Lisa propose régulièrement des projets créatifs originaux et bien pensés sur son blog, Make My Lemonade (si vous ne connaissez pas encore, prévoyez de longues heures devant vous, pour découvrir toutes les idées qu'elle vous propose, vous n'allez plus savoir où donner de la tête).
DIY – Le headband de Make my Lemonade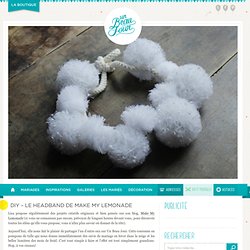 Oct 1 Happy Monday! I'm trying out a new way to work on posts starting today that will be more collaborative and I'm really excited about it.
Field of Flowers Costume
I love a pop of color in my outfits!
Make Your Own Tassel Scarf
The first time I saw this strawberry reusable grocery bag was when I visited Taiwan end of last year.
★ Les lundis téléchargeables ! - Ernest est céleste
On est mercredi ?! Ah oui déjà ! Je rentre d'un long week-end à la campagne, là où même ma clé 3G ne pouvait rien pour moi ...
Canoe Ridge Creations: hexagon coaster tutorial.
hey there -- i'm megan and welcome to my stop on the Festival of Hexagons blog hop hosted by Ali of a squared w! if you are new to Canoe Ridge Creations, i hope you take a second to look around and find some inspiration to create something wonderful yourself. sharing my creations + inspiring others to create is what it's all about!
Sewing | Zipper Pencil Case
puff paint onesies
Hand Stamped D.I.Y. Pony Print Dress
And yet another clothes hanger tutorial...
Creative with espadrilles :: a DIY
Flower petal shoes :: the kids version
Chaussons d'enfant en tissu, Patron couture gratuit
Cravate : son tutorial
Kelli Murray's Blog » Blog Archive » DIY JERSEY BABY HEADBAND
DIY Denim + Lace Shirt
Wool Camera Wrap | Wood&Faulk
Have & Make: Graphic Triangle Pillow | House of Earnest