Smart
If Famous Writers Had Written Twilight… Gear : Design Magazine. Tim Bouckley, Millie Clive-Smith, Mi Eun Kim and Yuta Sugawara, students from the Royal College of Art in London, have developed headsets that allow the wearer to adjust their sight and hearing in the same way they'd control the settings on a TV or radio (+ movie).The equipment, called Eidos, was developed to enhance sensory perception by tuning in to specific sounds or images amongst a barrage of sonic and visual information, then applying effects to enhance the important ones.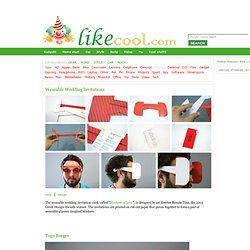 Thinking of inking? A guide to tattoos | The Washington Post. Best Alarm Clocks - 10 Funny Alarm Clocks and Reviews - Womans Day. For most people, getting out of bed in the morning is a bit of a struggle.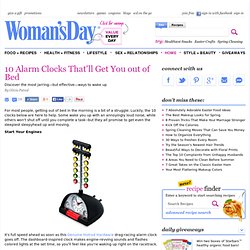 Luckily, the 10 clocks below are here to help. Some wake you up with an annoyingly loud noise, while others won't shut off until you complete a task--but they all promise to get even the sleepiest sleepyhead up and moving. Start Your Engines It's full speed ahead as soon as this Genuine Hotrod Hardware drag-racing alarm clock goes off. The dashboard-inspired clock makes engine-revving sounds and flashes colored lights at the set time, so you'll feel like you're waking up right on the racetrack. Comet Hair Dryer by Hoang M Nguyen & Yanko Design. Beauty Basic For me the hair dryer has existed ever since the day I was born but research on the net tells me that it was the 19th century inventor Alexandre F.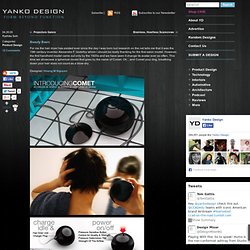 Godefoy whom I should be really thanking for the first salon model. However, the first handheld model came out only by the 1920s and we have seen it change its avatar ever so often. This time we showcase a spherical model that goes by the name of Comet. Oh…and Comet your dog, breathing down your hair does not count as a blow-dry.
Cold Shoulder. 20 Awesome Products And Design Ideas. Shit I Want Wednesdays | Roy Reid Comedy - Canada's #1 Source For All Things Comedy. Wind Map - StumbleUpon. An invisible, ancient source of energy surrounds us—energy that powered the first explorations of the world, and that may be a key to the future.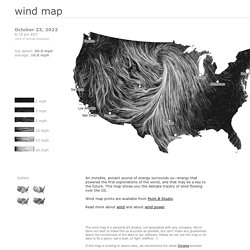 This map shows you the delicate tracery of wind flowing over the US. The wind map is a personal art project, not associated with any company. We've done our best to make this as accurate as possible, but can't make any guarantees about the correctness of the data or our software. Please do not use the map or its data to fly a plane, sail a boat, or fight wildfires :-)
DIY! 7 new stylish ways to de-clutter your beauty closet - StumbleUpon. UCB Parents Jokes &Quotes:Great Truths About Life. This page is brought to you by UC Berkeley Parents Network Back to the Jokes & Quotes Collection 1.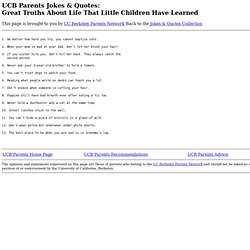 No matter how hard you try, you cannot baptize cats. 2. When your mom is mad at your dad, don't let her brush your hair. 3. If you sister hits you, don't hit her back. They always catch the second person. 4. Refillable Air Horn. AGGRAVURE: Pounding Out Art With 500,000 Staple Murals. The AGGRAVURE series by Baptiste Debombourg is a set of three incredibly stunning staple murals comprised of approximately half a million of the metal tackers.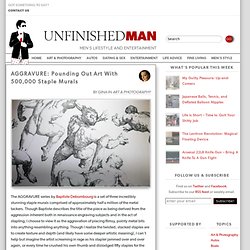 Though Baptiste describes the title of the piece as being derived from the aggression inherent both in renaissance engraving subjects and in the act of stapling, I choose to view it as the aggravation of placing flimsy, pointy metal bits into anything resembling anything. Though I realize the twisted, stacked staples are to create texture and depth (and likely have some deeper artistic meaning), I can't help but imagine the artist screaming in rage as his stapler jammed over and over again, or every time he crushed his own thumb and dislodged fifty staples for the sake of one. These intense metal portraits are centered around Icarus mythology; each strikingly depicts muscular men tumbling out of the sky. Bodum Coffee & Tea Maker by Sunny Ting Wai Wong & Yanko Design - StumbleUpon.
Microsoft Surface 2.0. The First Truly Smart Headphones. Despite the landslide of smart devices in recent years, headphones have remained decidedly dumb, lacking the multitude of sensors found in everything from phones to watches.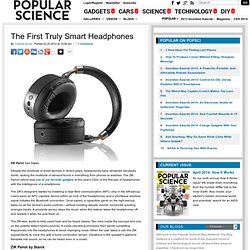 The ZIK Parrot--which was one of our favorite gadgets at this year's CES--is the first pair of headphones with the intelligence of a smartphone. The ZIK's designers started by installing a near-field communication (NFC) chip in the left earcup. This isnt happiness™ - StumbleUpon. A.S.B. & How to start a revolution [NSFW] Turn Paper into Pencils with the P & P Office Waste Paper Processor. Chinese designers have come up with a new machine that turns waste paper into perfectly good pencils!
According to the EPA "more than 2 billion books, 350 million magazines, and 24 billion newspapers are published each year in the U.S. alone." That's equal to about 85 million tons of paper! Even though many people recycle their paper products, there are still some people who may not have convenient access to recycling systems. - StumbleUpon. Outlets of the Future aka in-wall USB Charger - StumbleUpon. 1.
Plug the Mini USB chargers into the outlets. Because the USB ports are off center I decided to put them both toward the center. I think it looked better than having them the same direction or both on the outside. 21 Innovative Inventions - StumbleUpon. ← Previous Post Next Post → 21 Innovative Inventions jon May 28, 2011 11.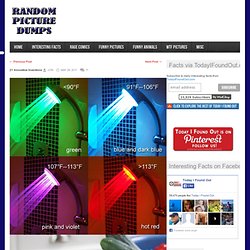 Simple Ideas That are Awesome | DPS SHOW.
Eight great gadgets for college dorms | All the latest gadgets: the Gadget Guy | tampabay.com & the St. Petersburg Times - StumbleUpon. It's almost time for college students to begin fall classes, so I thought it would be good to compile a list of gadgets for college dorms and apartments. The obvious ones, like smartphones, laptops, iPads and calculators aren't listed here because I went for the fun and unique gadgets instead. Take a look and let me know if you've found something cool that should be included. (Scroll to the bottom to see a video that demonstrates the gadgets.) 1. The Elite Cuisine Multi-Function 3-In-1 Breakfast Center is a coffee maker, toaster oven and griddle all in one. Concept gadgets | The Cool Gadgets - Quest for The Coolest Gadgets - Part 5.
Full Moon Odyssey Circle Floor Pillow Concept A pillow that created with 26 hi-resolution images of the moon's surface, the Full Moon Odyssey floor pillow is one cool living room gadget that has a diameter of 5-foot wide. The Full Moon Odyssey is a design by Lily Suh, a South Korean designer at i3 Labs. Did she inspired by the annual moon [...] Skinner on Campus | Futility Closet - StumbleUpon.
Which Health Supplements Are Backed by Science? - Health - GOOD - StumbleUpon. Bookcase Chairs Combine Book Storage & Reading Space | Designs &Ideas on Dornob - StumbleUpon. Awesome idea to scare the sh*t out of your roommates | Lulz Truck - StumbleUpon. Simple Ideas That Are Borderline Genius (Part 13) - StumbleUpon. Soap Flakes : Nathalie Stämpfli - StumbleUpon. StumbleUpon. Absolutely Genius Ideas - StumbleUpon. Smart tips to make life easier - StumbleUpon.
14 Creative and Clever Soaps - Mental Floss. Love Quotes | Little BGCG - StumbleUpon. 50 Stress Relievers That Take 5 Minutes Or Less | The Emotion Machine - StumbleUpon. Most Popular Repurposing Tricks of 2011 - StumbleUpon. Collected Quotes from Albert Einstein - StumbleUpon. Upgrade a Wall Outlet to Charge USB Devices. Science Proves Getting Back with Your Ex Is an Awful Idea.
---