The ten traditional Niyamas
Niyama ( skt. नियम: niyama , "restraint", "observance", "rule", "restriction", (in abl.) "certainly", "necessarily" [ 1 ] ) generally denotes a duty or obligation adopted by a spiritual aspirant (or community of same), or prescribed by a guru or by scripture (notably, the niyamas of raja yoga ). The semantic range above reflects the breadth of the term's application in practice, and in the Buddhist sense extends to the determinations of nature, as in the Buddhist niyama dhammas . In Pāli the spelling niyāma is often used. [ 2 ]
Niyama
Santosha
Dāna or Daan ( Pāli , Sanskrit : दान dāna ) is generosity or giving, a form of alms . In Hinduism and Buddhism , it is the practice of cultivating generosity. Ultimately, the practice culminates in one of the perfections ( pāramitā ): the perfection of giving - dāna-pāramitā. This can be characterized by unattached and unconditional generosity, giving and letting go.
Dāna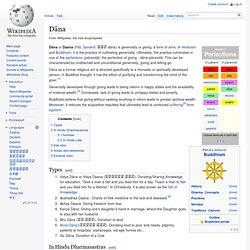 Āstika and nāstika
Āstika ( Sanskrit : आस्तिक āstika ; "it exists") and Nāstika ( नास्तिक , nāstika ; "it doesn't exist") are technical terms in Hinduism used to classify philosophical schools and persons, according to whether they accept the authority of the Vedas as supreme revealed scriptures, or not, respectively. [ 1 ] By this definition, Nyāyá , Vaiśeṣika , Sāṃkhya , Yoga , Mimāṃsā and Vedānta are classified as āstika schools; and some schools like Cārvāka , Ājīvika , Jainism and Buddhism are considered nāstika . [ 2 ] The distinction is similar to the orthodox / heterodox distinction in the West. In non-technical usage, the term āstika is sometimes loosely translated as " theist ", while nāstika is translated as " atheist ". [ 3 ] However, this interpretation is distinct from the use of the term in Hindu philosophy. Notably even among the āstika schools, Sāṃkhya is an atheistic philosophy. [ 4 ] The different usages of these terms are explained by Chatterjee and Datta as follows: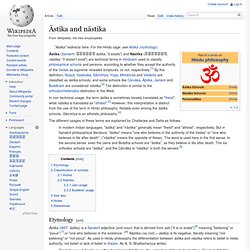 In the context of Hinduism and Hindu mythology , the term vrata (pronunciation: vrat or brat) denotes a religious practice to carry out certain obligations with a view to achieve divine blessing for fulfillment of one or several desires. Etymologically, vrata, a Sanskrit word (and also used in several Indo-European languages ), means to vow or to promise . [ 1 ] In Jainism, the vratas (elements of self-control) form the core of the practical Jainism. The Jain monks follow the five Mahavratas (great vratas), while the laity follow the five Anuvratas (minuscule vratas).
Vrata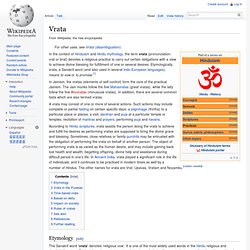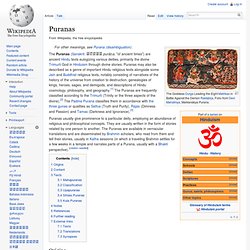 For other meanings, see Purana (disambiguation) . The Puranas ( Sanskrit : पुराण purāṇa , "of ancient times") are ancient Hindu Vedic texts eulogizing various deities, primarily the divine Trimurti God in Hinduism through divine stories. Puranas may also be described as a genre of important Hindu religious texts alongside some Jain and Buddhist religious texts, notably consisting of narratives of the history of the universe from creation to destruction, genealogies of kings, heroes, sages, and demigods, and descriptions of Hindu cosmology, philosophy, and geography. [ 1 ] Hindu Puranas have been classified in accordance with the three gunas or qualities as Sattva (Truth and Purity), Rajas (Dimness and Passion) and Tamas (Darkness and Ignorance), or according the three aspects of the divine Trimurti as Vaishnava, Brahma and Shaiva Puranas. [ 2 ] Puranas usually give prominence to a particular deity, employing an abundance of religious and philosophical concepts.
Puranas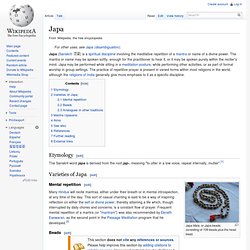 Japa ( Sanskrit : जप ) is a spiritual discipline involving the meditative repetition of a mantra or name of a divine power. The mantra or name may be spoken softly, enough for the practitioner to hear it, or it may be spoken purely within the recitor's mind. Japa may be performed while sitting in a meditation posture , while performing other activities, or as part of formal worship in group settings.
Japa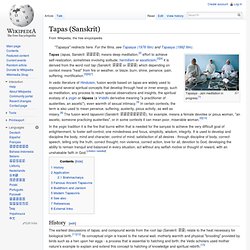 Tapas (Sanskrit)
Tapas ( tapas ) in Sanskrit means "heat". In Vedic religion and Hinduism , it is used figuratively, denoting spiritual suffering, mortification or austerity, and also the spiritual ecstasy of a yogin or tāpasa (a Vriddhi derivative meaning "a practitioner of austerities, an ascetic"). In the Rigveda , the word is connected with the Soma cult. The adjective tapasvin means "wretched, poor, miserable", but also "an ascetic, someone practicing austerities". [ 1 ] [ 2 ]