Web design
Useful tools, techniques and references for web designers.
50 fantastic tools for responsive web design. Net magazine is the number one choice for the professional web designer and developer.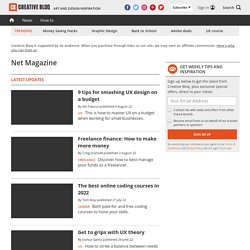 It's here that you find out about the latest new web trends, technologies and techniques – all in one handy package. Each issue boasts a wealth of expert tips and advice, including in-depth features and over 30 pages of advanced front- and backend tutorials on subjects as diverse as CSS, HTML, JavaScript, WordPress, PHP, and plenty more. net compiles the hottest new sites from around the web, and being the voice of web design, our mission is to source the best articles written by the best people in the industry and feature interviews and opinions crammed with inspiration and creative advice.
In short, If you're serious about web design and development, then net is the magazine for you. Editorial. Fontomas - easy iconic fonts composer. Fighting the Space Between Inline Block Elements. I've seen this come up a couple of times lately on Twitter and then an interesting Dabblet so I figured it would be an important thing to document.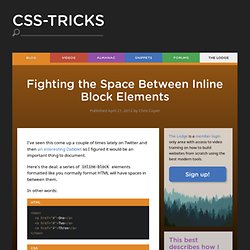 Here's the deal: a series of inline-block elements formatted like you normally format HTML will have spaces in between them. In other words: <nav><a href="#">One</a><a href="#">Two</a><a href="#">Three</a></nav> Online usability testing. Magic 3D Photoshop Action. Today we have a free Photoshop Action for easily creating 3D effects.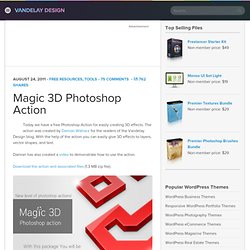 The action was created by Damian Watracz for the readers of the Vandelay Design blog. With the help of the action you can easily give 3D effects to layers, vector shapes, and text. Looking for hosting? Slicebox - A fresh 3D image slider with graceful fallback. Slicebox is a jQuery 3D image slider plugin that makes use of CSS 3D Transforms and provides a graceful fallback for older browsers that don't support the new properties.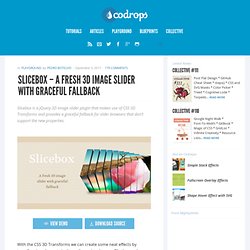 View demo Download source With the CSS 3D Transforms we can create some neat effects by transforming elements in three-dimensional space. Slicebox makes use of the 3D transforms properties and allows different kind of effects. The main idea is to create three-dimensional image slices that will rotate and reveal the next image as another side of the 3D object. In case the browser does not support 3D transforms, a simple slider will be used as fallback. Top 50 web designers to follow on Twitter. The Wall - A Javascript plugin for Mootools. Sprite Cow - Generate CSS for sprite sheets. Subtle Patterns | High quality patterns for your next web project.
InfoGrid. Superman View Image Super Power.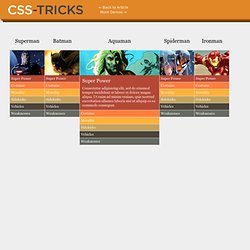 Custom Scrollbars in WebKit. Way back in the day, you could customize scrollbars in IE (5.5) with non-standard CSS properties like scrollbar-base-color which you would use on the element that scrolls (like the <body>) and do totally rad things.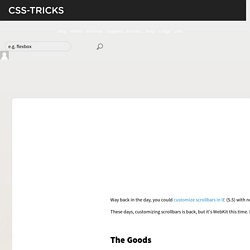 IE dropped that. These days, customizing scrollbars is back, but it's WebKit this time. FFFFALLBACK - A simple tool for bulletproof web typography. Skitter - Slideshow for anytime! Mega Web Buttons Pack #1. Today we want to share our first set of easy-to-implement buttons called 'Mega Web Buttons Pack'.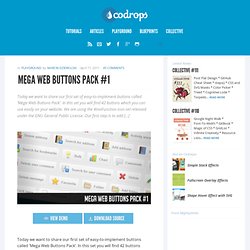 In this set you will find 42 buttons which you can use easily on your website. We are using the WooFunction icon set released under the GNU General Public License. Our first step is to add […] CSS drop-shadows without images. Drop-shadows are easy enough to create using pseudo-elements.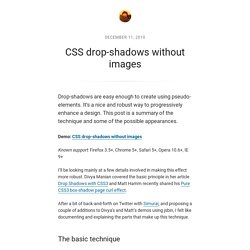 It's a nice and robust way to progressively enhance a design. This post is a summary of the technique and some of the possible appearances. Demo: CSS drop-shadows without images. The Top 8 Placeholder Services for Web Designers. In the last year, there's been a wave of helpful placeholder services.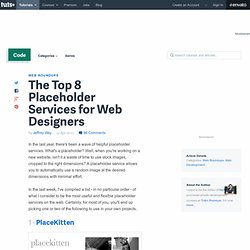 What's a placeholder? Well, when you're working on a new website, isn't it a waste of time to use stock images, cropped to the right dimensions? Circular Discography Template with jQuery. Today we want to share a simple website template with you.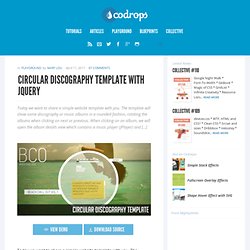 The template will show some discography or music albums in a rounded fashion, rotating the albums when clicking on next or previous. When clicking on an album, we will open the album details view which contains a music player (jPlayer) and […] View demoDownload source. The Perfect Fanpage Profile Picture (+ FREE PSD) - WP4FB. [message_box type="note" icon="yes" close="Hide"]When this post was post was published, WP4FB was only a simple WordPress theme that is not comparable to the current WP4FB WordPress plugin.
The current plugin is a completely new product with many new features. Therefore, this post may be outdated. [/message_box]I don't have to tell you how extremely powerful Facebook Fan Pages can be. Patternify | CSS Pattern Generator. WhatFont Bookmarklet « Chengyin Liu. ← Back to Chengyin's main page What is the easiest way to find out the fonts used in a webpage? Firebug or Webkit Inspector? Slide in Captions. Griddle.it - Web page alignment made easy. The Cicada Principle and Why It Matters to Web Designers » HTML & CSS, Layout » Design Festival. I'm going to start off on a seemingly wild tangent today, but stick with me—I do have a purpose.
A few years ago, I read some interesting stuff on periodical cicadas. We generally don't see a lot of these little guys as they spend the vast majority of their lives quietly tunnelling away underground and munching on tree roots. However, depending on the species, every 7, 13, or 17 years these periodical cicadas simultaneously emerge en masse, transform into noisy, flying creatures, find a mate, and die not long after. While this is a rather rock'n'roll ending for our nerdy cicada, it raises an obvious question: Is it just by chance that they adopted 7, 11, or 13-year life cycles, or are those numbers somehow special? 978 Grid System for Web Design.
Glowform :: Image-less CSS3 Glowing Form Implementation. Recommended browsers: Safari, Chrome Alternate animation: Firefox 4 CSS3 (image-less) Glowing Login Form (inspired by Dragon Labs). Webkit browsers recommended. Use Firefox 4 to see the fallback animation. * Disclaimer: This is meant as a CSS3 tech demo, not a best practices tutorial. Author(s) Toolkit. Your Free and Easy Online Portfolio | FolioHD. Welcome | Android Interaction Design Patterns | CamanJS - Image Manipulation in Javascript. 21 essential resource sites for web designers. A masterclass in CSS animations. A crossplatform framework for creating NUI applications.
The Cicada Principle and Why It Matters to Web Designers » HTML & CSS, Layout » Design Festival. Naked Password - jQuery Plugin to Encourage Stronger Passwords. 3D Ribbon Generator - CSS3d.net. Convert PSD to Wordpress with Divine. Convert Photoshop to Wordpress theme. Pixel Proliferation: A Toolset For Managing Screen Resolutions | Punchcut. Isotope. Less+ Framework | Webbyrå Norrköping Angry Creative. Brad Colbow - Independent Web Designer, Illustrator - The Brads - How to build a corporate website. Little Big Details.
Cool Font Pairings | FontFuse. Webdesign. The art of data visualization. The Elements of Retro Web Design. CSS Quick Tip: CSS Arrows and Shapes Without Markup.
---