Useful tips
How to Transfer a Photograph Onto a Block of Wood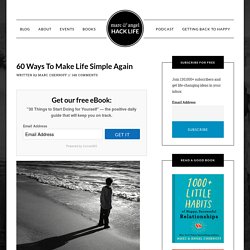 60 Ways To Make Life Simple Again
Email When we were young life was easier, right? I know sometimes it seems that way. But the truth is life still is easy. It always will be.
masterlock-01.png (1872×1224)
Wear Palettes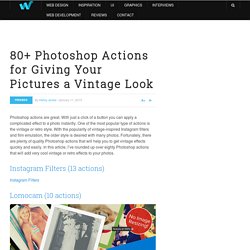 353 shares Inspiring Architecture and City Photography I believe that architecture and general city landscapes are pretty inspiring.
80+ Photoshop Actions for Giving Your Pictures a Vintage Look
TetraBox Light by Ed Chew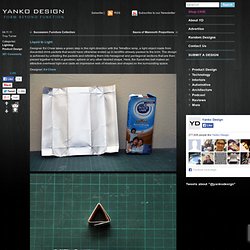 Liquid to Light Designer Ed Chew takes a green step in the right direction with the TetraBox lamp, a light object made from discarded drink packets that would have otherwise ended up in landfills already packed to the brim. The design is achieved by unfolding the packets and refolding them into hexagonal and pentagonal sections that are then pieced together to form a geodesic sphere or any other desired shape.
Planting A Pineapple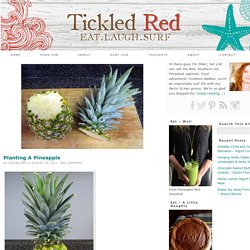 Did y'all know that you can take this and turn it into… This? And that this will eventually produce… This?
DIY Sweat-sacoche diy-laptop-sweat – the Trendy Girl
How To Remember Your Dreams
A Little Bit of College Ruled Genius By our friend and returning Yanko champion, Sherwood Forlee. Check out the simplicity. Just punch out the corner, make a cut or two, fold back, and POW! You are green.
Stapleless Paper by Sherwood Forlee
How To Coke Machine Jackpot Hack - a News &Politics video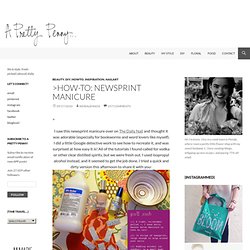 I saw this newsprint manicure over on The Daily Nail and thought it was adorable (especially for bookworms and word lovers like myself). I did a little Google detective work to see how to recreate it, and was surprised at how easy it is! All of the tutorials I found called for vodka or other clear distilled spirits, but we were fresh out. I used isopropyl alcohol instead, and it seemed to get the job done.
>How-To: Newsprint Manicure « A Pretty Penny
How To Steal Like An Artist (And 9 Other Things Nobody Told Me) - Austin Kleon
15 Different Ways To Tie Your Sneakers Pictures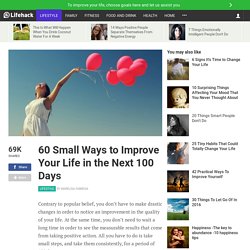 60 Small Ways to Improve Your Life in the Next 100 Days
Contrary to popular belief, you don't have to make drastic changes in order to notice an improvement in the quality of your life. At the same time, you don't need to wait a long time in order to see the measurable results that come from taking positive action. All you have to do is take small steps, and take them consistently, for a period of 100 days. Below you'll find 60 small ways to improve all areas of your life in the next 100 days. Home
50 Life Secrets and Tips
elevator.jpg (543×467)