Sustainable Living
Grow Your Own Mushrooms
Helpful tips on how to grow your own mushrooms at home or on the farm. How to Grow Your Own Mushrooms From Growing Your Own Mushrooms: Cultivating, Cooking & Preserving by Jo Mueller, copyright 1976 by Garden Way Publishing, Charlotte, Vt . and reprinted with the permission of the publisher.
The Moneyless Manifesto | Mark Boyle
Sense & Sustainability | Fresh Perspectives on Sustainable Development
Sustentabilidad
Global Footprint Network :: HOME - Ecological Footprint - Ecological Sustainability
Green Living Experience
SOSTENIBILIDAD Archivos - ecointeligencia - ponte al día en diseño sostenible!
Permaculture Magazine - practical solutions for self-reliance | Permaculture Magazine
This is an attempt to describe in detail everything we have done and everything we continue to do in setting up and running our vegetable growing business. We really hope it's useful to anyone else thinking of starting a similar project, but… we have to point out some limitations! Much of what's written is specific to our 21 acre site – a small-holding growing field-scale vegetables – and might not be completely relevant to other sites.It describes just one way of approaching things when, in reality, there are lots of ways to go about growing.And it's written by inexperienced people! We've only been growing since 2010. There are plenty of more experienced growers out there – some of which we've highlighted in the text.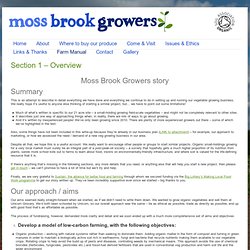 Section 1 – Overview | Moss Brook Growers
Sustainable Man | Promoting Sustainable Lives & Communities
Research in Justice & Sustainability
Can a collapse of global civilization be avoided?
Sustainable buildings and cities
SustainaWiki
Sense and Sustainability | Fresh Perspectives on Sustainable Development
The Transition Handbook - From Oil Dependency to Local Resilience
Inhabitat | Design For a Better World!