Story Books Online
STORYBOOKREADALONG. Upload Subscription preferences Loading...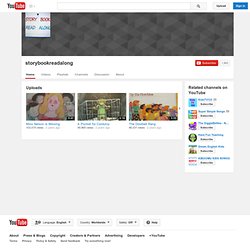 Free children's ebooks for ages 3-11 | Oxford Owl. Inkless Tales: Stories. Make your OWN story!!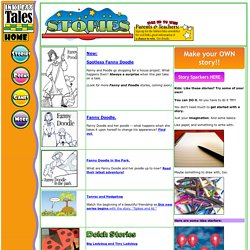 Story Sparkers HERE Kids: Like these stories? Try some of your own! You can DO it. All you have to do it TRY! SqoolTube Videos: Book Related. Community Club Home. Listen and Read Veterinarian Level A, Community Club Discover, through the words, images, and audio of this engaging read-aloud, how a veterinarian cares for animals large and small.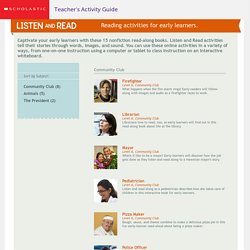 Welcome to BOOKPOP. GrimmFairyTales.com. Beantime Stories. "Once upon a time, on the Island of Meddybemps...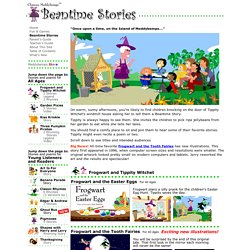 " On warm, sunny afternoons, you're likely to find children knocking on the door of Tippity Witchet's windmill house asking her to tell them a Beantime Story. Tippity is always happy to see them. She invites the children to pick ripe jellybeans from her garden to eat while she tells her tales. You should find a comfy place to sit and join them to hear some of their favorite stories. Tippity might even recite a poem or two.
Lil' Fingers Storybooks: Original Toddler/preschool/kids(K-3) activites, storybooks, & coloring. PEEP and the Big Wide World: Interactive Games. KOL Jr. Stories - Online Picture Books Read Aloud. Children's Books Forever. Current books - Read to me. RubbishBooks. We Give Books - Read a book. Give a book. Interactive Story Books online. Children's Storybooks Online - Stories for Kids of All Ages.
Children's Stories Online - Free Children's Books for All Ages | Story Time For Me. Kids' Stories, Songs, Games, Educational Activities for Children - Speakaboos. StoryPlace: The Children's Digital Library. Online Storytime by Barnes & Noble - Barnes & Noble.
---