Steampunk
If anyone ever has any suggestions for pictures to go on the pearltrees please let me know. We've got a pretty good collection going I think. More oranization is great though and if you have a suggestion for that let me know or just start changing it yourself.
Steampunk Websites. Steampunk R&D - For those who live in a future that never was « Wonder How To. Dishonored. The Steampunk Tribune. Steam Powered Giraffe - Honeybee. Steampunk and The New Victorians. Steampunk aka The New Victorians is a wonderful new trend.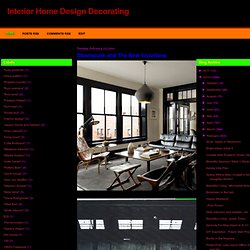 Some say this vintage industrial steam era inspired interior and fashion trend was solidified with the amazing interiors of Robin Standefer and Stephen Alesch of Roman and Williams hit the scene. Their design of hospitality spaces across the board is amazing! Have you see the trend popping up? I feel like I see it everywhere... and I love it! Images via roman and williams, cote maison, mikkel vang, house beautiful, my sparrow and glamour. Directory. Steambirds: Survival: Goodbye Handcrafted Levels. Steambirds: Survival, the sequel to our original steampunk airplane strategy game was just released today.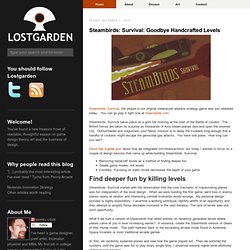 You can go play it right now at Steambirds.com. Steambirds: Survival takes place on a grim fall morning at the start of the Battle of London. SteamBirds: Survival. Steampunks gather for Great Exhibition. Ian Crichton, aka inventor Herr Doktor, takes us around the Steampunk party for period 'scientists' The Great Exhibition of 2010 was held at London's La Scala club - though on a smaller scale than the 19th Century original.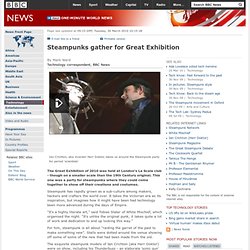 This one was a party for steampunks where they could come together to show off their creations and costumes. Steampunk has rapidly grown as a sub-culture among makers, hackers and crafters the world over. .:Lest I Smite Thee:. Robin's Mystery Blog. Arthrobots - Original steampunk insect sculptures by Tom Hardwidge.
Victorian Steampunk Wedding. Design Art Cartoons Cars About Follow RSS Advertise Search Victorian Steampunk Wedding - /by @42concepts .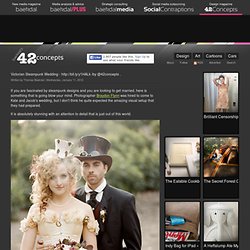 Steampunk Games & Game Art | Design Stuff Daily | Design and Inspiration Blog. Steampunk Games & Game Art Wednesday, July 21, 2010 13:27 For today's entry, with Steampunk week taking off and providing mechanical and steampowered inspiration to anyone who finds themselves here, we will be looking at something a bit different.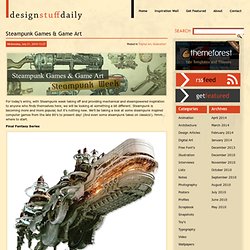 Steampunk is becoming more and more popular, but it's nothing new. We'll be taking a look at some steampunk inspired computer games from the late 80′s to present day! (And even some steampunk takes on classics!). It's Time to Rethink Steampunk. I read an interview a few years back with SF writer Barry Malzberg (whose Breakfast in the Ruins and Galaxies are essential reading for anyone who wants to be a professional SF writer), and he hit the nail on the head when he described steampunk as "decadent" — basically stuff for people who liked genre ornamentation but were completely unserious about the speculative aspects of science fiction.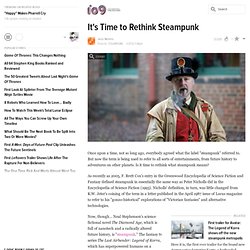 Yes, having a young Queen Elizabeth fighting Octopus Men From The Telluric Realms in a steam-powered exoskeleton is a lot of fun, but it doesn't really mean anything — it's incoherent as alternative history, it has zero speculative value, nobody would ever have the wherewithal to design and build those things, etc. It's just another way of doing fantasy, but with vaguely real trappings from history and science. Weta Workshop, Weta Limited and the Weta Cave. Da Vinci Automata. Incredible Homemade See-Through Steampunk Guitar. Ten Incredible Steampunk Guitars.
Image: Molly FriedrichAll images courtesy of the artists/photographers and used with permission.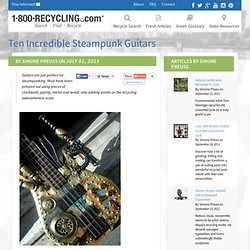 There's nothing wrong with a regular guitar — and electric guitars are of course arguably the coolest of modern instruments — but after seeing the creations we've collected here, you might look at the old six-stringer you have lying around and suddenly think it's a bit boring. Customizing — or in this case, steampunking — your guitar will add so much to its esthetic potential. See, apart from the fact that it will increase its weight, with all the recycled nuts, bolts, screws and nifty gadgets like valves, clocks and more added to it, your guitar will become a true one-of-a-kind. We've found 10 guitars that seem to have come straight from the age of steam power — with a riff of electric futurism thrown in for good measure! S P O O K Y P O P : The art of Doktor A. Jake of All Trades. The Steampunk Workshop | Technology & Romance - Fashion, Style, & Science. UK Steampunk Network. Typewriter Keys | Vintage Typewriter Key Sets-Lots.
Transforming vintage typewriter keys into jewelry is very popular these days.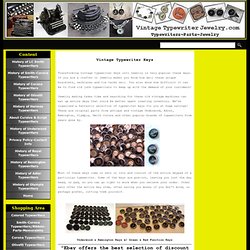 If you are a crafter or jewelry maker you know how well these unique bracelets, necklaces and tie tacks sell. You also know how difficult it can be to find old junk typewriters to keep up with the demand of your customers! Dr Grordbort's Infallible Aether Oscillators - Rayguns, beasts, buffoons and fair maidens! Steampunk University. Steam, Brass and Fzz. March 27, 2013 Sculpture Dear friends, My brother and I recently spent a wonderful day with sculptor and all-round eccentric Alan Ross of ArtInSteel.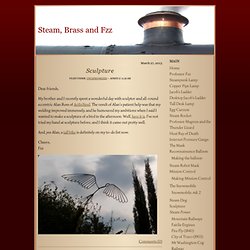 SteamPunk Magazine. IEEE Spectrum: Technology, Engineering, and Science News. Datamancer.net - Technical Art and Steampunk Contraptions. The Perfumery - Home.
Steampunk DIY Tech. Steampunk Abode. Steampunk Weapons. Victorian Organ Command Desk & Steampunk Home Tour. You'll recall I recently visited the Steampunk home of Bruce and Melanie Rosenbaum.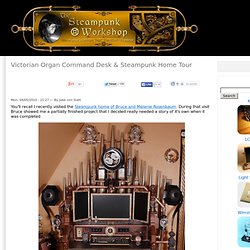 During that visit Bruce showed me a partially finished project that I decided really needed a story of it's own when it was completed This is the "Victorian Organ Command Desk" that Bruce commissioned. It's made from bits and pieces of Victorian detritus that Bruce had collected including the carcass of a 19th century pump organ. Electronic Kits Modules Projects UK Superstore: Industrial Educational Hobby. Steampunk Pics. Girl Genius Online Comics. Now THIS is How Steampunk is Done | The Last Goddess. Retrowerk. Search: steampunk. We have written about a couple of Steampunk gadgets before. These were the Steampunk Nerf Maverick Gun and a Steampunk Furnace Mouse. Both look cool and this next one is no exception. I have to admit that it's not something I would ever wear to a party, but it is still quite cool to see.
The Steampunk Home. How Steampunk Works" Flickering gas lamps puncture a thick London fog. A metallic, rhythmic noise begins to drown out the normal sounds of the evening. An army of copper clockwork automatons comes marching out of the darkness.
---