Serious Games Examples
it would be nice to bring all our sg examples in a more structured way.
Maybe this is our way http://www.seriousgames.org/presentations/serious-games-taxonomy-2008_web.pdf mklein Mar 2
The Virtual Trillium Trail an Educational Simulation of a North American Forest by Virtual Field Trips, LLC.
The Virtual Trillium Trail is a new type of computer game, one that crosses the boundaries into geo-spatial visualization and virtual reality. It is an immersive learning simulation, and virtual environment of a real world field trip to a North American, deciduous forest and wildflower reserve. The content is consistent with the informal learning curriculum of the Audubon Society of Western PA and the formal Pennsylvania Department of Education Ecology standards, and more. The original prototype software was part of a Ph.D. dissertation on intrinsic learning in simulations and virtual environments where it showed close to 40% learning gains, student enjoyment, and parental approval.
ESET security adventure game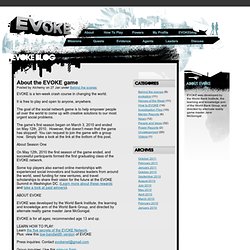 Posted by Alchemy on 27 Jan under Behind the scenes EVOKE is a ten-week crash course in changing the world. It is free to play and open to anyone, anywhere.
WBIprocurement | Serious Games Interactive
Universum der Ozeane
Explore
Live a unique experience and learn, through a realistic 3D simulation, how to save a life. Your colleague just suffered a cardiac arrest and collapsed. You have 4 minutes to save him through a virtual experience.Level: BeginnerEnvironment: Professional, office Show high scores A member of your soccer team suddently collapsed during training. Learn the right reflexes and save his life.Level: AdvancedEnvironment: Sports, soccer field
This is a playable prototype of the Emergency Birth ! game. Created by the Engender Games Group Lab at UWW.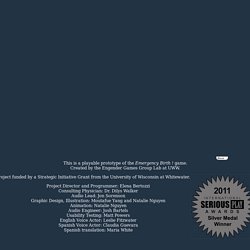 3D Virtual Campus Tours: Design Online College Campus Student Tours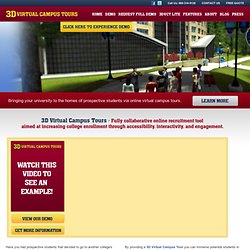 Have you had prospective students that decided to go to another college's campus because it was closer to home and therefore easier to visit before making their decision? What if students could visit your campus without leaving the comfort of their home? Many schools, colleges and universities provide a "virtual tour" that consists of a few single communication mediums such as pictures or video. But, this isn't truly immersing the user in the college's campus experience.
SpaceChem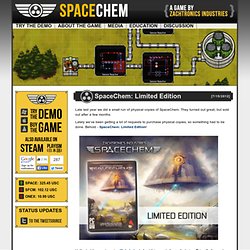 Late last year we did a small run of physical copies of SpaceChem. They turned out great, but sold out after a few months. Lately we've been getting a lot of requests to purchase physical copies, so something had to be done.
In the first controlled study of an iPad learning game, kids who played Motion Math for 20 minutes for 5 days: • Improved 15% on fractions test scores. • Improved attitudes and confidence towards fractions an average of 10%. For ages 5 and up, Motion Math helps learners estimate four forms of fractions: numerator over denominator (1/2), percents (50%), decimals (.5), and pie charts. Perceiving fractions quickly and accurately is needed for advanced math success. Concepts Reinforced • Fractions • Estimation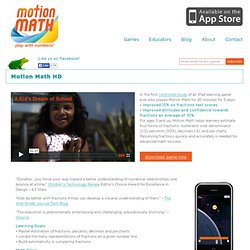 Motion Math | Motion Math
Media | Fate of the World
Take the Play True Challenge Play True Challenge is a computer simulation that was launched during the first Youth Olympic Games, in Singapore, in August 2010. Play True Challenge has two sides: sport and life. The "sport side" is a simple, fun mini-video game where you control your character in the sport of JumpCross. In the "life side" you are presented with a series of conversations with your coach, teammates, doctor and many others.
Play True Challenge - World Anti-Doping Agency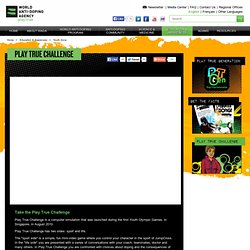 Did you know? Boreal forests have their own integrated cooling system! They emit particles that thicken clouds, thus making the ground cooler.
FORESTIA – A Simulation Game on Sustainable Forest Management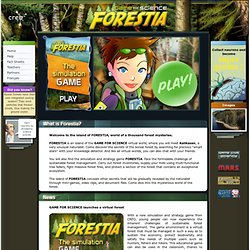 Canadian Space Agency: Robomath | Project Whitecard Inc.
Middworld Product Demo
Gamestar Mechanic - Teachers - Intro FAQ - Page 1
Aircraft Marshalling Virtual Trainer | Serious Games | Heartwood Inc.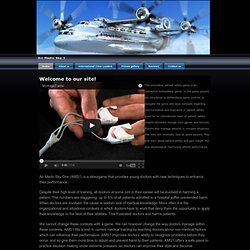 Air Medic Sky One (AMS1) is a videogame that provides young doctors with new techniques to enhance their performance. Despite their high level of training, all doctors at some pint in their career will be involved in harming a patient. The numbers are staggering: up to 5% of all patients admitted to a hospital suffer unintended harm. When doctors are involved, the cause is seldom lack of medical knowledge. More often it is the organizational and situational contexts in which doctors have to work that deny them the opportunity to apply their knowledge to the best of their abilities. This frustrated doctors and harms patients.
Air Medic Sky 1
Dear Parent, Whyville is a safe, friendly, and FREE learning site for your child. Founded in 1999 (14 years!), Whyville has won many awards from educational and parenting organizations.
BrainWare® Safari
The River City Project: Introduction
Activeworlds, Inc. is currently in licensing negotiations with Harvard University regarding the future of River City. Activeworlds, Inc. is the vendor who developed the virtual world platform that River City utilizes. They are also currently responsible for the day-to-day hosting of the environment, and have proposed a plan that will keep River City alive and well during the upcoming school year. Activeworlds has a long history of working to enable teachers and schools with easily accessible and stable virtual worlds since 1995.
eLECTIONS Your Adventure in Politics brought to you by Cable in the Classroom
eLECTIONS requires the free browser plugin Adobe SHOCKWAVE Player 10.2 or above. If you do not have it installed, you will be prompted to install now. If you can see the SHOCKWAVE logo left, you have the plug-in installed. If not, click here to install. Additionally, the Shockwave application requires your permission to install the component PrintOMatic Lite MX Xtra that adds essential printing functionality to the game. You will be prompted to install once you start the game.
- A thought-provoking simulation 3rd World Farmer lets you experience some of the hardships of farming in a poor country. Will you prosper despite corruption and lack of basic neccessities? Or will endless wars, diseases, droughts, and unreliable markets perpetuate your economic disadvantage and spell your ultimate doom? 3rd World farmer is a serious game, developed on a very slim budget.
Christian Aid - Citizenship
Karma Tycoon : Free Online RPG
CalytrixTechnologies's Channel‬‏
ThinkingWorlds Base Applet
Alelo: Immersive simulations of real-life social communication
Welcome to an exploration of: Multiplayer games, virtual worlds and energy efficiency
Virtual Warrior - US Army Korea - Close Combat Tactical Trainer
Battlefield Simulator
Fire Department Training Simulation Software
Offshore Simulator Centre - Explore
LEMMA | GNNViz | The GNNViz Project
VIGILANCE :: IED TRAINER
RescueSim
Virtual and Immersive Training Systems | Defense Systems | Cubic Corporation
Kids - The Potato Story - McCain
TML Studios Entwicklerblog: Home
zero_hour.swf (application/x-shockwave-flash Object)
RealTimeImmersive's Channel
scene_NEW
DARWARS
Tactical Language and Culture Training Systems by Alelo TLT, LLC - an Alelo company
News - Welcome to the official Emergency 2012 website
Experience Houthoff
Me Tycoon | Make Games with PlayGen | Serious Games | Social Games
Serious Games
Gobal conflict Palestine Educational game
FRONTLINE: digital nation: virtual worlds: health & healing: a soldier's therapy session
LogiCity
The Bible Online
Moshi Monsters - Parents
UK Navy Serious Game on Vimeo
Trauma Trainer video game
AmericasArmy's Channel
Mozilla Firefox
Diner Dash 2 - Free Game Download
Quest Atlantis
Serious Games for Homeland Security - BreakAway, Ltd - Award-Winning Developer of Numerous Real-Time Strategy Games and Technologically Advanced Desktop Development Software
Red Cross - The Game
26 Learning Games for Change | Serious Games | Online Learning Games
Division of Blitz Games Studios Ltd
Moonbase Alpha Game
NanoMission :: Learning Nanotechnology through Games
Kids drawing games - Fun with creative thinking, problem solving, and reading comprehension skills - Sabi Games
FloodSim - FloodSim
Empire & State
portfolio
E M E R G E N C Y 4