Semantic Web
Linked Data: Moving Towards Consumption
Earlier this month 16 out of 42 papers were accepted for the upcoming Linked Data on the Web (LDOW) 2012 Workshop in Lyon, France in April.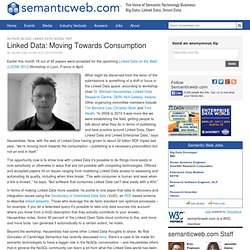 Faceted Wikipedia Search
Thinkmap SDK
The Thinkmap SDK enables organizations to incorporate data-driven visualization technology into their enterprise Web applications.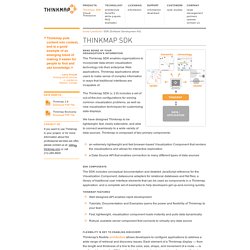 Maltego 3 > Community Edition
Software Packages for Graphical Models / Bayesian Networks
Written on Aug 11, 2011 Author
NetSeer Pushes Concepts, Not Keywords, for Contextual Targeting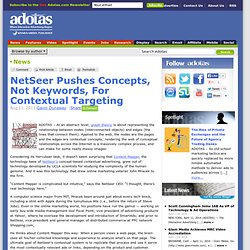 Exhibit 3.0 Project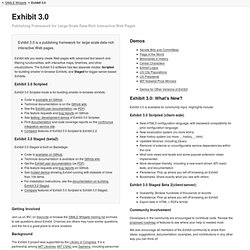 Getting Involved
Thomas Neumann: D5: Databases and Information Systems (Max-Planck-Institut für Informatik)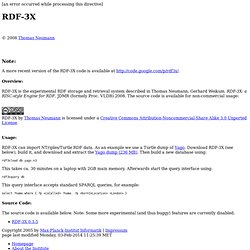 © 2008 Thomas Neumann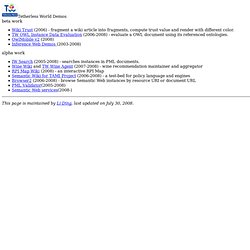 Tetherless World Demos
Tetherless World Demos beta work
Most webmasters are familiar with HTML tags on their pages. Usually, HTML tags tell the browser how to display the information included in the tag.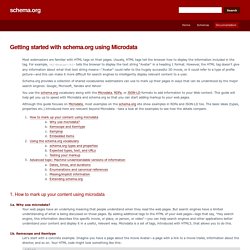 How Schema.org Will Change Your Search Results & What it Means for Marketers
Welcome to OneSource - OneSource
SIMILE: Practical Metadata for the Semantic Web - Ésta es una idea de Google Docs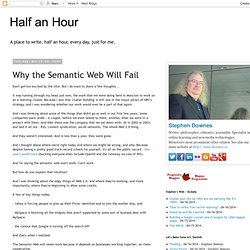 Don't get too excited by the title. But I do want to share a few thoughts... It was running through my head just now, the work that we were doing here in Moncton to work on an e-learning cluster.
Why the Semantic Web Will Fail
Internet Semantic Web Web 3.0
Update: Joe from the Squio blog has posted a response to this entry. Microformats are a wildly popular set of formats for embedding metadata within normal XHTML.
Microformats vs. RDF: How Microformats Relate to the Semantic Web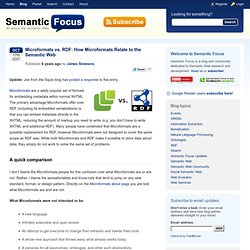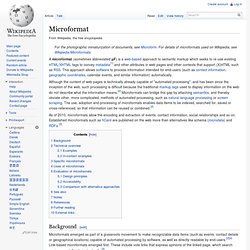 A microformat (sometimes abbreviated μF) is a web-based approach to semantic markup which seeks to re-use existing HTML/XHTML tags to convey metadata[1] and other attributes in web pages and other contexts that support (X)HTML, such as RSS. This approach allows software to process information intended for end-users (such as contact information, geographic coordinates, calendar events, and similar information) automatically. Although the content of web pages is technically already capable of "automated processing", and has been since the inception of the web, such processing is difficult because the traditional markup tags used to display information on the web do not describe what the information means.[2] Microformats can bridge this gap by attaching semantics, and thereby obviate other, more complicated, methods of automated processing, such as natural language processing or screen scraping.
Microformat
Microdata (HTML5)
Microdata is a WHATWG HTML specification used to nest metadata within existing content on web pages.[1] Search engines, web crawlers, and browsers can extract and process Microdata from a web page and use it to provide a richer browsing experience for users. Search engines benefit greatly from direct access to this structured data because it allows search engines to understand the information on web pages and provide more relevant results to users.[2][3] Microdata uses a supporting vocabulary to describe an item and name-value pairs to assign values to its properties.[4] Microdata is an attempt to provide a simpler way of annotating HTML elements with machine-readable tags than the similar approaches of using RDFa and Microformats.
Open Mind
ConceptNet | Common Sense Computing Initiative
ConceptNet aims to give computers access to common-sense knowledge , the kind of information that ordinary people know but usually leave unstated.
Ontology construction from text
Gellish is a formal language that is natural language independent, although its concepts have 'names' and definitions in various natural languages.
Gellish
Years ago, we made a decision to put all our Python packages in a common namespace called csc .
Common Sense Computing Initiative | at the MIT Media Lab
Folksonomies - Cooperative Classification and Communication Through Shared Metadata
The Creation of Metadata: Professionals, Content Creators, Users Metadata is often characterized as "data about data."
Demo of a Semantic Web Portal
Inc. - Semantic Web Technologies
Associative model of data
XML Introduction - What is XML?
kif
RDF and Jena
why triples are not enough
Describing Copyright in RDF - Creative Commons Rights Expression Language
RDFa Basics
Using Dublin Core - The Elements
Primer - Getting into the semantic web and RDF using N3
RDFa Primer
RDF Vocabulary Description Language 1.0: RDF Schema
RDFa, Drupal and a Practical Semantic Web
Open Archives Initiative - Protocol for Metadata Harvesting - v.2.0
Open Archives Initiative Protocol for Metadata Harvesting
Cross-media: Controlling your Language: a Directory of Metadata Vocabularies