Sculpture
Michel Blazy's microbial art. December 18, 2008 A pond of fermenting tea with fungal lily pads The lacto-fermentation of cabbage wasn't the only kind of microbial art and design going down in St.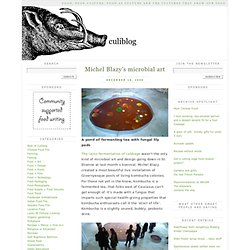 Etienne at last month's biennial. Michel Blazy created a most beautiful live installation of Givernyesque pools of living kombucha colonies. For those not yet in the know, kombucha is a fermented tea, that folks east of Caucasus can't get enough of. Home - Henry Moore - Modern Abstract, Organic Sculpture. Theo Jansen's Strandbeests - Wallace & Gromit's World of Invention Episode 1 Preview - BBC One. 樹脂作品 - 金魚養画場 - 美術作家 深堀隆介 オフィシャルサイト. - paule bathiard. Paper Sculptures by Vally Nomidou. Greek artist Vally Nomidou creates these delicate life-size sculptures of women and girls using paper and cardboard.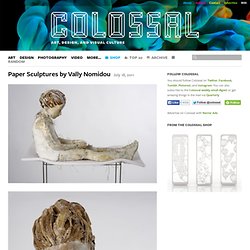 Via the exhibition page: Paper, Nomidou's dominant material, now becomes a key component in her creative process, inextricably linked to painful and systematic research on the technical level, as well as on that of aesthetic integration. The artist respects her material and, although it is cheap and vulnerable, she does not "adulterate" it by using other materials. Moreover, she does not use it as a shell, an encasing to cover a necessary inner structure by providing a fake, idealised skin. Nomidou builds and shapes her works from the inside out solely using paper and paperboard. Screwy Portraits. Marcel Duchamp à propos du "ready-made" GUY LARAMEE. L'ange dans le marbre. A 15 ans, il détestait se salir les doigts et rêvait de dessins animés chez Walt Disney.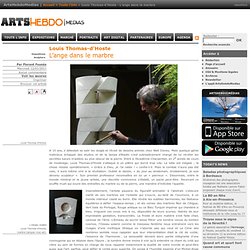 Mais quelque génie malicieux échappé des studios et de la lampe d'Aladin s'est subrepticement chargé de lui révéler les secrètes lueurs irradiées au plus obscur de la pierre. Entré à l'Académie Charpentier, en 2e année de cours de modelage, Louis Thomas-d'Hoste s'attaque à un plâtre qui durcit trop vite. La lutte est inégale ; la chose résiste opiniâtrement. « Grâce à Dieu, je l'ai ratée ! » confie-t-il. Top 10 examples of brilliant shadow art. MoebiusGearB.JPG (JPEG Image, 1338x1028 pixels) - Scaled (82%) Portraits made using people as pixels. U-Ram Choe's 'Guardian of the Hole' at the Asia Society Museum. Salt Sculptures: 12 Stunning Artworks by Motoi Yamamoto. Salt Sculptures: 12 Stunning Artworks by Motoi Yamamoto Article by Steph, filed under Sculpture & Craft in the Art category.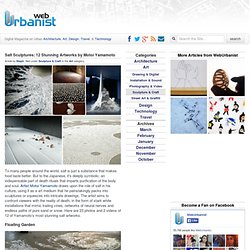 To many people around the world, salt is just a substance that makes food taste better. But to the Japanese, it's deeply symbolic, an indispensable part of death rituals that imparts purification of the body and soul. Miniature Liquid Worlds by Markus Reugels. 'How To Vacuum Form' at Aram Bartholl. Track byDanny Dive Thru I am very pleased to finally publish this new project I've been working on the last couple months (def. not a Speed Project ;) It was premiered last week at my solo show opening 'Reply All' at [DAM] Berlin.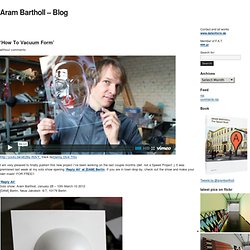 If you are in town drop by, check out the show and make your own mask! Al Farrow: New Reliquaries. Religious sites built from ammunition and firearms. Citadelle lunaire. Fictional Landscapes. Colossal has seen its fair share of commendable book and paper work the last few weeks, but this was too good to pass up.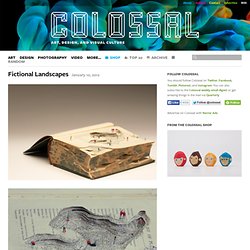 UK-based artist Kyle Kirkpatrick constructs these wonderfully tiny dioramas using the topographies of carved books. Via the artist: My practice is primarily concerned with the notion of the imagined landscape. 100 Grotesquely Surreal Sculptures - From Morbid to Sardonic These Sculptures are Unsettling. There is something about the macabre, the strange and the sardonic that intrigues people; the grotesquely surreal sculptures featured here demonstrate this.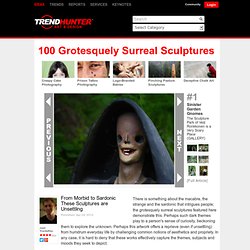 Perhaps such dark themes play to a person's sense of curiosity, beckoning them to explore the unknown. Perhaps this artwork offers a reprieve (even if unsettling) from humdrum everyday life by challenging common notions of aesthetics and propriety. In any case, it is hard to deny that these works effectively capture the themes, subjects and moods they seek to depict. Moritz Resl. Andrew Myers Art - Home. Riusuke Fukahori Paints Three-Dimensional Goldfish Embedded in Layers of Resin. First: watch the video.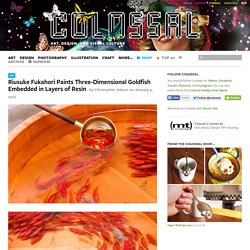 Japanese artist Riusuke Fukahori paints three-dimensional goldfish using a complex process of poured resin. The fish are painted meticulously, layer by layer, the sandwiched slices revealing slightly more about each creature, similar to the function of a 3D printer. Mark Jenkins // Tape Sculpture. High Noon, 2014 The Easel, 2013 Break a Leg, 2013.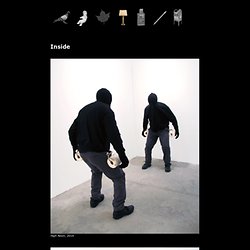 The Book Surgeon (15 pieces) Using knives, tweezers and surgical tools, Brian Dettmer carves one page at a time.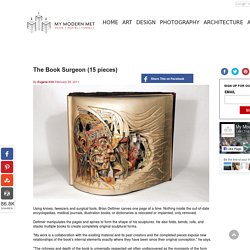 Nothing inside the out-of-date encyclopedias, medical journals, illustration books, or dictionaries is relocated or implanted, only removed. Dettmer manipulates the pages and spines to form the shape of his sculptures. He also folds, bends, rolls, and stacks multiple books to create completely original sculptural forms. Wire Sculpture. Lori Nix. Battle of Grunwald on the Behance Network. Chris Gilmour. A Frugal Town in Lithuania Erects a Christmas Tree Made from 40,000 Recycled... - StumbleUpon. Most Amazing Sand Sculptures. Lieveheersbeestje on deviantART. Zoom sur les boîtes. Anne kyyro quinn - contemporary textiles. Paper cuts - Rolls on the Behance Network. Most Amazing Miniature Food Artworks by Shay Aaron. Recycle pizza boxes into wall art. Ornamented Columns by Michael Hansmeyer | Yatzer™ ArtParkS Sculpture Park - Sculpture sections - Bringing Sculptur. Kris Kuksi : Sculpture. ART BY THOMAS DOYLE. A Stunning, Intricate Maze Made From 2,200 Pounds of Salt | Co.Design.
Dennis Oppenheim. 48195_700_v1.jpg (JPEG Image, 700x590 pixels) Statues, Wall Sculpture, Home Decor, Fairies, Dragons, Gargoyles...Design Toscano. Gavin Worth -- Wire Sculpture. Peter Callesen. Miniature Art On the Tip of Pencil by Dalton Ghetti. Artist transforms books into landscapes. Yuki Matsueda. Choi Xooang. Exposición Actual en Galería Astarté. THOMAS-D-HOSTE-a.jpg (Image JPEG, 380x241 pixels) With a Passion for Skateboarding: Creative Art Sculptures by Haroshi. Figurative Sculptures by Manuel Martí Moreno. Benedicte Grepp - Home. Kris Kuksi. Daily Inspiration #345 | Abduzeedo | Graphic Design Inspiration and Photoshop Tutorials. Brown songbird : ann wood handmade. Simen Johan. Ron Mueck: The Hyperrealist Sculptor - Fun Stuf... Isamu noguchi biography. Illusion – The Most Amazing Creations in Art, Photography, Design, and Video. The dark celebration of Gehard Demetz | yatzer | Design Architecture Art Fashion +more.
Awesome chainsaw wooden art | Wicked Report. Ron Mueck. Los mejores escultores hiperrealistas (The best sculptors hyperrealistic) Gravity Glue. Met's Things. The Emperors New Paintings. Steel Wire Sculptures by Tomohiro Inaba. Giacometti.
---