Sciences quantiques
Tout est possible...
Illimité...
Pendant que l'humain stagne, toujours dépendants de ses croyances, de ses ignorances, de ses besoins, de ses peurs...

Everything is possible...
Unlimited...
While human being is stock, still dependent of his believes, his ignorances, his needs, his fears... conscientia Nov 24
Get flash to fully experience Pearltrees
Un article de Wikipédia, l'encyclopédie libre.
Quantum mechanics (QM – also known as quantum physics , or quantum theory ) is a branch of physics dealing with physical phenomena at microscopic scales, where the action is on the order of the Planck constant . Quantum mechanics departs from classical mechanics primarily at the quantum realm of atomic and subatomic length scales. Quantum mechanics provides a mathematical description of much of the dual particle-like and wave-like behavior and interactions of energy and matter . In advanced topics of quantum mechanics, some of these behaviors are macroscopic and only emerge at extreme (i.e., very low or very high) energies or temperatures . [ citation needed ] The name quantum mechanics derives from the observation that some physical quantities can change only in discrete amounts (Latin quanta ), and not in a continuous ( cf.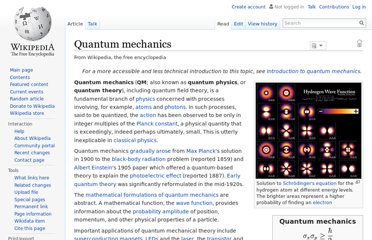 Un article de Wikipédia, l'encyclopédie libre. La mécanique quantique est la branche de la physique qui a pour objet d'étudier et de décrire les phénomènes fondamentaux à l'œuvre dans les systèmes physiques , plus particulièrement à l'échelle atomique et subatomique . C'est aussi la partie de la physique où apparaît la constante de Planck .
Quantum cryptography uses our current knowledge of physics to develop a cryptosystem that is not able to be defeated - that is, one that is completely secure against being compromised without knowledge of the sender or the receiver of the messages. The word quantum itself refers to the most fundamental behavior of the smallest particles of matter and energy: quantum theory explains everything that exists and nothing can be in violation of it.
Un article de Wikipédia, l'encyclopédie libre. La physique quantique est l'appellation générale d'un ensemble de théories physiques nées au XX e siècle qui, comme la théorie de la relativité , marquent une rupture avec ce que l'on appelle maintenant la physique classique , l'ensemble des théories et principes physiques admis au XIX e siècle. Les théories dites « quantiques » décrivent le comportement des atomes et des particules — ce que la physique classique, notamment la mécanique newtonienne et la théorie électromagnétique de Maxwell , n'avaient pu faire — et permettent d'élucider certaines propriétés du rayonnement électromagnétique . La physique quantique heurte le sens commun à plusieurs égards. Sa description du monde microscopique, radicalement nouvelle, s'appuie sur de nouveaux postulats .
Copyright © Brendan D. Murphy, March, 2012 Putting a Twist on Things
si je peux faire un lien entre mon pearl sur l'égypte, tu y trouveras les dernieres sources des chercheurs russes et francais... by faustodelreal Feb 7
On attribue généralement la première recherche concernant la découverte du « champ de torsion » appellée aussi « 5ème force », au russe le Pr Mychkine dans les années 1800. C'est un collègue d'Einstein, le Dr Eli Cartan qui a le premier appelé cette force champ de « torsion » en 1913 en référence à ce qu'il décrivait comme des mouvements de torsion à travers la trame de l'espace-temps.
L'auteur
Quantum matter can be difficult to study. While physicists have come a long way in the research of this microscopic science, some things are still a mystery because quantum matter can behave so erratically. Einstein's theory of relativity and various other laws of physics tend to fall apart at the subatomic level of quantum physics, because photons -- or tiny particles of light -- seem to change form randomly, and possibly change simply in observation.
Publié le 23/03/2010 La théorie des univers multiples fut introduite par le physicien américain Hugh Everett en 1957. Aujourd'hui , des astrophysiciens reconnus - parmi lesquels Trinh Xuan Thuan -pense que notre univers, qui comporte aujourd'hui des dizaines de milliards de galaxies, n'aurait été à l'origine qu'une minuscule bulle perdue dans un méta univers, lui-même perdu dans des milliards de métas univers créés quelques secondes après le Big Bang et ayant donné naissance simultanément à d'innombrables mondes, mais qui nous sont inconnus ( et sans doute inconnaissables avec les méthodes de la science actuelle).
It's hard to think of a multiverse.