Life
The Secret Lives of Wild Animals
Talking Glossary of Genetic Terms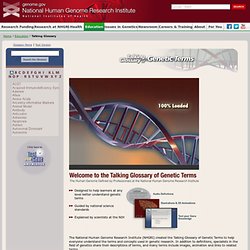 Glossary Home | Text Version Designed to help learners at any level better understand genetic terms Guided by national science standards Explained by scientists at the NIH The National Human Genome Research Institute (NHGRI) created the Talking Glossary of Genetic Terms to help everyone understand the terms and concepts used in genetic research. In addition to definitions, specialists in the field of genetics share their descriptions of terms, and many terms include images, animation and links to related terms. Enter a search term or explore the list of terms by selecting a letter from the alphabet on the left and then select from the terms revealed. ( A text-only version is available from here. ) The Talking Glossary At the bottom of most pages in the Talking Glossary are links to help you get the most out of this glossary.
WHOPOOPED.ORG
Siku Cam 1 - Polar Bears
Ocean Tracks
Nestcams - View Cams
Science Of Gardening: Feed: Plants and people alike, we all have a need to feed.
China - Pandas
Biology
NOVA | Extract Your DNA | PBS
Google Earth Tours
"Sea grapes" may sound like something Poseidon would snack on, and not a killer algae. Yet Caulerpa racemosa var. cylindracea poses a serious threat to marine life. Spread by the bilge water of boats, this fast-growing alga is quick to take root, squeezing out native species. But there is one spot in the Mediterranean where cylindracea hasn't yet taken over, and biologists like Juan Manuel Ruiz Fernández are trying to discover why. Narrated by Ari Daniel Shapiro. Produced by Atlantic Public Media and Eduardo Garcia Milagros.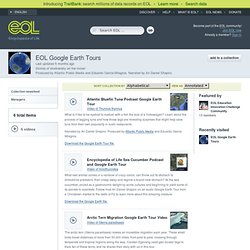 Lugnut (ID 2097) was born to one of Maine Department of Inland Fisheries and Wildlife's research bears (ID 2015 aka "Hubcap") in January of 2004. Females in this long-term monitoring project are commonly nicknamed after the trapsite where they are first captured, and their daughters' names often follow the same theme. In late March that same year, biologists met the five pound Lugnut and her two brothers for the first time in an excavated den in Northern Maine. She spent the following winter of 2005 with her family in another excavated dirt mound. Weighing thirty pounds, she was equipped with her very first VHF radio collar. This allowed biologists to follow her movements for the next seven years to where we see her today.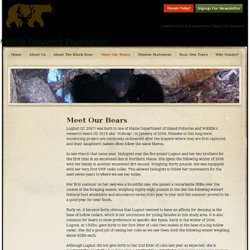 » Meet Our Bears » Wildlife Research Foundation
DNA History The Nature of Life Unit Overview
biology - dawnwelch7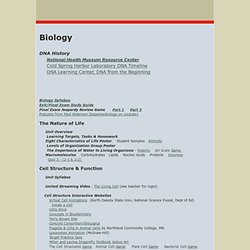 Welcome to Ask a Biologist | Ask A Biologist
Sheppard Software's Life-Cycles: Learn about different animal life-cycles
Deep Sea Strangers: Fascinating and bizarre creatures from the ocean's depths
indicates a section of the site that is available to subscribing members only. Not a member? Feel free to click on these links and view the samples we have made available. Then check out the low cost and great benefits to subscribers! Home | Citing this Reference | About Us | Frequently Asked Questions | Contact Us | Privacy ©2005-2013 Sheri Amsel.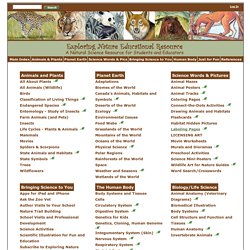 Main Index -- Exploring Nature Educational Resource -- A Natural Science Resource for Students and Educators
UPM - Forest Life
Cameron Park Zoo
San Diego Zoo - Kids