Nommies!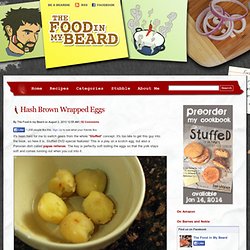 It's been hard for me to switch gears from the whole " Stuffed " concept.
You know when you bake an Apple Pie, or any fruit pie for that matter, and you get those oozy baked sugar, chewy-ish bits of leaked fruit that gets all caramelized to the crust?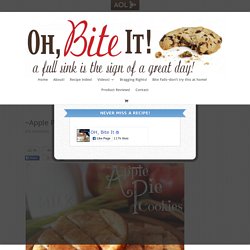 Black Bean Chocolate Chili Cherry Cookies | thetreehousekitchen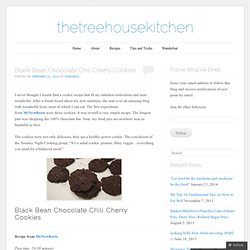 I never thought I would find a cookie recipe that fit my nutrition restrictions and taste wonderful. After a friend heard about my new nutrition, she sent over an amazing blog with wonderful food, most of which I can eat.
About Yummly Yummly is building the digital kitchen platform and mapping the food genome...making life better/easier/more fun for everyone who cooks.
Green Tea and Black Sesame Mousse Cake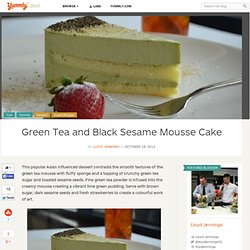 www.food.com/recipe/sea-salt-ice-cream-177919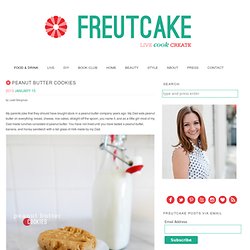 My parents joke that they should have bought stock in a peanut butter company years ago. My Dad eats peanut butter on everything: bread, cheese, rice cakes, straight off the spoon, you name it, and as a little girl most of my Dad-made lunches consisted of peanut butter.
Peanut Butter Cookies | freutcake
Baked Chicken And Spinach Flautas Recipe
Baked Chicken & Spinach Flautas Recipe - Healthy Delicious
Red Velvet Hot Cocoa with Cream Cheese Whipped Cream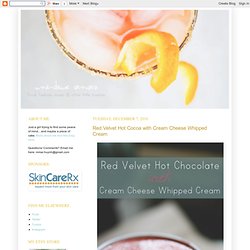 It seems like recently, my diet has consisted wholly of hot chocolate, soups and my any type of salad topped with my favorite new green apple vinaigrette (recipe soon)! Seriously though, I've been sipping on hot chocolate or some kind of homemade latte every other day, if not every day. This is probably because of my innate need for all things holiday to consume me.
Friday, January 20, 2012 Marbled Red Velvet Cheesecake Brownies * It's January 20th, and I am bringing you a Valentine's day dessert! That's right, for once I am actually bringing you a holiday dessert before the holiday! Pigs are on fire and hell is flying…or, you know, whatever that saying is.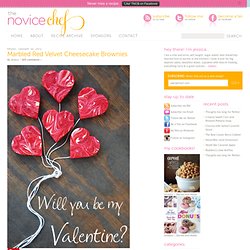 Marbled Red Velvet Cheesecake Brownies
Best Christmas Cookie Recipes - Christmas Cookies Recipes with Pictures
Pumpkin Muffins
Brittle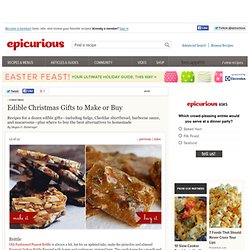 Edible Christmas Gift Recipes and Shopping Guide Christmas at Epicurious.com
Ingredients 1 cup all-purpose flour 3 eggs 1 1/2 cups whole milk, divided use 1/4 teaspoon sea salt 1/8 teaspoon ground black pepper 3 tablespoons unsalted butter , melted, plus whole butter for cooking crepes Directions
Savory Crepes Recipe :
Savory Lunch And Dinner Crepe Recipes
Quesadilla Crepes are similar to Mexicani Crepes, except that I add the filling ingredients to the crepe while it is finishing cooking. This allows the cheese inside the crepe to get melted, and the cheese on the outside of the crepe to at least get started melting!
These mochi cupcakes are crusty on the outside, chewy on the inside, and have a wonderful hint of matcha.
Matcha Mochi Cupcakes
Jasmine Ice Cream
Here's a fun breakfast you can make this weekend. My family love German Pancakes (at our house they are called Hootenannies). So when I saw the idea of making mini ones at a site called Gimme Some Oven I had to try them. Her recipe is basically the same as the one I make in my 9 x 13 pan, but you add the butter to the batter instead of the pan.
Heart Cake Tutorial {Surprise Inside Cake}
Chicken Gyoza (Pot Stickers)
Ghibli feast #7: Spirited Away
how to make kodama, moogle and boo ghost steamed pork buns
Non-bento #35: Totoro breakfast
Steamed Asian Dumplings
Olive Garden style Bread sticks
Recipe: South African Cheese, Grilled Onion & Tomato Panini (Braaibroodjie) Recipes From The Kitchn
Spiced Carrot Fries
Spanish Tortilla with Broccoli, Chorizo, and Onion
Teacup Sugar Cookies | Sugar and Spice and All Things Iced
Helen's Perogies Recipe :
Pumpkin, Black Bean, & Jalapeno Quesadilla with Chipotle Pumpkin Crema : The Back Burner
Vegan Chocolate Cherry Cupcakes
Pizza Bites
Harrington House: Buffalo Chicken Dip
Simple Scones Recipe
ice cream sandwich cookies
dulce de leche cheesecake squares