Psychologie et Optimisme
A positive outlook is the most important predictor of resilience.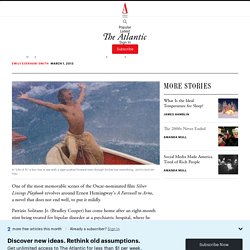 The Benefits of Optimism Are Real - Emily Esfahani Smith
Shawn Achor
Peter Diamandis - World of abundance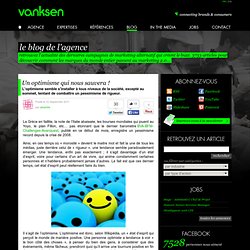 Un optimisme qui nous sauvera !
L'optimisme semble s'installer à tous niveaux de la société, excepté au sommet, tentant de combattre un pessimisme de rigueur. La Grèce en faillite, la note de l'Italie abaissée, les bourses mondiales qui jouent au Yoyo, le plan Fillon, etc… pas étonnant que le dernier baromètre BVA-BFM-Challenges-Avanquest, publié en ce début de mois, enregistre un pessimisme record depuis la crise de 2008. Ainsi, en ces temps où « morosité » devient le maitre mot et fait la une de tous les médias, juste derrière celui de « rigueur », une tendance semble paradoxalement émerger. Une tendance, enfin pas exactement ; il s'agit davantage d'un état d'esprit, voire pour certains d'un art de vivre, qui anime constamment certaines personnes et n'habitera probablement jamais d'autres. Le fait est que ces dernier temps, cet état d'esprit peut réellement faire du bien. Il s'agit de l'optimisme.
Florilège de citations - "On ne peut rien enseigner à autrui. On ne peut que l'aider à le découvrir lui-même" (Galilée
Conference Eloge de l'optimisme - Philippe Gabilliet - une vidéo Vie pratique
Nancy Etcoff on the surprising science of happiness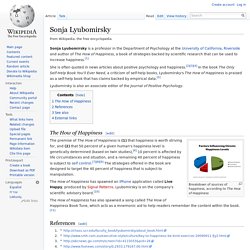 Sonja Lyubomirsky
Sonja Lyubomirsky is a professor in the Department of Psychology at the University of California, Riverside and author of The How of Happiness, a book of strategies backed by scientific research that can be used to increase happiness.[1] She is often quoted in news articles about positive psychology and happiness.[2][3][4] In the book The Only Self-Help Book You'll Ever Need, a criticism of self-help books, Lyubomirsky's The How of Happiness is praised as a self-help book that has claims backed by empirical data.[5] She is also an associate editor of the Journal of Positive Psychology. The How of Happiness[edit] Breakdown of sources of happiness, according to The How of Happiness
In a recent presentation to the International Positive Psychology Association (IPPA), noted positive psychologist and researcher Sonja Lyubomirsky reported on various studies of happiness.
To predict what will make you happy, ask a stranger rather than guessing yourself | Not Exactly Rocket Science
Want to know how much you'd enjoy an experience?