Photographers
Todd Hido
:: Joana Garrido ::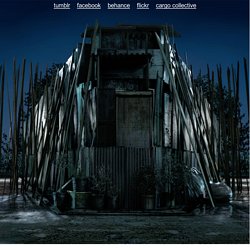 I have been working on some images, but I don't publish them here yet because: they are part of a series and so I prefer to do it as soon as the series is complete; or they are just "work in progress". Meanwhile, you can take a peek at them in the Flickr or the Facebook pages. On the other hand, I would like to share with you a project that I have been working on for some time, but it's on hold for a while: Insects and other critters. My interest has grown with my relocation to the tropics: the biodiversity here is fascinating. This collection has more than 1000 photos (only 200 are visible for the moment) and contains insects, spiders and fungi.
Home - Cindy Sherman - Photographer, Model, Director, Actor, Avant-Garde Images, Doll Parts and Prosthetics, Movies
NAOMI FINLAY PHOTOGRAPHY
Alex Prager – Photography & Films
Photo Manipulations by Erik Johansson
lens culture slideshow: Gabriele Galimberti
Jon Rafman
remainsteadfast on deviantART
scarabuss on deviantART
NatalieShau on deviantART
We are excited to announce that Instacanvas is taking a big step in our evolution as a creative community. We are changing our name from Instacanvas to Twenty20. Our site will be accessible at twenty20.com, and all artist galleries will be located at twenty20.com/artistname. The Road From Instacanvas to Twenty20 Over the past year and a half, we've been deeply touched by the level of support and passion that you, our community of users, have brought to Instacanvas.
manuelcuellar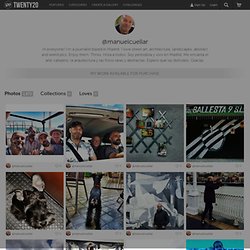 podbielskicontemporary.com
Volodia
federico bastié photography
Noche y luz artificial se funden en la obra ´Protect Me´ de Cristina Fontsaré - Salamanca - La Gaceta de Salamanca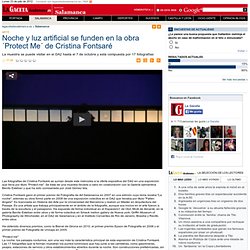 Las fotografías de Cristina Fontsaré se suman desde este miércoles a la oferta expositiva del DA2 en una exposición que lleva por título "Protect me". Se trata de una muestra llevada a cabo en colaboración con la Galería salmantina Benito Esteban y que ha sido comisariada por José Gómez Isla. Cristina Fontsaré ganó el primer premio de Fotografía de Art Salamanca en 2007 en una edición cuyo lema rezaba "La noche", además su obra formó parte en 2008 de una exposición colectiva en el DA2 que llevaba por título "Fallen Angels". Es licenciada en Historia del Arte por la Universidad del Barcelona y realizó un Máster en Arquitectura del Paisaje. Es una artista que trabaja principalmente en el ámbito de la fotografía, aunque sus inicios en el arte fueron a través de la escultura y el paisajismo.
En el fango en lainformacion
Cuando Wittenburg empezó a retratar la vida que le rodeaba en su ciudad de Rostock, no se planteaba criticar al régimen o que sus fotos pudieran suponerle algún problema con las autoridades. "Cuando le mostré a mi suegra las primeras fotos que yo mismo revelaba en mi cuarto de baño, ella me preguntó que si estaba loco, que si me quería destrozar la vida", cuenta a lainformacion.com. Poco después pudo comprobar a qué se refería su suegra.
Au printemps 2012, le musée Carnavalet présente l'œuvre parisienne de l'un des plus célèbres photographes du XXe siècle, Eugène Atget (Libourne, 1857 - Paris, 1927). L'exposition propose une sélection de 230 épreuves réalisées à Paris entre 1898 et 1927, à partir des fonds du musée Carnavalet, complétés par ceux de la George Eastman House de Rochester et des collections de la Fundación Mapfre à Madrid. Cette rétrospective, qui réunit des images très connues et d'autres demeurées inédites, dresse un portrait atypique de la capitale, loin des clichés de la Belle époque. Le visiteur y découvre les rues du Paris d'antan, les jardins, les quais de Seine, les anciennes boutiques et les petits métiers ambulants. Les photographies d'Atget révèlent en outre l'évolution de sa démarche : à ses débuts, cet autodidacte cherche à rassembler des paysages et des motifs, puis des images de rues parisiennes pour les vendre en tant que modèles aux artistes.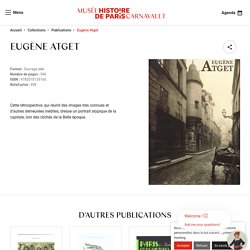 Eugène Atget, Paris
VirusPhoto: xavier-LM
Blind Photograph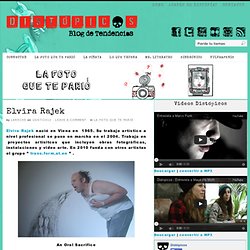 Elvira Rajek Fotografía | Distópicos
Elvira Rajek nació en Viena en 1965. Su trabajo artístico a nivel profesional se puso en marcha en el 2004. Trabaja en proyectos artísitcos que incluyen obras fotográficas, instalaciones y video arte. En 2010 funda con otros artistas el grupo " trans.form.at.en " . An Oral Sacrifice
"American Falls seems to be dying a death that is as slow as it is unspectacular." Steve Davis, 53, is describing the Idaho town in which he grew up. He left when he was 18. The region, once known for small potato farms, is now home to agribusiness and big-box retailing. About 4,000 people live there today.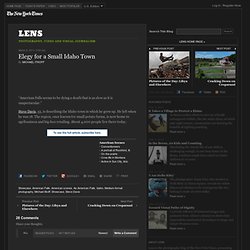 Elegy to a Small Idaho Town: Steve Davis Photographs His Hometown
cs.dartmouth
s Best Photos by Bunnyrel
Luis Argerich Photography
Lartigue, la inocencia del asombro
Cuando se le preguntaba por su trabajo, espetaba con la ingenuidad con la que apretaba el disparador de su cámara: "Nací feliz. Eso ayuda, ¿no?". El fotógrafo francés Jacques Henri Lartigue (1894-1986) construyó una obra sobre la inocencia del asombro y la ilusión por lo que le rodeaba. Elevó el concepto de álbum familiar a categoría desde "la ambigüedad esencial de la fotografía en relación al campo artístico", apunta Alberto Martín, crítico de fotografía y colaborador habitual de Babelia.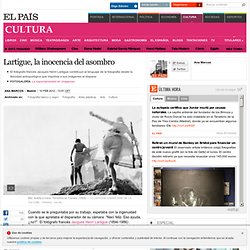 NICK VEASEY | X-RAY PHOTOGRAPHER | X-RAY PHOTOS / PHOTOGRAPHY / FILM / ABSTRACT / ART
Pascal Colrat
"Car Stories" por Elena Melnikova
C A R L O S S E R R A N O
JAMES CHOROROS | PHOTOGRAPHY - PERSONAL
A Father Who Creatively Captures His Kids (20 photos)
If there was a prize that could be given out to the most creative father, I'd hope that it was awarded to Jason Lee. A wedding photographer by day, he's used to capturing some of the most important moments in a couple's lives. As a longtime fan of Jason's photos on Flickr however, I think the real magic happens when he turns the camera onto his daughters. Sure, his children are adorably cute in their own right, but that's not what makes his photos so interesting. It's when he puts his own spin on their everyday moments that we not only get to experience our own childhood again, we're able to see a father's pride shine through.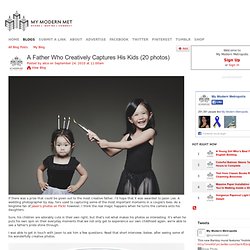 Jean-Paul Goude
about.me
Travel Photos by Gary Arndt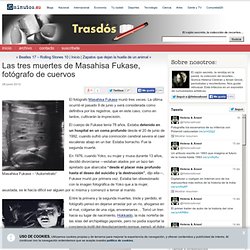 Masahisa Fukase – "Autorretrato" El fotógrafo Masahisa Fukase murió tres veces. La última ocurrió el pasado 9 de junio y será considerada como definitiva por los registros, que en este caso, como en tantos, cultivarán la imprecisión. El cuerpo de Fukase tenía 78 años. Estaba detenido en un hospital en un coma profundo desde el 20 de junio de 1992, cuando sufrió una conmoción cerebral severa al caer escaleras abajo en un bar.
Las tres muertes de Masahisa Fukase, fotógrafo de cuervos | Trasdós
Learn Photography A whole new way to learn photography I've spoken with thousands of people who – despite the beginner or even intermediate courses they've taken – are still confused about the basic elements of photography. It's obvious that many traditional methods of teaching photography just don't work! I've developed my own style of teaching.
Stuff You Need
Erik Johansson Photo & Retouch – Personal work
photos.marcury.org
Vector Portraits Andrew Bush Photography
corinne vionnet
MIRELLA RICCIARDI
threeboysfrompasadena.com
Nick Knight SHOWstudio
Fredrik Ödman Photography - Bent Stories
Carrie Levy | PDN Photo of the Day
Carrie Levy
Lamboley Nicolas Photographies
AnaStasiya
Béatrice de Géa
Esquizofrenia tropical, Sudamérica con mirada joven
manolo espaliu - photography
A selection of the finest professional photographers
Grandes de la Fotografía – Man Ray
desde el Norte de Chile... año 2011.
Claudia Paz Gallardo Trujillo / Photos
Recovering Lazyholic l Photography & Stuff by Erin Hanson
Photographers - Famous - Creative - Fashion - Advertising - Photo Gallery | ONE EYELAND
Michael Kenna
HEINRICH KÜHN
Bill Burke
Joel Peter Witkin
Home : Out of Frame
Masters of Photography
Miroslav Tichý
Sitio oficial de Gabriel Figueroa: Cinefotografo
Interesting Photographers
Great International Photographers