Photo Editing Tools
Photobucket. Picnik - Photo editing the easy way, online in your browser. Montagraph. Mosaic Maker: Create a photo mosaic from your digital photograph. Home · Turn off Ads · Product Info · Forum · Twitter · Facebook · Education · Help/Contact · FAQ Register or sign in · Cart · Order status Mosaic Maker: A world of creative photo possibilities.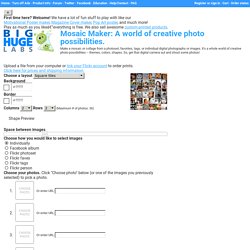 Make a mosaic or collage from a photoset, favorites, tags, or individual digital photographs or images. It's a whole world of creative photo possibilities -- themes, colors, shapes. So, get that digital camera out and shoot some photos! Preloadr. Photomontage Generator - WriteOnIt. Deefunia| Fun photo Making site.
FACEinHOLE.com. Fotki: Share and Print Your Photos | Fotki.com, photo and video sharing made easy. Création de diaporama, retouche et partage photo. VicMan's Photo Editor.
Editeur d'images avec de nombreuses fonctionnalités de dessin et de retouche Photo Editor vous permettra de dessiner sur vos photos et de les transformer en véritables chefs-d'oeuvre grâce à sa fonctionnalité de retouche d'image intégrée.
Choisissez un stylo, une brosse ou une gomme pour effacer et régler la taille de votre image, sa forme et sa transparence, amusez-vous à la colorier et à y ajoutez du texte. Des outils de distorsion vous permettront de réaliser plus d'une douzaine de variations de vagues, rotations, miroirs, etc. Partage photo, galerie photo, photographes, tirage photo, DarQroom.fr. Splashup. Upperpix Photo editor online - RCPsoft.net. Photo Plus. L'édition d'une photo est facile si on a les outils qu'il faut pour ça, et Photo Plus peut assister dans ce domaine.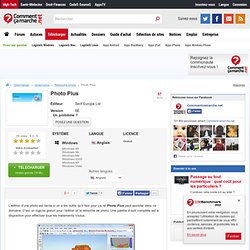 C'est un logiciel gratuit pour l'édition et la retouche de photo. Une palette d'outil complète est à disposition pour effectuer tous les traitements voulus. Principales fonctionnalités. - Édition : il est compatible avec la majorité des formats d'images les plus connus et les plus utilisés. Create paintings from photos. Skitch - Fast screen capture, image editing and sharing!
Photovisi. Makeovr. Fake Magazine Covers - Mag Covers with Your Picture - MagMyPic.com. Face recog organize. Apprendre à faire des photos et à les retoucher.
Akura Decoratiuni - Tablouri pe canvas - Despre Akura. BeFunky.com. FlauntR. FlauntR flauntR is a free online suite of digital photoediting tools that provides a range of features that are typically only been available in expensive photoediting software.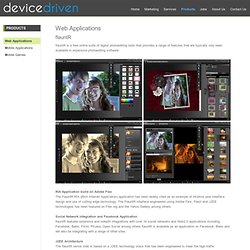 RIA Application build on Adobe Flex The FlauntR RIA (Rich Internet Application) application has been widely cited as an example of intuitive user interface design and use of cutting edge technology. PictureTrail. This account was created on: 2002-05-26.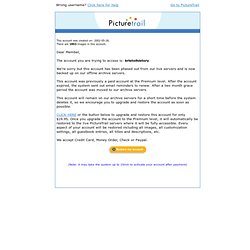 There are 1853 images in this account. Dear Member, Instagr.am. The App. Photobie. Talking Photo show. Top 5 free professional online image editors | Techno. It is the age of digital photography and image editing has become an important tool.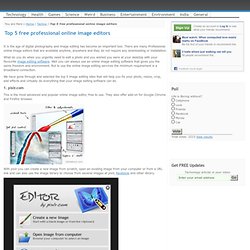 There are many Professional online image editors that are available anytime, anywhere and they do not require any downloading or installation. What do you do when you urgently need to edit a photo and you wished you were at your desktop with your favourite image editing software. Well you can always use an online image editing software that gives you the same freedom and environment. Piwigo is an open source photo gallery software for the web | piwigo.org. Photo editor online - Pixlr.com edit image. PetaPixel. PicArtia. PicFull. Photo505.
PicMonkey - Photo Editing. PhotoFiltre. Printstagram - We Print Your Instagram Photos. PIZAP : DU MONTAGE PHOTO RIGOLO EN LIGNE. Pros de PhotoShop, passez votre chemin.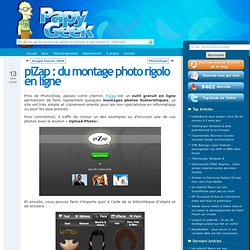 PiZap est un outil gratuit en ligne permettant de faire rapidement quelques montages photos humoristiques. Le site est très simple et clairement orienté pour les non-spécialistes en informatique ou pour les plus pressés. PicYou. PiZap. Pixisnap. Photo Effects Online - JPGfun.com. Polaroin - Online polaroid image creator. It's easy and for free! The Pixelator. Pho.toFunny Photo! - Create fun photo effects online | Free photo frames, photo collages, photo montages, e-cards and valentines. PhotoFunia. FunPhotoBox - Create funny pictures.
FuntasticFace.com - How do you want to look today? Festisite. FotoFlexer. Dumpr. DrPic.com. Dermandar - Free online 360 panoramic photos software. Deefunia| Fun photo Making site. ClipYourPhotos - Do funky things with your digital photos. BeFunky.com Photo Effects and Photo Editing with One Click - The Top 8 Free Online Image Editors. Taking photos or making beautiful digital artwork is activities most people enjoy doing.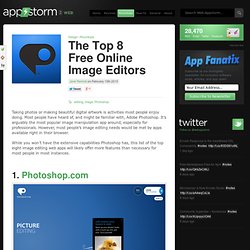 Most people have heard of, and might be familiar with, Adobe Photoshop. It's arguably the most popular image manipulation app around, especially for professionals. However, most people's image editing needs would be met by apps available right in their browser. While you won't have the extensive capabilities Photoshop has, this list of the top eight image editing web apps will likely offer more features than necessary for most people in most instances. 1.
Alternativas a Photoshop a precio asequible. Retouche photo : Windows. The Warholizer. Warholize your favourite pictures online at www.warholize.me. Tilt-Shift photo effect in Canvas. Disclaimer This effect is more a proof of concept than an attempt to match exactly the optical properties of a real tilt-shift effect.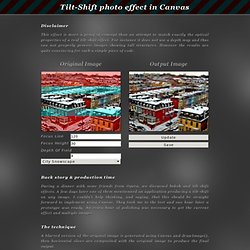 For instance it does not use a depth map and thus can not properly process images showing tall structures. However the results are quite convincing for such a simple piece of code. Splashup. Psykopaint. Pixenate. Paint.net. Pixlr.com. Moronface.com. Makeovr. Lunapic. LoonaPix.
---