Adobe Photoshop
PSD Box | Original Photoshop tutorials and resources. Tutorials. 40+ Fresh and Free Photoshop Brushes. 350 Photoshop Tutorials | Best Photoshop Tutorials. Photoshop is what makes the virtual world seem alive.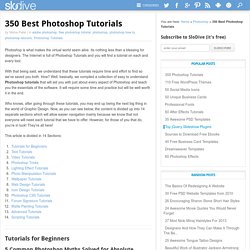 Its nothing less than a blessing for designers. The Internet is full of Photoshop Tutorials and you will find a tutorial on each and every tool. With that being said, we understand that these tutorials require time and effort to find so we've saved you both. How? Free Photoshop Brushes - Brushes | FBrushes - Part 16.
20 Free Hi-Res Fractal Photoshop Brushes for Download. Adobe Photoshop is a one of the most pertinent applications, related to digital art.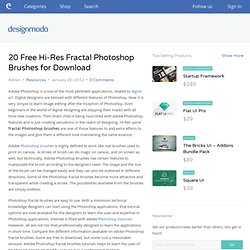 Digital designers are blessed with different features of Photoshop. Now it is very simple to learn image editing after the inception of Photoshop. Even beginners in the world of digital designing are stepping their marks with all time new creations. 20 Free Price Tags PSD | Pricing Templates. 600+ Free Photoshop Layer Styles. You'll love how easy it is to create amazing text effects, logos, beautiful buttons, lifelike artwork, and awesome designs with our premium layer styles Instantly apply realistic glass, metal, wood, marble, and stone effects to your text, shapes, and vector art.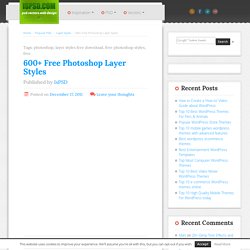 Photoshop layer styles bring your projects to life with a single click. You will find custom layer styles in this web site – all free for you to download. Photoshop styles are arguably the single most exciting tool in Photoshop. Also take a look at our related articles: Free Photoshop Gradients Collection. Gradients are big variety of many color generators, color palettes and combinations of different colors in a single layer.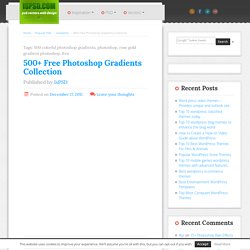 Photoshop gradients are available in .GRD format. Photoshop gradients are one of the many presets that can be use to create some really creative designs and effects in your photographs or any other graphics.This post includes a variety of 500+ different gradients collections. Also take a look at our related articles: Free Photoshop Gradients Collection. Collection of 30 Best Adobe Photoshop Brushes. Something that always comes handy we all need to use Brushes while creating some new designs.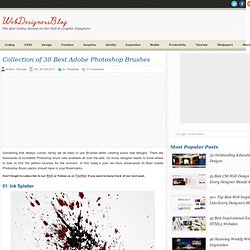 There are thousands of incredible Photoshop brush sets available all over the web. So every designer needs to know where to look to find the perfect brushes for the moment. In this today's post we have showcased 30 Best Adobe Photoshop Brush packs should have in your Bookmarks. Don't forget to subscribe to our RSS or Follow us on Twitter if you want to keep track of our next post. 55 incredible examples of photo manipulation. Professional Website Templates: CSS Static Designs, E-Commerce and CMS Templates. 20 Very Useful Photography Tips And Tricks. The summer is here so now is the perfect time to make a lot of photos.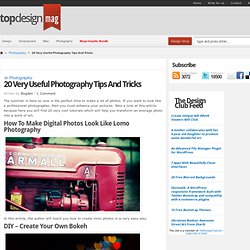 If you want to look like a professional photographer, then you must enhance your pictures. Take a look at this article because here you will find 20 very cool tutorials which will help you transform an average photo into a work of art. How To Make Digital Photos Look Like Lomo Photography. How To Give Your Photos a Dark Processed Lomo Effect. Follow this step by step post processing guide to give your photos a dark lomo style effect with high contrast, blue tones and vignette burns.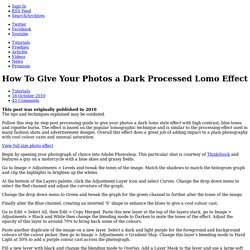 The effect is based on the popular lomographic technique and is similar to the processing effect used in many fashion shots and advertisement designs. Overall this effect does a great job of adding impact to a plain photography with cool colour casts and unusual saturation. View full size photo effect Begin by opening your photograph of choice into Adobe Photoshop. This particular shot is courtesy of ThinkStock and features a guy on a motorcycle with a blue skies and grassy fields. 33 Excellent Photoshop Tutorials For Designing Posters. Posters come in different designs; the important thing is to catch the attention of the people passing by.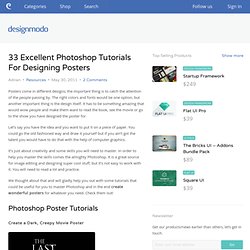 The right colors and fonts would be one option, but another important thing is the design itself. It has to be something amazing that would wow people and make them want to read the book, see the movie or go to the show you have designed the poster for. Let's say you have the idea and you want to put it on a piece of paper. You could go the old fashioned way and draw it yourself but if you ain't got the talent you would have to do that with the help of computer graphics. It's just about creativity and some skills you will need to master. 20 PSD Tuts That Will Turn You Into A Photoshop Guru.
Many people can use Photoshop, but only a select few can call themselves gurus.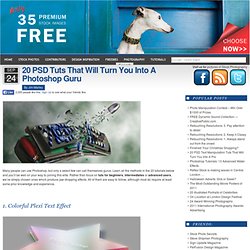 Learn all the methods in the 20 tutorials below and you'll be well on your way to joining this elite. Rather than focus on tuts for beginners, intermediates or advanced users, we've simply chosen ones which produce jaw-dropping effects. All of them are easy to follow, although most do require at least some prior knowledge and experience. 80 Time Saving and Free Photoshop Action Sets To Enhance your Photos - Noupe Design Blog. Jun 03 2011 Photoshop is a wonderful tool that not only lets you create amazing graphics but also automate your work and improve your workflow.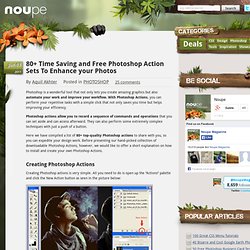 With Photoshop Actions, you can perform your repetitive tasks with a simple click that not only saves you time but helps improving your efficiency. Design a Textured Button in Photoshop | BittBox. If our freebies have benefited you personally or have helped you earn a profit please consider donating via paypal. Donate Now Today I'll be showing you how to design a neat little textured button in Photoshop. #8211; Free Photoshop brushes download. 350 Photoshop Tutorials | Best Photoshop Tutorials. 35+ Fresh and Creative Photo Manipulation Tutorials. Startup Framework Close 35+ Fresh and Creative Photo Manipulation Tutorials Adrian • Resources • May 11, 2011 • 3 Comments Make your photos look like fairy-tales or real pieces of graphic art by using photo manipulation tutorials.
You can create stunning works and it will only require for you to develop certain skills as you will have to know how to use the right tools in order to achieve the dramatic effect you are looking for. 30 New Photoshop Text Effect Tutorials. Ultimate Collection of Free Adobe Photoshop Brushes | Kaplang Blog | A Blog About Website Design & Development. 5000+ Free Photoshop Gradients. The Top 30 Text Effect Tutorials for Awesome Results. 11 Excellent Photoshop Tutorials to Boost Creativity. How I draw hair in Photoshop - Worth1000 Tutorials. The best 30 photo manipulation tutorials for Photoshop | dpxmag.com. Pimp My Text: Bling Bling With Photoshop » Web Design » SitePoint Blogs. Rap Diamonds, bling in Photoshop.
Photoshop | Layers Magazine. 1000 Free High Resolution Photoshop Brush Sets - Noupe Design Blog. Useful PSD Files For Your Creativity - Noupe Design Blog. 60 Most Wanted Photoshop Tutorials, Brushes, .PSDs and Resources - Noupe Design Blog.
Photoshop. How To Create Vector Retro Circles And Convert Them To Photoshop Brushes. Create Heavy Distressed Grunge Social Sticker Icon in Photoshop.
Bodycard 0149 (essai)
---